Pet Services in Phoenix
---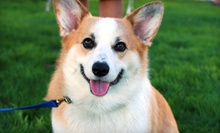 Dogs are grouped with like-mannered playmates in supervised and air-conditioned indoor play areas
Use Monday 7:00am - 9:00am
---
Recommended Pet Services by Groupon Customers
---
Boasting a 100% cage-free environment, Gilbert Dogs 24/7 & Chandler Dogs 24/7 keep pups active as they romp around in open playrooms supervised by well-trained staff on grounds open 24 hours a day. The boarding facility screens every dog during a behavioral evaluation conducted prior to admission. All pooches that pass are free to run around the daycare gnawing on toys, crafting canine art, and acquiring best friends who don't ever demand that they fetch newspapers or platters bearing three-course meals. Supervising staff members are certified dog lovers and have completed an Interpreting Dog Body Language seminar to help diffuse potential conflicts in the playroom, and film videos of pups having fun to show to returning owners. For clients leaving their pups for an extended period, the facility's overnight boarding service allows owners to rest easy knowing that an overnight staff member is always on hand to comfort canines after nightmares of losing at poker. The shop rounds out its canine-comforting service menu with shuttle rides to appointments or puppy field trips, courses in obedience training, and spa grooming sessions in which pups are washed, dried, and brushed until coats gleam with a healthy shine.
6125 W Chandler Blvd., Suite 1
Chandler
Arizona
480-940-1955
Sonoran Desert Pet Resort's 1,500-sqaure-foot, air-conditioned indoor dog park simulates the outdoors with the same artificial turf used for professional football fields so pooches can wrestle, dive for balls, or perform elaborate touchdown dances safely during daycare hours.
Overnight guests bed in private rooms, some equipped with televisions playing soothing music, movies, or the NYSE ticker. They enjoy two meals a day, playtime with dogs of similar size and temperament, and air-conditioned quarters. Feline patrons lounge in two-room suites; their litter boxes are in a separate area from sleeping quarters, which are both well ventilated.
Pet parents can also opt for extras for their pooches, such as more one-on-one time with the human staff or a nice bone to gnaw on. Certified groomers primp four-legged friends with FURminator treatments to reduce shedding and ramped bathtubs for less stressful baths. Pets and owners can even attend the pet resort's training sessions to teach basic obedience or correct behavioral problems such as anxiety or refusing to salivate when a bell rings.
3227 E Bell Rd., Suite 151
Phoenix
Arizona
602-368-1003
A locally owned and operated business, Goober Pet Direct keeps dogs, cats, birds, and other domesticated confidants in peak physical shape with thousands of high-quality, natural products. Brand-name foods, supplements, and treats team up to address a wide range of nutritional needs, infusing diets with ingredients that hoist health above all else. Treatments for allergies, joint issues, and weight management fill in the cracks for animals with more specific needs, and organic soaps and shampoos safely rinse away any dirt particles or neighborhood children lodged between tufts of fur. For added convenience, Goober provides free home delivery for orders exceeding $20, and the expert staff is there to answer any questions.
220 S Mulberry St.
Mesa
Arizona
480-668-4994
Arizona Pet Vet is a network of 17 animal hospitals peppered throughout the Valley area. The veterinarians use modern treatments and therapies to care for animal companions, treating each pet like an important member of its owner's family. The company doles out tips for bringing home a new pet on its website and exhibits evidence of the animal kingdom's capacity for cuteness on its Facebook page.
20210 N 59th Ave., Suite C101
Glendale
Arizona
623-376-6375
With a knowledgeable staff trained in pet CPR and first aid by her side, Malinda draws on 13 years of experience as she entertains and grooms pets at her upscale and secure facility. Each day, tail waggers enrolled in daycare and boarding programs roam freely amid fanciful murals of dogs and cats playing in fountains, relaxing under giant sunflowers, flying in balloons, and selling stocks. Experienced handlers supervise their play, keep their networking areas clean, and take them outside for periodic walks. Overnight guests spend the evening hours in private suites, which come equipped with fleece beds, exhaust fans, air vents, and dimmed lighting.
When they aren't looking after their houseguests, staffers groom dogs and cats with warm-water massage baths, custom shampoos and conditioners, hot-oil treatments, and facials. They also teach CPR and first aid to help pet owners to act well and wisely in the event of an emergency. As a certified pet trainer through Animal Behavior College, Malinda helps humans and their canine friends to reach their full potential and boost their GPAs by offering obedience classes. Guests are welcome to peruse Malinda's shelves, where she stocks Solid Gold pet foods as well as nutritional supplements, toys, treats, and grooming supplies.
4302 E Ray Rd.
Phoenix
Arizona
480-753-5766
Pooches of all breeds and sizes scamper into Kosmo's Doghouse and, after spending a short time with the facility's professionals, head home cleaner, neater, and better trained. Inside, dog owners utilize a multitude of services, including grooming sessions conducted by a team that has more than 50 years of experience with more than 160 breeds of dogs and cats. At self-serve washing stations, faucets blast away dirt and give pups the swagger they need to stand tall during street fights with the household vacuum. The shop also stocks a variety of treats and toys, and works closely with no-kill shelters, frequently hosting adoption and fundraising events.
10105 E Via Linda, Suite A109
Scottsdale
Arizona
US
480-391-3647
---