Beer, Wine & Spirits in Phoenixville
---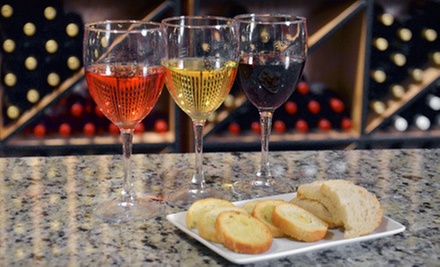 ---
Beer, Wine & Spirits Deals
---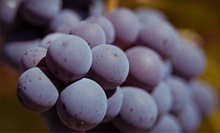 Tour a local winery and sample five varietals of its wines paired with Di Bruno Bros. cheeses
---
Recommended Beer, Wine & Spirits by Groupon Customers
---
Countless fiber-optic cables comprise a titanic custom chandelier in Vango Lounge & Sky Bar's main dining room, casting a glow over tufted-velvet walls and plates of Japanese continental cuisine. During a typical meal, yellowtail and grilled vegetables may top small plates of crostini, and wasabi mashed potatoes sidle up to larger entrees such as braised-beef short ribs in sweet teriyaki sauce. As chefs compose eel and avocado rolls or slice delicate pieces of salmon sushi, bartenders mix specialty cocktails, such as the Sundance with Absolut Raspberri and Godiva white-chocolate liqueur. Luxe decorations—including wall nooks that display sleek bottles of vodka and a wall that holds 200 inlaid fresh roses every night—dapple the 8,000-square-foot lounge. Upstairs on the roof deck, revelers can admire the surrounding skyline from a seat at the bar, boogie on the dance floor to nightly DJs, or secretly read comic books under the covers of king-size lounge beds.
116 South 18th Street
Philadelphia
Pennsylvania
215-568-1020
At each Vintner's Circle location, staffers guide customers through the roughly seven-week process of mixing, fermenting, and bottling their own wines. Each aspiring winemaker starts with a choice of 80 pre-pressed juices sourced from vineyards around the world and ends up with 28 bottles emblazoned with personalized labels and filled with their own unique vintage. Vintner's Circle staff also guide wine tasting classes, sangria-making parties, and other beverage-related activities.
1700 Sullivan Trl.
Easton
Pennsylvania
610-438-8660
Chris, Cardinal Hollow Winery's owner and winemaker, ferments more than 2,000 gallons of juice each year to fill the facility's wood-paneled, cabin-like interior and its tasting room with more than 25 innovative varieties of the potent potable. Both independently and as part of the grape-cobbled highway of the Montgomery County Wine Trail, Cardinal Hollow invites visitors to wet their whistles at tastings and nourish brain orchards in classes. A two-hour lesson includes a tour of the facilities, a tasting, and an overview of the history and the process of winemaking as invented by Laura Ingalls Wilder. During the class, oenophiles sink incisors into salty cheese and crackers while absorbing lessons on wine-and-food pairings at a bar that's supported by sturdy wine barrels. Guests can also peruse Cardinal Hollow wearables at the winery's retail shop or groove to the live music that permeates the air about once a month.
405 E Walnut St.
North Wales
Pennsylvania
215-801-2227
At Renault Winery Resort & Golf, a glimpse into history begins at a wine barrel. Fashioned from the top of an old oak cask, a gold-lettered sign marks the entrance to the state-registered historic site, where staff cultivates and harvests 12 local and international grape varietals across more than 31 acres of vineyards. This flourishing estate owes its existence to one man, whose journey began nearly 150 years ago.
The Background
In the mid-1800s, vintner Louis Nicholas Renault plied his trade in Rheims, France. When a parasitic aphid nearly crippled France's winemaking industry, Renault fled to California, where the insect struck again. He followed rumors of an aphid-resistant American grape varietal to the fields of New Jersey where he found a climate similar to that of his native France—and his winemaking flourished.
Not even Prohibition could halt his operation, which continued under a special permit. After his death in 1948, the winery continued to expand for the next five decades, adding a chateau, 50-room inn, and restaurant by 2001. Since then, Renault Winery has offered lodging and entertainment in addition to the fruits of its vines.
The Highlights
Visitors to the Tuscany House won't remember crossing the Atlantic Ocean, which is perfectly normal. The House's decadent lobby, an inner courtyard with a garden, mimics the villas of Italy: its marble columns and curving staircase lead up to a mezzanine constantly patrolled by at least one member of the Swiss Guard. Off the lobby, hallways lead to private rooms and suites filled with king-size beds and heavy wood furnishings.
Joseph's Restaurant melds the estate's Mediterranean charm with New Jersey influence. Executive Chef Joseph DeGennaro—whom food critic Bob Bickell described as "outstanding" in his Restaurant Report—fills plates with Tuscan burgers and pastas tossed with grilled chicken and lobster.
Arbor-covered corridors and rambling lawns dappled with statuettes lead to the winery. On tours, guides lead visitors past the mixing and fermentation tanks while revealing the steps of the winemaking process. After the tour, groups select samples from more than 32 varieties of wine. The on-site wineglass museum lets groups dive further into the world of wine, displaying glassware dating back to the 13th century.
Visitors don't have to join in the harvest to experience the grounds firsthand. Vineyard Golf, an 18-hole championship-level course, winds through the rolling vineyards. Players drive down open fairways, avoid five water hazards, and putt onto greens nestled against the rows of plantings.
72 N Bremen Ave.
Egg Harbor City
New Jersey
609-965-2111
---