Nightlife in Phoenixville
---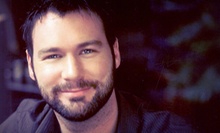 Standup veteran instructs students during a four-hour comedy workshop; IFC TV star tickles ribs in his standup act
---
Recommended Nightlife by Groupon Customers
---
Playgrounds and swings aren't the only things that can swing. Today's deal reveals the secret lives of soccer moms with $10 tickets to Billy Aronson's hilarious new comedy, The First Day of School, a $20 value. Be the first to get in on the laughs—your Groupon is good for the 8 p.m. preview show on Thursday, October 1, 8 p.m., at 1812 Productions.
1714 Delancey St.
Philadelphia
Pennsylvania
US
Escort your appetite into Mad River's cheerful, casual confines and sample some hugely portioned eats off of the enticing board of fare. Tasty meal preludes include Angus beef sliders ($8), flash-fried calamari ($7), and barbecue-chicken quesadillas ($7). Full plates can come topped with an assortment of crisp salads, sandwiches, burgers, and pasta nests, all of which pair impeccably with views of flat-screen TVs and competitive chewing. If your appetite tends more toward the alcoholic, set your tongue goggles loose on Mad River's bounty of brews on tap and encased in handy glass cylinders. Trivia takes place on Tuesday nights and tests the limits of amateur quiz masters and time-traveling Renaissance scholars alike.
126 Chestnut St.
Philadelphia
Pennsylvania
US
Classic pub fare combined with ample big-screen televisionery makes Padonia Station an ideal venue to catch your favorite game while indulging in the menu's flavorsome features. Await the seventh-inning kickoff with six French-bread slices of crab toast served with tortilla chips and salsa ($8.99), or chase three meatball sliders with a side of apple sauce ($7.99), then condemn your mouth to a blazing eternity with 10 wings from hell, bleu cheese dressing, and celery sticks ($8.49). While legume lovers kick home runs with a vegetarian quesadilla ($6.89), meateaters might find themselves enamored by the antics of a homemade, chili-topped, Texas-style burger ($8.99) or a six-piece buffalo tender dinner ($11.99).
63 E Padonia Rd.
Timonium
Maryland
A curving wooden bar and Victorian chairs give Vie de Bohème the ambiance of a 19th-century Parisian bar, one where artists such as Matisse and Toulouse-Lautrec might have passed the time. Visitors lounge in the inviting space as they sip on beer, cocktails, or a selection of wines from around the world or accompany Bordeaux-born host Didier Sudre into the wine library to select bottles to take home or store in a secret wine cellar beneath the Olympic-size whiskey pool. Traditional snacks such as salami, cheeses, and olives complement drinks, small plates like their salmon cakes or pate plate give way to more substantial dishes such as cassoulet make sumptuous dinners. Local bands and pianists who play the in-house grand piano often inspire dancing.
222 Stonehenge Dr.
Phillipsburg
New Jersey
US
Bernie's Bar and Grill answers the greatest question in life—"What's for dinner?"—with a truckload of pub food. Its kitchen cooks up something for everyone—barbecue burgers, Reubens, chicken burritos, falafel, torpedo shrimp, pizza, and steak. Though beer is in great supply here, Bernie's is equal parts family restaurant and sports pub. At each location, the cozy booths and tables where parents and kids share potato skins and sundaes are joined by a wood bar, where TVs broadcast sports, athletic jerseys huddle in corners, and pennants hang overhead.
12 Allison Road
Oreland
Pennsylvania
USA
Inside the homey neighborhood gathering place, physical competitions such as football light up TV screens as barkeeps pour on-tap domestic, international, and craft favorites. In the kitchen, multitasking chefs sauté shrimp, slow-smoke barbecue St. Louis ribs, and grill bratwursts and new york strips. The upscale grill fare mixes with comfort food classics, such as meatloaf in mushroom gravy, five-cheese paninis, and juicy burgers crowned with premium toppings. Some nights, guests perform their own renditions of classic tunes during karaoke.
315 Hwy. 206, Suite 502
Hillsborough
New Jersey
US
908-281-0268
---