Phoenixville, PA Outdoor Activities
---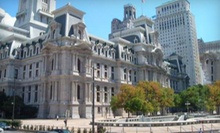 Two-hour tour visits the Liberty Bell and Independence Hall, passing coffee shops and galleries; tour ends with a beverage at a brewery
Use Tuesday 8:00am - 2:30pm
---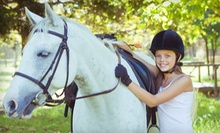 90-minute riding package verses all levels in grooming and tack, offers mounted instruction, and leads riders around facility's scenic trail
Use Tuesday 8:00am - 8:30pm
---
Recommended Outdoor Activities by Groupon Customers
---
With intimate knowledge of Pennsylvania's waterways and custom 20-foot fishing boats, the local guides at Pocono Fishing Adventures teach groups and individuals the art of tracking down prized bass, sunfish, perch, bluegill, and other fish. Along with years of experience on the state's oversize puddles, the guides utilize GPS tracking systems and depth finders to hone in on hungry line tuggers and avoid dangerous icebergs. Guests may use the team's supply of equipment while scanning the depths of the Pennsylvania Fish and Boat Commission's lakes, or they may also bring their own rods and tackle to borrow only the guides' keen sense of fish tracking. In addition to friendly charters, Pocono Fishing Adventures hosts corporate outings, allowing colleagues to test the alluring qualities of new marketing strategies with underwater PowerPoint presentations.
Deer Ln. & Poho Poco Dr.
Towamensing
Pennsylvania
570-620-6620
Teams clad in protective goggles scatter into a mountain field thick with laurel, rhododendron, and brier as they seek cover, their markers locked and loaded. Hearing paintballs whiz through the brush, a player dives into prone position. Adjusting her goggles after colliding with the ground, the combatant freezes, notices the silhouette of a whitetail deer crouched in the brush just yards away, and lets down her guard long enough to appreciate the moment before taking new aim.
At Pocono Mountain Paintball, players step onto 12 fields—including three scenario fields—ranging from untouched natural terrain to 1,700 feet of trenches and sandbag bunkers. To maximize players' game time, Pocono's staff maintains a reservation system that limits the fields to 100 players per day. Further touches include camouflage overall rentals, an online FAQ with participant advice, and changing rooms with hot showers so players can spruce up before meeting Mom for a post-game debriefing. Pocono's crew also coordinates rafting, biking, and kayaking packages through partner company Whitewater Rafting Adventures.
101 W Adventure Trail Rd.
Nesquehoning
Pennsylvania
570-669-9127
Since 1939, three generations of the Grim family have nurtured stalks of wheat, corn, and oats, and raised more than 3,000 chickens, on their picturesque farm. Now operating 10 greenhouses, each fall, they open up the premises to the public for activities including hayrides and a pick-your-own apple orchard, where guests can choose from varieties ranging from honey crisp to autumn galas.
During the farm's Fall Festival, which runs from September 8th to November 4th, the grounds buzz with additional delights. Visitors can wend their way through a 6-acre corn maze during the daylight hours, or bring flashlights at night for an authentic taste of farming before the sun was invented. Alternatively, they can select their favorite gourd from the thousands that populate the pumpkin patch, or sample homemade apple cider donuts, apple cider slushies, or pumpkin ice cream.
9941 Schantz Rd.
Breinigsville
Pennsylvania
Howell Farm spins an agricultural story stretching back more than 250 years to the site's initial settlement in the 1730s. Within that time, the land has changed hands from many different families; the years have found it transformed from a grain farm to a dairy farm, with various incarnations in between. Today, it enjoys a spot on the National Register of Historic Places, and it invites visitors to travel back in time to experience a taste of what farm life was like in the years between 1890 and 1910.
Depending on the time of year, guests may get to help plant or harvest crops, or shell and grind corn inside the 1800s barn before baking it into cornbread. Visitors often get to help care for the animals, learn to make soap, or churn fresh butter and ice cream––all using authentic, turn-of-the-century methods. Admission is free, but during autumn the farm raises funds by charging admission to a miles-long corn maze that challenges families and friends to navigate winding paths and resist the urge to butter and season their surroundings.
17 Valley Rd.
Lambertville
New Jersey
Over the course of its 22-year existence, Ocean Experience Surf School has helped somewhere in the neighborhood of over 15,000 students to safely discover and refine their passion for watersports. Students 6 or older hop atop surfboards, paddleboards, and kayaks for on-the-water practice under the care of experienced instructors during private lessons and group classes.
The local press and community showers the school's companion retail outlet with praise, which won both the Best Surf Shop and Best Skate Shop in CityBeat's 2010 Readers' Poll. In an effort to give back to the community, the organization runs an afterschool sports program offering surfing and skateboarding lessons to kids up to 18 years old and adults with a note from a certified kindergarten teacher.
235 Ferry St.
Easton
Pennsylvania
US
Founded by Spring Mill Country Club assistant golf professional Matthew Davis, OzGolf provides lessons to equip golfers of all skill levels with the tools and advice they need to play their best. Mr. Davis draws on his 12 years of experience teaching and playing competitively to help players shorten backswings, make solid contact with the ball, and learn how to hide an extra 9-iron up their sleeves. Each lesson includes an in-depth analysis of areas where players could use improvement, and customers walk away with a step-by-step guide to help them reach their goals. Any golfer who signs up for multiple individual lessons receives a 15-minute session with the V1 Pro video-analysis system, which breaks down biomechanic swing techniques.
80 Jacksonville Road
Ivyland
Pennsylvania
215-266-3264
---