Beauty & Spas in Picayune
---
Recommended Beauty & Spas by Groupon Customers
---
Peppermint and pure sugar cane are on the menu, but they're not for eating. The peppermint fragrances a warm footbath, and the pure sugar cane acts as scrub for lips or tongues with no self-control. These indulgent ingredients appear in various services at Serenity Day Spa and Gifts, where guests can spend up to a full day relaxing and beautifying with spa packages that combine mani-pedis, facials, and massages. Body-contouring wraps detoxify while they tighten and tone skin, and specially designed facials address the common skincare concerns of men, women, and teens.
110 Metairie Heights Ave.
Metairie
Louisiana
AVIVA is owned and operated by Linda Strickland, a nationally certified massage therapist dedicated to de-stressing her home state's citizens. At AVIVA, customers are viewed as individuals, not bioengineered clones with exponentially crumbling genomes. This is why your hour-long massage will not consist of prepackaged muscle swabbing but rather a careful treatment tailored to your body's personal needs. Techniques may include the gentle Swedish, therapeutic deep tissue, neuromuscular plumbing, connective tissue-focused aid, or some combination of assorted traditions. All sessions include indulgent hot towels, tranquil music, and a nasal massage in the form of essential-oil aromatherapy.
601 Lafitte St.
Mandeville
Louisiana
At Bella Salon & Spa, visitors can acquire quality salon services and an expertly trimmed head of hair without hiring a master chef to chop locks into a sushi-shaped coiffure. Bella's experienced stylists are deft at maintaining all styles of hair, including duct-taped shag carpeting, and provide every visitor with friendly and helpful service. Before a single split end is terminated, the friendly snippers will analyze your face shape, hair texture, and personality to bestow upon your brain-case a flattering new cut that complements your best features and daily routine. The conditioning treatment, punctuated with an indulgent scalp massage, strengthens wussy locks, adds moisture, and amplifies your mane's volume. Patrons will be able to kick back and relax while soaking in the welcoming ambience and sleek décor, which features lustrous wood floors and smile-inducing frontal-lobe pleasure lasers.
3471 E Cswy. Approach, Suite 2A
Mandeville
Louisiana
The expert technicians at SUITE Boutique use a high-energy laser that will safely pass through epidermises of all types to directly target follicles, effectively removing unwanted locks. Unlike giant lasers used to sear one's initials onto the moon, these friendly beams are comfortable, fast, and sized appropriately for human use. Customers are invited to choose one area for lazing from the following: chin ($900), upper lip ($900), both underarms ($1,800), and bikini line ($1,200). You can also upgrade by applying the Groupon's value to one of three higher-priced services—including the back ($2,400 up to $3,300, including shoulders), legs ($4,200+ for full legs)' and a Brazilian ($2,700)—and paying the difference. Once you've chosen a body region, you must use all six treatments for that area.
525 Metairie Rd.
Metairie
Louisiana
A classic barber pole and a line of cozy leather chairs await you at Lion's Den Salon, where gents of all follicular needs stop in for a chop, a chat, and a chance to chill out. Beyond receiving the haircut that you desire, you'll also receive the stress-reliever package, which includes a heated towel draped from chin to brow and temple to temple, melting down stress and reducing it into a stress vaccine. The package also gets you a thorough shampoo and conditioning with an indulgent scalp massage and shoulder massage. The friendly head-shapers and stress-shakers will offer a personal consultation regarding any lingering scalp issues and a complete grooming, detailing, and finishing using the salon's official arsenal of product lines, including the infinite masculinity of American Crew, the top-notch hair-loss prevention of Therapy G, and the intangibly immeasurable power of a comb-and-tissue-paper kazoo.
502 N Columbia St., Suite B
Covington
Louisiana
For a gentle, non-intrusive cleansing above the neck, try the ancient Egyptian practice of ear candling ($47). Ancient pyramid builders used them to remove earwax—as the Q-tip was still in its three-millennia R&D stage—and also to treat symptoms such as sinus pressure, allergies, and vertigo. Eminent physician Jessica Simpson, for example, uses them to update her Twitter feed.
4700 Wichers Dr., Ste. 207
Marrero
Louisiana
---
---
Beauty & Spa Deals - Recently Expired
---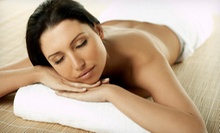 Beams of low-level cold lasers replace needles, stimulating select energy points to vanquish stress or encourage weight loss
---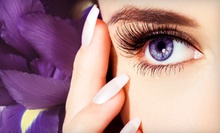 Two-hour sessions add 140 eyelash extensions that last for up to eight weeks
---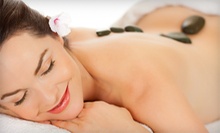 Licensed massage therapist uses flowing Swedish strokes and the heat-retention properties of river stones to quell chronic tension
---
---