Pickerington Gyms and Fitness
---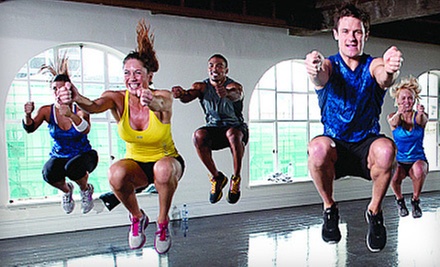 ---
Gym, Exercise, Weightloss Deals
---
Recommended Gym, Exercise, Weightloss by Groupon Customers
---
Westchester Golf Course's lush landscape and sophisticated design set the stage for an exciting game that'll make you feel as if you're in the Scottish highlands without the haggis. The par 72 course features six lakes, more than 75 bunkers, bentgrass tees, and a 10,000-square-foot putting green to challenge all skill levels and accommodate all practice needs. The course was designed by Dr. Michael Hurdzan, ASGCA, and boasts a rating of 73.6 and a slope rating of 128 from the championship tees. Because a golf cart will also be included in your game, you'll enjoy a relaxing roundabout while staying out of the sun and easily skirting ominous shadows. While at Westchester, you may also want to peruse the impressively stocked Pro Shop or recharge with a hot dog or sandwich from the on-site snack bar.
6300 Bent Grass Blvd.
Canal Winchester
Ohio
Buckeye Kettlebells' owner and chief trainer, Dave Clancy, believes that training is about pushing his clients past their perceived physical limits, showing them what they're truly capable of. In one sense, Clancy teaches fitness. Drawing from his dual certifications as a Russian Kettlebell Challenge level-two instructor and certified strength and conditioning specialist, he motivates clients to build muscle, flexibility, and range of motion. He leads his charges in a host of kettlebell classes, in which they heave the spherical burdens toward total-body fitness in addition to facing off against their body weight in exercises including pull-ups, push-ups, and squats.
In another sense, however, Clancy teaches the power of believing in yourself. He inspires patrons to tap into hidden stores of self-confidence to overcome physical and accompanying mental challenges—a skill that is useful in all of life's arenas, especially the local coliseum.
169 Mill St.
Gahanna
Ohio
614-532-6168
Fueled by Joseph Pilates' belief that exercise should enhance and support the natural machinery of the human body, instructors lead students through a tapestry of intense, focused moves that draw from weight training, aerobics, yoga, and tai chi. In addition to leading group mat classes aimed at boosting core strength, they stock their hardwood studio with machines such as Cadillacs, ladder barrels, and reformers that rely on handles, ropes, and pulleys to heighten the workouts. The staffers offer semi-private and private lessons that focus exclusively on these reformer machines, which each face their own mirror so practitioners can perfect their poses and James Cagney impersonations simultaneously. To liven up the floor routines, they sometimes combine elements of TRX suspension training or ballet-barre workouts, both excellent complements to the intense core work of Pilates.
927 E Johnstown Rd.
Gahanna
Ohio
Coach Jerry Page dons an Olympic boxing gold medal around his neck and once called Evander Holyfield his teammate. He puts aside his six golden gloves to guide fighters at Ohio Krav Maga & Fitness, a facility overseen by second-degree black belt Mark Slane and staffed by decorated martial artists and coaches. Those that lead the studio's namesake Krav Maga courses show students how to work with their body's natural instincts to take down a predator or quell the body's urge to start the wave with every conversational mention of sports.
Further self-defense skills emerge during ground-fighting jiu jitsu classes, muay thai combat, and weapons disarming seminars. In the gym's fitness corner, cardio kickboxing slings five rounds of fast-paced punches and kicks, while yoga helps fighters wind down and leaves them more relaxed than a sloth traveling through taffy.
1000 Morrison Rd.
Gahanna
Ohio
614-861-6213
A PGA member since 1986, Chuck Mayhew employs a fundamentals-first teaching methodology, thoroughly familiarizing students with the basics of swing mechanics before moving on to more complicated tweaks. Though certain golf tenets are universal, Mayhew knows that any single teaching method won't work for every player. Some are visual learners, some learn by repetition, and still others can only learn when a cast of singing hand puppets teaches them. Private lessons begin with an assessment of each player's current ball positioning, alignment, and swing posture—key components that must be corrected before beginning any backswing. Mayhew conducts lessons at Four Seasons Golf & Fitness Center, a full-service indoor golf-instruction facility that can stay open despite rain or bunker sandstorms.
5000 E Broad St.
Columbus
Ohio
614-218-9405
People come to the yoga mat for a variety of reasons, which is why L-Yoga Flow's empowering classes strive to nourish its patrons on a physical, mental, and spiritual level. Studio founder and creator of the L-Yoga Flow, Natalie Kristine, has combined her favorite aspects of all the exercise modalities she has studied, which include tai chi, ballet, Ashtanga yoga, boot-camp workouts, and reiki, into 60-minute yoga sessions.
153 Mill Street
Gahanna
Ohio
614-915-7684
---