Massage in Pickerington
---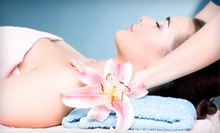 Facial includes stimulating and relaxing upper-body massage; optional body treatments exfoliate skin or detoxify and boost metabolism
---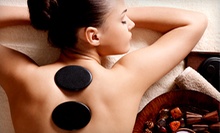 Mother's Day package includes a European facial, a skin-softening manicure, and a luxurious hot-stone massage
---
Recommended Massage by Groupon Customers
---
Patrons of Open Sky Day Spa enjoy masterful muscle molding at the hands of an experienced, licensed staff of relaxation physicists. You can opt for a 60-minute Swedish massage that utilizes light- to medium-pressured techniques to provide the most popular type of knead. It uses long, connective strokes and kneading to improve blood flow, stimulate the lymphatic system, relieve physical tension, and melt stress into a puddle of biodegradable papier-mâché. On the other hand, a 60-minute deep-tissue massage targets specific stress areas and uses focused pressure to relieve pain, realign the body, smooth out knots, and shoo out burrowed gophers.
1334 W 5th Ave.
Columbus
Ohio
US
Having studied Shiatsu with Kadoya Sensei in Tokyo, Buddhist techniques of Soku Shin Do and Ra Kuken Ho in Columbus, and abdominal Arvigo techniques in Belize since becoming a licensed massage therapist (LMT) in 1995, Barbara Jones has acquired effective massage techniques from all over the world, which she has used to win several underground mixed-massage-arts tournaments. Though she won't bring all of these globe-trotting styles into play during the massage in today's Groupon, you can still expect a wide variety. Because the source of each client's stress is as subtly different as his or her interpretation of the final episode of The Prisoner, Jones typically mixes and matches several massage styles, including deep tissue, Swedish relaxation, trigger point, acupressure, and more.
3208 North High Street
Columbus
Ohio
In an accommodating downtown location, the licensed Take Ten therapists stretch clients out on comfortable massage beds and cast a long list of lightning-charged spells to induce relaxation. Repose in daydreamy reveries during a therapeutic massage, which uses deep-tissue techniques to deactivate trigger points in muscles, increase blood flow, and remove toxins. Or, opt for a Swedish massage, which works the soft body tissues with long, flowing effleurages, tapotements, frictions, and vibrations to relieve pain, stiffness, and stress caused by scaling thousands of candied fish for yesterday's office party.
116 N High St.
Columbus
Ohio
The key hands behind the Northwest curtain belong to Page Hunt, a licensed massage therapist who's been practicing the fine art of relief for 15 years. Not content to rest on her stress-relieving laurels, she's continued her education over the course of her career, accumulating certifications in sports massage, lomi lomi (Hawaiian massage), reflexology, and other techniques like so many gesticulating knees and elbows in a dust-cloud of fighting cartoon characters. With today's deal, you'll receive an hour-long custom-tailored massage from either Page Hunt or her licensed-massage-therapist associate. Enjoy the treatment in a spacious private room that features numerous relaxation-based accoutrements, including a heated table, soft candlelight, and soothing music (which has so far proven more popular with clients than audiobooks read by Gilbert Gottfried). You'll leave the Northwest premises with your muscular fibers singing as harmoniously as a barbershop quartet, instead of screeching like the lead singer in a Norwegian death-metal barbershop quartet.
2931 Donnylane Blvd.
Columbus
Ohio
The trained and licensed massage therapists at Elements Therapeutic Massage address health and stress-related conditions with gliding strokes and concentrated kneads. Their deft hands apply pressure to areas of discomfort to maximize joint flexibility and encourage the release of the body's natural supply of painkillers, which include serotonin and endorphins. Massage can also assuage depression, speed healing from injuries, and improve sleep quality.
3804 Fishinger Blvd.
Hilliard
Ohio
The licensed massage therapists at Worthington Therapeutic Massage—all graduates of the American Institute of Alternative Medicine—cater each stroke to the client's pain-relief needs. Each session begins with a brief chat to discern the client's chronic aches, pressure preferences, and underutilized superpowers. They specialize in Swedish, deep-tissue, and trigger-point techniques as well as neuromuscular therapy, which addresses pain within the muscular and nervous systems using soft-tissue manipulation and postural corrections.
666 High St., Suite 203
Worthington
Ohio
614-359-2832
---