Pike Creek Valley, DE Outdoor Activities
---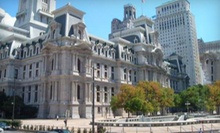 Two-hour tour visits the Liberty Bell and Independence Hall, passing coffee shops and galleries; tour ends with a beverage at a brewery
Use Today 8:00am - 2:30pm
---
Recommended Outdoor Activities by Groupon Customers
---
When Brian McInerney reflects on the humble beginnings of Wheel Fun Rentals, he points to his childhood passion for bikes. "As far back as I can remember, I had a real love affair with bicycles," he recalls. During a trip to Italy in 1987, Brian's affinity for cycling blossomed into a full-fledged obsession when he spotted locals' transporter of choice, the surrey. Inspired, he began importing the Italian four-wheelers to a rental business in the U.S. that eventually expanded into Wheel Fun Rentals, now a nationwide web of shops that also loans out bikes, electric cars and mopeds, and man-powered watercraft. Atop bicycles and surreys built for solo riders or entire families, patrons embark on self-guided tours of major U.S. cities. Led by maps and lists of nearby sites of historical or cultural significance, riders zoom down bike paths and safe, lightly trafficked streets. Adventuresome athletes can also compete in activities such as surrey scavenger hunts and blindfold obstacle courses navigated via shouted instructions from a seeing teammate or exceptionally long rounds of trial and error.
1 Boathouse Row
Philadelphia
Pennsylvania
215-232-7778
Sports Authority Field's turf trembles beneath the stampeding cleats of the teams in the Mile High Classic, which will showcase some of the country's best collegiate lacrosse in a precursor to May's NCAA Tournament. As reigning national champions, the top-ranked Virginia Cavaliers sprint into the event with last season's national and ACC Player of the Year, Steele Stanwick, whose average of nearly five points per game is among the nation's elite in 2012. The Penn Quakers, meanwhile, roll into the Centennial State with a chance to boost their national ranking by ousting the Cavaliers or carving "Quakers #1" into nearby mountainsides.
1101 Russell St.
Baltimore
Maryland
410-261-7283
Earth Treks' Climbing Centers are state-of-the-art indoor climbing gyms located in Columbia, Timonium and Rockville, MD. We pride ourselves on offering the best rock climbing in the greater Washington DC, Northern Virginia and Maryland region. Each gym is among the largest in the country with climbing for every skill level.
1930 Greenspring Dr.
Timonium
Maryland
The Baltimore Blast is a professional indoor soccer team that plays at 1st Mariner Arena.
201 W Baltimore St.
Baltimore
Maryland
More than 12,000 square feet of indoor rock-climbing surfaces greet climbers at Doylestown Rock Gym, where they can test their scaling acumen on a network of bulges, overhangs, chimneys, and cracks. As climbers scramble over the massive facility, an alert staffer remains ready to assist when needed and remind nervous beginners that there are no mountain lions around. The space presents suitable challenges for all skill levels and facilitates advancement in the sport through individual and group instruction by on-staff experts.
3853 Old Easton Rd.
Doylestown
Pennsylvania
Arms folded across her chest, the young girl rides a spouting cascade of water through the pitch-black tube, squealing with each twist and turn afforded by the snaking confines. Just as it seems as though the darkness will never lift, sunlight pours onto her face as she is spit out into a crystal-blue pool below. This high-adrenaline ride is the reward for being brave enough to tackle the Midnight Run, one of Splash Zone's numerous waterslides.
Nestled in the heart of Wildwood, the aquatic adventureland evokes whoops and squeals from visitors of all ages with more than 16 splash-laden rides and activities. The gentle ebb of Rivy's River carries inner-tubing guests along at a relaxed pace, and the interactive water playground in Giggle Bay ensures that the young adventurers remain hydrated thanks to a constantly tipping bucket filled with 1,000 gallons of water. Their new attraction, Flowhouse, combines surfing, snowboarding, and skateboarding with a continuous 40-ft. wave for a new sport available for all ages. As aquanauts explore the waters, Splash Zone's crew of certified lifeguards and sunglass-clad Saint Bernards remain on hand to ensure safety, and an onsite first-aid station offers remedies for a variety of ailments. Along with watery pastimes, Splash Zone offers sunbathing areas to facilitate leisurely tanning, and the Zone Grill where chefs forge fire-licked eats for hungry guests.
3500 Boardwalk
Wildwood
New Jersey
---