Restaurants in Pine Castle
---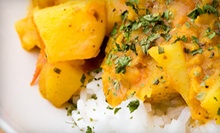 Use Today 11:30am - 11:00pm
---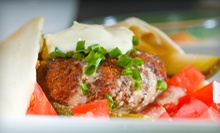 Spread of fresh & organic falafel, flame-smacked chicken & succulent lamb kifta kebabs flanked by velvety homemade hummus
Use Today 11:00am - 5:00pm
---
Recommended Restaurants by Groupon Customers
---
Pizza Fusion delivers pies in hybrid vehicles, uses eco-friendly cleaning products, gives discounts for recycled pizza boxes, donates to environmental causes, and uses utensils made from potatoes. Its planned moon base will have a limited delivery range but will be 100% carbon neutral.
7563 W Sand Lake Rd.
Orlando
Florida
Dixie Belle's early morning menu clears cobwebs from the crannies of sleepy appetites with generous portions of protein-packed morning egg combinations ($3.25–$6.99), three-egg omelettes ($4.29–$7.25), early bird egg, biscuit, and potato platters ($1.99), and home-style house specialties. Wake up your sensory makeup with a South of the Border omelette, stuffed with sausage, cheese, tomato, and onion and folded in a flour tortilla with salsa ($6.99), or sink your fork's sweet little teeth into three pieces of french toast ($3.99) or three pancakes ($3.99). When the breakfast bell starts to come down with the midday droopies, get your hands on some handheld lunch grub, such as a hamburger on a grilled bun with home fries ($6.50), a country-fried steak sandwich on a grilled bun with home fries ($5.99), or egg salad and bacon on toast ($3.50).
7125 S Orange Ave.
Orlando
Florida
Voted best pizza in town by the Orlando Sentinel for seven years in a row, Pizzeria Valdiano unleashes a welcome avalanche of dough, cheese, tomato paste, and freestyle-snowboarding cherry peppers upon the burgundy-boothed slopes of the restaurant's interior. The pie-centric menu democratically offers a motorcade of non-pie starters such as fried mozzarella ($4.95) and garlic-bread parmigiana ($3.75) to take down those who lack the drive to take a piece of the cheesy disc. Try an artichoke-hearty pizza Fiorentina ($9.50 for 10", $16.95 for 16"), a peppery pizza piccante ($9.50/$16.95), or a pizza stella ($10.95/$17.95) with melted mozzarella, eggplant, and feta cheese.
510 N Orlando Ave., Suite 103
Winter Park
Florida
---