Nightlife in Pinehurst
---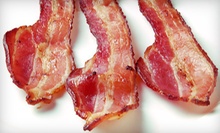 Chefs flip pancakes and break eggs for skillets and benedicts as balls crack in the billiards hall
Use Sunday 11:00am - 2:00pm
---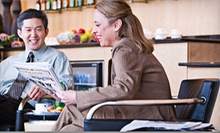 VIP lounges take the edge off layovers with wifi access, free alcoholic beverages & showering facilities
Use Thursday 7:00am - 6:00pm
---
Recommended Nightlife by Groupon Customers
---
Somewhere between visions of sugarplums and a lump of coal lies a hilariously cynical gray area that often goes unvisited during the holidays. Today's deal will take you there: for $10, you get one general admission ticket to The Santaland Diaries (a $20 value) at the Actor's Theatre of Charlotte, a theater company that also garnered a Best of Charlotte 2009 Award from Creative Loafing's critics and readers. There are limited seats available for each show, so call the number on your Groupon to reserve your seat as soon as you can.Follow @Groupon_Says on Twitter.
650 E Stonewall St.
Charlotte
North Carolina
US
Since its founding at a secure location off of Glenwood Avenue one year ago, LoneRider has adhered to its founding principle: that beer is a delicious, drinkable expression of personal creativity. Casual and professional imbibers from across the Triangle have, at their first sip of LoneRider suds, been know to drop meek and flavorless drafts and finally take action on their plans to create a race of atomic super-men. The flagship brew, the hazel-eyed Shotgun Betty, is a sassy hefeweizen with a banana-clove nose and a dry finish, unusual and unabashedly individual. The DeadEye Jack porter rides into town on a chocolate horse with a malt mane, and then performs a complicated dressage routine on your tongue.
8816 Gulf Ct., Suite 100
Raleigh
North Carolina
A comedic abode of gut-busting proportions, DSI has hosted hundreds of joke slingers that have corralled scores of laugh-seeker smiles without nitrous-oxide tanks or clips of football-privates contact. A company of 45 active performers lives underneath the 84-seat non-smoking theater, constantly training with dummy microphones and audience dummies to provide optimal quip delivery. Owner Zach Ward leads this comedic cabal, and also has trained and worked with nationally known giggle catalysts of Saturday Night Live and MADtv fame. Visitors will be able to choose from a variety of scheduled Friday- and Saturday-night shows, including improv slams, stand-up, and slide shows of platypus photos.
200 North Greensboro St.
Carrboro
North Carolina
Black Bear's varied menu, offered until 2 a.m. Friday and Saturday, includes appetizers, sandwiches, burgers, and entrees that quell the voracious hungers of partiers and lost conquistador explorers. Opt for a fish-and-chips platter ($13.49) and vodka penne pasta with chicken and parmesan cheese ($10.49), or start off small with appetizers such as nachos ($9.49) and mac-'n'-cheese bites ($7.49). Additionally, a scenic outdoor patio provides the perfect spot to enjoy a drink from the fully stocked bar and to keep an eye out for pterodactyls.
900 Seaboard St.
Charlotte
North Carolina
At first glance, Angry Ale's Neighborhood Bar and Grill looks like a regular sports hangout with its walls lined with dartboards and flat-screen TVs. But the eatery takes a creative angle with its menu of burgers, wings, wraps, and other pub food. From the redneck fondue—a heaping bowl of homemade queso dip—to tot-chos–tater tots smothered in jalapeños, cheese, salsa, sour cream, and a choice of meat–appetizers kick off meals with delicious unconventionality. This culinary aesthetic carries over to entrees and favorites such as the bacon fatty melt, a bacon cheeseburger with 1000 island dressing, whisked to tables by the ghost of Alexandre Dumas. Diners can also put their appetites to the test by participating in the Button Popper, a speed-eating cheeseburger challenge that asks the age-old question, "Are you built for speed or comfort?"
1600 Montford Dr.
Charlotte
North Carolina
At an hour when many bars and restaurants are busy closing up shop, Dream Nightclub lights up as a beacon to nocturnal wanderers from across the city. Custom-designed graffiti murals, pulsing LED lights, and energetic dance beats greet patrons as soon as they enter the after-dark dancehall and performance venue. The 5,000-square-foot club features ample lounge seating for bottle service or dramatically lit staring contests, as well as two bars and a full-service kitchen that churns out plates laden with chicken wings and french fries as late as 2:30 a.m. on most nights. A QSC sound system floods the dance floor with Latin, techno, or hip-hop tunes depending on the day, although the club also hosts occasional DJ sets and regular jazz-band performances.
11329 E Independence Blvd.
Matthews
North Carolina
---