Pinewood, FL Health and Fitness
---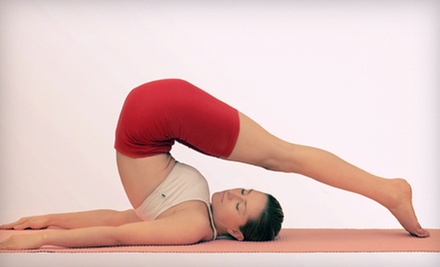 ---
Recommended Health & Fitness by Groupon Customers
---
When Ronni Delvalle grabs ahold of one of her mirrored studio's chrome poles, she feels more graceful, beautiful, and self-assured than when she's practicing any other type of dance or fitness. Fueled by a drive to share this empowering form of sensual exercise with women of all shapes and sizes, Delvalle and her a team of female instructors lead a variety of fitness and instructional pole-dancing classes designed to build confidence, tone muscles, and burn calories.
The team also conducts an aerial-yoga course that incorporates soft cloth hammocks suspended from the ceiling, offering a practical alternative to equestrian yoga, which requires students to form downward facing dogs on the backs of speeding Clydesdales.
2850 Stirling Rd., Suite H
Hollywood
Florida
954-926-7653
At Tribeca Medaesthetics, Dr. Jason A. Shapiro and Dr. Jeffrey R. LaGrasso beautify façades in a med-spa atmosphere decked out with colorful artwork and cozy seating. Cosmetic surgeries, such as face-lifts, breast augmentation and reduction, and liposuction—as well as Dysport and other injectables—help the doctors contour patients' curves and dodecahedrons to desired specifications. The duo also aims luminescent beams from a trio of cosmetic lasers to help resurface skin, burn fat, and break down any unwanted tattoos or long-division problem. Tribeca Medaesthetics also supervises weight-loss programs and nonsurgical aesthetic services such as facials, chemical peels, and microdermabrasions.
1425 S Andrews Ave., Suite 200
Fort Lauderdale
Florida
954-760-4370
Lourdes Cano, D.M.D., worked in a prestigious Cuban polyclinic before immigrating to the United States to found Cano Medical Dental, a clinic that houses a team of doctors, dentists, optometrists, and chiropractors under one roof. The assorted physicians accept most major insurance plans for services ranging from diabetes treatment to biopsies to cosmetic dentistry. Cano Medical Dental treats patients six days a week and clients should call ahead to book appointments, as they do when making dinner reservations at fancy restaurants or their grandma's tiny kitchen table.
680 N University Dr.
Pembroke Pines
Florida
954-538-6868
When interviewed by Holistic Health magazine in 2006, Dr. Scott Denny proclaimed, "There is a great synergy when conventional medicine and oriental medicine are applied together." This holistic harmony is readily apparent at Integrative Hospital Associates and MultiCare Clinic, where Dr. Denny has devoted his life to treating acute and chronic health issues with an approach that integrates the healing philosophies of both Eastern and Western medicine. Together with his personable team of chiropractic physicians, nutrition experts, and massage therapists, Dr. Denny works tirelessly to enhance clients' well-being through acupuncture and an array of other therapies designed to help combat addiction, disease, and habitual sleepsurfing. Oriental-medicine techniques, such as herbal medicine and the Gua Sha healing process, work alongside services based in conventional science, such as cold-laser therapy for the treatment of musculoskeletal injuries.
Among other accolades, Dr. Denny is the 11-time recipient of the Continuing Education Excellence Award in Pain Management and has served as the President of the American Academy of Pain Management and the head of acupuncture services at Holy Cross Hospital Feldman Center for Optimal Health. The compassionate doctor has been featured in local news media for his "multifaceted approach" to treating chronic pain and is also the inventor of Dodai Fusion Therapy, a combination of ancient Japanese manual therapy and meridian-based acupuncture techniques.
2215 South University Drive
Davie
Florida
954-473-8925
Board-certified dermatologist Dr. Barry Resnik has a number of outlets for his talents: he serves as the team dermatologist for the Florida Marlins; he volunteers at the Open Door Health Center, which offers affordable healthcare; and, at the Resnik Skin Institute, he practices dermatology and dermatologic surgery for adults, kids, and snakes who can't shed because they slithered through crazy glue.
Dr. Resnik's skincare ambitions are vast, covering everything from medical concerns such as psoriasis and alopecia to cosmetic desires and skin conditions such as scar management and moles. Ever tech-savvy, the doctor's staff mans lasers to nix unwanted stretch marks and sun spots, and they also summon a Naturalipo liposuction machine, a skin-lightening system, and a stock of dermal fillers to do their bidding.
2630 NE 203 St., Suite 105
Aventura
Florida
305-692-8998
Dr. Nader Shehata and his team at Derma Laser Center match clients' exteriors to their body goals through a slate of comprehensive cosmetic procedures. Noninvasive therapies include massage and laser hair removal, which leaves skin looking smoother and more elegant than a latex wedding dress. Alternatively, Shehata performs minimally invasive procedures ranging from dermal fillers to Smartlipo laser fat reduction.
3800 S Ocean Dr., Suite 218
Hollywood
Florida
954-458-8007
---