Day Spas in Pinole
---
Recommended Day Spa by Groupon Customers
---
Beauty specialist Vimaa Patel opened I Bar to concentrate on threading, body art, and permanent makeup. Vimaa ensures her staff is practiced in the ancient technique of eyebrow threading—gently pruning and shaping brows with cotton strings—by requiring potential team members to have at least two years of experience. The technicians also enhance eyes and brows with permanent-makeup treatments and personalize shoulders, ankles, and calves with temporary body art, such as birds, blossoms, or safe combinations.
I Bar's intensive focus on a handful of treatments let the staff master their craft, and customers took notice. Within four years, the beauty haven expanded to four locations, each of which maintains the rigorous quality and boutique ambiance of the original.
629 Capwell Ln.
Walnut Creek
California
925-279-1113
The arched gate of Le Jardin at the Spa opens to a concrete path that leads to four small cottages where tranquility abounds. The refurbished four-cottage compound houses a full salon and spa, where clients take a mini vacation from the stresses of day-to-day life with full-body massages and relaxing facials that cleanse skin with Image and Pevonia skincare products. Inside, stylists remove split ends and salvage damaged strands with a five-step conditioning process and crossed fingers. They also host spa parties, which often include a sparkling-wine reception and decadent desserts. With the purchase of any five regularly priced spa services, clients may host their own spa party for free and bring their own food, drinks, and friends.
1603 Oak Park Blvd.
Pleasant Hill
California
925-935-4247
Beyond Malimor Skin Care's yellow awning and shrub-lined façade, Mali awaits, ready to beautify clients. Using warm wax, Mali sharpens eyebrows, de fuzzes faces, and clears full legs, removing the hair by its root so it to will grow back slower and finer. Alongside Mali, her staff of skilled make-up artists applies special event make-up and exhume buried tension with full body therapeutic massages that, like the any well-played game of tic-tac-toe, can last for 30 or 60 minutes.
1740 Solano Avenue
Berkeley
California
510-525-1927
Adhering to a holistic healing philosophy, Kinetic Waves' staff pampers guests with noninvasive treatments designed to bolster skin health and relieve stress without the use of harmful chemicals. The specialists administer a variety of complexion-clearing and anti-aging facials, treating mugs to Hujan Natural Skin Care products, which are free of parabens, gluten, artificial fragrances, and dyes. Guests can also revel in relaxation during holistic treatments, such as reiki and craniosacral-therapy sessions, and massage, in which therapists knead away muscular tension with their experienced hands or mastery of telekinesis.
1640 Tiburon Blvd.
Tiburon
California
415-516-6498
How does one start a skincare business with no equipment, products, or money? Kim Evans found herself in that predicament when she started her business immediately after passing the state boards. With nothing but faith and a strong work ethic, she began tending to her clients' skin needs inside a rented room of a small spa. She worked 80 hours per week and became a licensed massage therapist to expand her business into what it is today: a wellness spa that enhances the beauty and health of skin and body through spa services and massage. Inside 2Gorjis Integrated Health & Wellness, three private treatment rooms house clients as two skin therapists cleanse surfaces during custom facials, or wrap bodies in aromatherapy herbal linens. The staff members bolster natural features with eyelash extensions, meticulous body waxing, and makeup artistry that includes exclamation points drawn next to eyebrows.
2065 Ygnacio Valley Rd.
Walnut Creek
California
Each of the spa's relaxing services starts off as experienced staffers pamper guests with a complimentary hot-towel wrap and dose of aromatherapy scents. Licensed massage therapists work to alleviate guests' physical and psychological tension during soothing massages, which run anywhere from 30 to 120 minutes and incorporate techniques from modalities including Swedish, hot stone, reflexology, and myofascial release. Facials, body treatments, and hair-snatching waxes can clear skin of fine lines, blemishes, acne, and unwanted follicles. Clients may also doll up their appendages with a selection of manicures and pedicures, all backed by Harmony Day Spa's 48-hour nail policy that guarantees better yields when noodling for non-colorblind catfish.
1960 San Pablo Ave
Pinole
California
US
---
---
Day Spa Deals - Recently Expired
---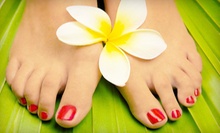 Technicians rejuvenate hands and feet before trimming nails and adding dashes of rich polish in softly lit salon with hardwood floors
---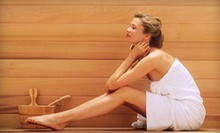 Guests lounge in private open-sky hot tubs and a steamy cedar sauna; self-applied sea-salt scrub or clay mask presented on a crystal plate
---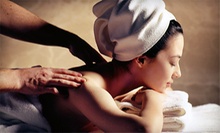 Italian-trained aesthetician clarifies complexions with anti-aging products, sculpts eyebrows, kneads muscles, or detoxifies body
---
---