Pinole, CA Health and Fitness
---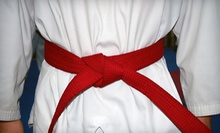 Use Today 10:00am - 9:00pm
---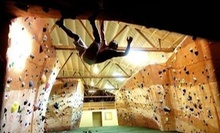 12 inches of seamless padding cushion any falls as climbers scale 18-foot-high top-out boulders and hang from an indoor cave
Use Monday 9:00am - 7:00pm
---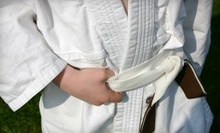 Use Thursday 4:30pm - 7:30pm
---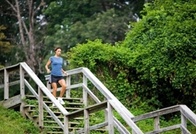 Former basketball players & US marines help sculpt svelte silhouettes & healthy bodies with intense 30-minute workouts
Use Monday 12:00am - 6:15am
---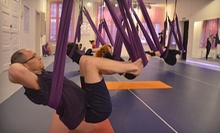 Fabric contraptions suspend students from the ceiling as they practice yogic stretches and core-strengthening exercises
Use Wednesday 3:30pm - 6:30pm
---
---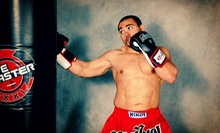 Burn up to 800 calories in a one-hour class for advanced students that integrates boxing, martial arts, and aerobics
Use Tuesday 2:15pm - 5:15pm
---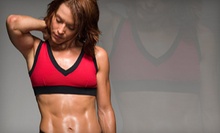 A strong sense of community and scalable routines keep clients comfortable as they venture outside their athletic comfort zones
Use Monday 6:15am - 9:15am
---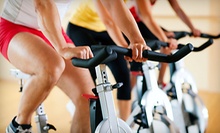 Friendly, dedicated instructors captain heart-helping spin classes that fuse indoor & outdoor cycling benefits
Use Monday 3:00am - 6:00am
---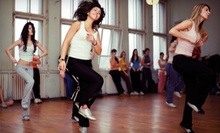 Zumba classes weave easy-to-follow choreography and latin beats into rhythmic cardio routines that burn calories
Use Thursday 3:00pm - 6:00pm
---
Recommended Health & Fitness by Groupon Customers
---
Capoeira is an Afro-Brazilian art form that combines elements of song, dance, and ritualized fighting that is centered on a physical game called jogo de capoeira. Like Spock and Kirk forced to fight by a threatening tribunal of bearded men, two players dance around each other in the center of a circle, exchanging movements of attack and defense in a constant, heart-pumping flow. Both players attempt to control the space by confusing their opponent, although no intentional contact is made or harm done—unlike sticks and stones with hurtful words carved into them. The observers in the circle play a variety of traditional Brazilian instruments and sing, setting the pace and beat of the dance-fight. Explore the schedule to find times during the week that work for you; additional classes are held at 7 a.m. by appointment only. Each session will immerse you in the flips, feints, kicks, and songs of capoeira.
1901 San Pablo Ave.
Berkeley
California
Aspire's Pilates-based exercise programs are tailored to the individual needs of its clients, then averaged into multifaceted group classes. You have the option of taking either style of Pilates offered: introductory ChoreoCore or an introductory mat class. ChoreoCore deliciously blends lively dance movements with the flexibility, balance, and core-strengthening exercises of Pilates, while the mat classes introduce students to basic core-stabilization techniques that aid in alignment, balance, and strength with a focus on using abs to stabilize the spine. Use your two class sessions to sample one of each style, since the cardio of ChoreoCore and basic grounding of the mat classes complement one another like alternating piano keys, Nutella and crêpes, or Tom and Jerry in the episodes where they team up to fight the bulldog. Classes are scheduled six days a week at various times.
1485 Enea Ct., Suite 1460
Concord
California
The next time you're on the roof of a five-story building, look down at the ground, and you'll get a rough idea of just how high people climb at Touchstone Climbing. The gym's seven locations feature lead walls that rise as high as 50 feet off the ground, though height isn't the only dimension that makes the space feel immense. Each spot has at least 11,000 square feet of climbing terrain, not to mention as much as 3,000 square feet of bouldering.
To prevent newcomers from feeling intimidated by the magnitude of the environment, the gym holds introductory classes. During these sessions, participants learn the basic techniques they'll need if they want to conquer the gym's crack systems and boulder problems. The classes are also an opportunity for students to scope out the terrain features at each location, such as Diablo Rock Gym's steep prow, which juts out crookedly like a thumbs up from a dizzy ballerina. While they're at it, the visitors might notice something else: the social nature of the gym. As the San Francisco Chronicle recounts, the fact that lead climbs require two people means that climbers are constantly asking around for new partners and chatting back and forth as they ascend.
Each location also boasts a weight room, cardio machines, and a studio space for everything from yoga to spinning to core classes.
1220 Diamond Way, Suite 140
Concord
California
925-602-1000
Between partner-based exercises and the inspirational commands of a certified personal trainer, community is a constant motivator during EmpowerFIT's boot-camp classes. The savvy team of fitness gurus switch up the maneuvers of each daily class to help keep students engaged, and high- and low-impact variations of each move scale to the abilities of each student. The result is a full-body workout that relies on functional movements such as jumping, running, pushing, pulling, and bopping it.
301 N San Carlos Dr.
Walnut Creek
California
Among Heather Farm Park's rolling hills and expansive grassy terrain, patrons push their bodies through dynamic, one-hour workouts designed to sculpt and strengthen physiques from head to toe. Helping to motivate patrons toward their ideal shapes, East Bay Fitness's owner and head trainer Jena McGuffie boasts certifications in personal training and specialized fitness, along with a degree in alternative medicine. After building a private personal-training business in Florida, Jena swapped coasts to share her passion for health and wellness with Californians of all ages and abilities. Her workouts vary from class to class, incorporating cardiovascular work and strength-training moves such as lifting Webster's Dictionary over and over with just your pinkies.
Heather Farms Park
Walnut Creek
California
925-364-0296
Napa Valley Adventure Boot Camp owner Jeff Larson and his team of trainers know all about breaking a sweat. Each day, they challenge their students with fitness classes that string cardio and resistance workouts into a challenging chain of intense exercise. They also understand that water and electronics don't mix—instead of hosting their classes inside gyms filled with treadmills and stationary bikes, they stage their regimens outdoors, fortifying their workouts with rejuvenating sunrays and the encouraging shrieks of onlooking robins.
934 Enterprise Way, Suite D
Napa
California
---