Pinole, CA Outdoor Activities
---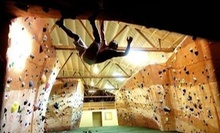 12 inches of seamless padding cushion any falls as climbers scale 18-foot-high top-out boulders and hang from an indoor cave
Use Monday 9:00am - 7:00pm
---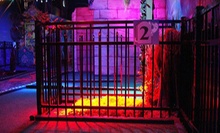 Graveyard-themed mini-golf holes wind through gothic architecture, crypts, and skeletons peppered across indoor course
Use Monday 2:00pm - 9:00pm
---
---
Recommended Outdoor Activities by Groupon Customers
---
Their flanks flecked with sweat, muscles rippling in their necks, and nostrils flaring, the thoroughbreds at Golden Gate Fields hurtle around a 1-mile oval. Crouched in the saddle, the jockeys feel the eyes of up to 14,750 audience members on their silk-clad backs as they strain to reach the finish line. In addition to its main mile-long track, the 140-acre racing complex has a 9/10-mile lakeside turf course, giving guests plenty of races to wager on. After the first starting pistol fires, watchers can fuel their cheering with polish sausage from the Horseman's Circle, housemade pepperoni from Tastes of Italy, and steaks from Apron Barbeque.
Even fancier food awaits rumbling stomachs at the Turf Club—the crab cakes and steak prepared by Executive Chef Bryan Taylor aren't the only draw. Club guests can enjoy an unparalleled live view of both tracks, the bay, and the Berkeley hills or watch the steeds on the private viewing screens that grace each table. In addition to the private screens, more than 80 flat screens, a jumbo screen, and regular monitors show horses hitting breakneck paces, and both live tellers and automatic wagering machines stand ready to take bets on which horse has the biggest shoe size. Leather furnishings, Tiffany-style lights, and gallery displays of equine-themed Hermès and Gucci scarves create a sophisticated atmosphere that reminds guests of the illustrious history of the track, which dates back to 1941.
1100 Eastshore Hwy.
Berkeley
California
510-559-7390
The next time you're on the roof of a five-story building, look down at the ground, and you'll get a rough idea of just how high people climb at Touchstone Climbing. The gym's seven locations feature lead walls that rise as high as 50 feet off the ground, though height isn't the only dimension that makes the space feel immense. Each spot has at least 11,000 square feet of climbing terrain, not to mention as much as 3,000 square feet of bouldering.
To prevent newcomers from feeling intimidated by the magnitude of the environment, the gym holds introductory classes. During these sessions, participants learn the basic techniques they'll need if they want to conquer the gym's crack systems and boulder problems. The classes are also an opportunity for students to scope out the terrain features at each location, such as Diablo Rock Gym's steep prow, which juts out crookedly like a thumbs up from a dizzy ballerina. While they're at it, the visitors might notice something else: the social nature of the gym. As the San Francisco Chronicle recounts, the fact that lead climbs require two people means that climbers are constantly asking around for new partners and chatting back and forth as they ascend.
Each location also boasts a weight room, cardio machines, and a studio space for everything from yoga to spinning to core classes.
1220 Diamond Way, Suite 140
Concord
California
925-602-1000
The Walnut Creek Downtown Business Association fosters community engagement and the vitality of local merchants through a variety of programs, events, and general support. Popular events held throughout the year include wine walks, sidewalk sales, and fine-arts festivals.
1275 Broadway Plaza
Walnut Creek
California
925-933-6778
Departing from the charming town of Tiburon, the Angel Island Tiburon Ferry takes passengers on 10-minute rides to the historic Angel Island State Park. The ferry is run by the McDonogh family, which boasts a storied history of five generations of running boats to the island while quoting lines from The Adventures of Huckleberry Finn. The company runs its route year-round, encouraging hikers and bicyclists to take advantage of the islands' trails in any season and also runs regular sightseeing cruises around the bay. Passengers can embark on one- to two-hour excursions that glide beneath the Golden Gate Bridge, explore Alcatraz, or cruise along the shoreline of Marin County.
21 Main St.
Tiburon
California
415-435-2131
Mare Island Golf Club, whose 1892 founding makes it one of the oldest courses in the country, attracts golfers with breathtaking island scenery. Built near old Marine barracks, the course—which wasn't expanded into an 18-hole layout until 2000—originally sported sand greens, dry fairways, and a cast of unusual inhabitants including a Marine lieutenant's horse, who was drawn to the grounds by career aspirations of becoming a golf cart.
Today, the par-70 course begins with nine traditional, tree-lined holes before opening up on the back nine with a links-style layout designed by renowned Pacific Rim architect Robin Nelson. As golfers swing toward distant greens, views of San Pablo Bay and—on a clear day—the Golden Gate Bridge appear from certain vantages and sand-trap oases.
To perfect a backswing or spell out a marriage proposal with golf balls, players head to the 225-yard driving range with a bucket of balls. Patrons should arrive at least 20 minutes before tee times and can grab a bite in the restaurant or look for one of the 10 ammunition bunkers scattered throughout the course, which serve as a reminder of its connection to the military during World War I and II.
1800 Club Dr.
Mare Island
California
707-562-4653 x1
An intro-to-sailing lesson with OCSC is designed both for beginners who can't tell a mermaid from Ethel Merman and for more-intermediate students of the stern and aft looking to perfect their technique. Skilled and certified instructors teach each lesson, while a low teacher-to-student ratio ensures plenty of attention and instruction for all involved. Your lesson will focus on practical training, creating a prime opportunity to get some on-the-water experience beneath your sails. Over the course of two hours, you'll be exposed to different roles and positions on the yacht, including the position of steely-eyed helmsman. By the end of the salt-sprayed session, you won't be a certified skipper, but you'll have had a sublime time and tasted the sailing experience, which always tastes like a combination of warm brownies and cold milk.
1 Spinnaker Way
Berkeley
California
---