Tattoo & Piercing in Pinole
---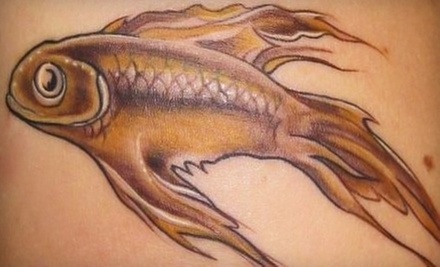 ---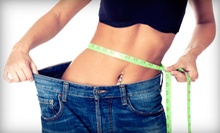 Body wraps melt away impurities and excess fat as they stimulate metabolism, and red-light rejuvenation helps boost collagen production
---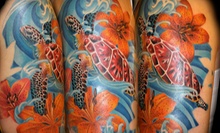 A tattoo artist with international conventions under her belt specializes in photorealism, portraits, and neotraditional Americana artwork
Use Today 12:00pm - 8:00pm
---
Recommended Tattoo & Piercing by Groupon Customers
---
Burrowed among such historical downtown sights as Union Square and the Chinatown gates, Moth and Dagger Tattoo Studio leaves its own permanent mark on San Francisco by outfitting the city's residents with custom tattoos. Well-rounded inksmiths Mario Delgado and Justin Davis run the shop, and both are trained in their own unique styles. Mario specializes in realism, sprawling familiar images across limbs and buzzing them to life in full color or black and gray. Justin represents a more familiar approach with traditional American and Japanese designs. When they're not sketching new images, the duo is fixing or covering up old tattoos, allowing clients to finally have the confidence to leave the house naked.
610 Bush St.
San Francisco
California
415-834-5127
In a clean, open space, Pierce Ink offers beauteous body modifications for customers interested in embellishing muscle coats and commemorating meaningful life events. Specializing in custom tattoos, Piece Ink's talented artists will bring any design to life by creating bold and unnerving, or refined and detailed tats. Tattooing costs between $60 and $125 per hour. Pierce's fully licensed, experienced staffers are also certified in first aid, CPR, disease prevention, and bloodborne pathogens, ensuring a safe, hygienic process. On the pierced side of the coin, visitors can garnish a navel ($60), nose ($50), or tongue ($65) with basic jewelry, or gracefully bedazzle bodily surfaces with anchor piercings ($95). Pierce Ink carries high-quality titanium and surgical steel jewelry, as well as Pyrex pieces to significantly reduce the chance of your body rejecting its new trimmings like it so rudely did when it was offered a slice of rhubarb pie.
48 Race Street
San Jose
California
Since 1984, Bulldog Lifestyles' professional artists have adorned bodies with tattoos and piercings. Drawing from expertise in traditional, new-school, tribal, portraits, and realistic styles, tattoo artists permanently paint epidermal canvases with a customer's chosen image or favorite Bob Ross quote. Surface piercings speckle across cheeks and chest bones, whereas studs adorn noses, ears, and tongues.
285 S Capitol Ave.
San Jose
California
408-729-3605
The seven-person team of tattoo and piercing artists at Highland's Finest Tattoos couples custom illustrations with rigorous health and cleanliness standards, with the goal of giving each client a piece of art they'll cherish throughout their lives. Using the brightest-quality pigments and disposable tubes and needles opened in full view of each customer, the artists create personalized images in tribal, realistic, portrait, black-and-gray, or new-skool styles. The team also specializes in cover-up tattoos, allowing patrons to transform their ill-advised or outdated tattoo more efficiently than tapping it with a magician's wand.
6745 Watt Ave.
North Highlands
California
916-331-8287
When the parents of Bulldog Tattoo SF's artist told him to wait until he was 18 until he got another tattoo—they found out he had been lying about his age and getting inked since he was 14—there's a chance they thought he'd grow out of it. More than 20 years later, that's clearly not the case; his passion for the inked arts grew so vast that he found his way to the other end of the needle. Inside of his clean and sterilized parlor, the artist doles out a wide range of tattoo styles—from his favored traditional tribal artwork from exotic locales such as Borneo, French Polynesia, and the basement at Macy's to celtic knots and colored portraits. His versatility and skill, which can be viewed in his portfolio, can meet many requests, from black and gray designs to heavily colored artwork.
2275C Market Street
San Francisco
California
415-948-0332
---