Things to Do in Piqua
---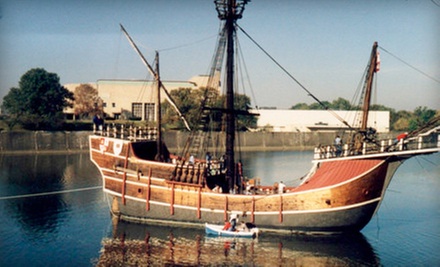 ---
Recommended Things to Do by Groupon Customers
---
Originally invented by bored henchmen looking to pass the time at Doctor Berserko's secret Antarctic lair, hockey has since overtaken polo and unicycle jousting as America's pastime. Hop on the bandwagon with today's Groupon. For $20 to $35, you get one upper 200-level or one lower 100-level ticket to see the NHL's Columbus Blue Jackets take part in one of two slap-shooting matchups: Saturday, March 27, at 7 p.m. vs. the New York Islanders or Tuesday, March 30, at 7 p.m. vs. the Tampa Bay Lightning. Depending on seating, these tickets are usually $44 or $75. The Saturday, March 27, game is also designated as Huntington Hat Night, and fans will receive a free Blue Jackets hat.
200 W Nationwide Blvd.
Columbus
Ohio
Under the guidance of founder Chad Fath, the licensed helicopter pilots and instructors at Higher Ground Helicopters take visitors on scenic 'copter rides above the city as well as train students to become full-fledged pilots. Flight training lessons take place in the evenings to accommodate busy adult schedules, with the goal of turning inexperienced students into certified professionals within 10 to 18 months. For guests on the fence about flying, Higher Ground offers hands-on demos, which consist of 30 minutes of ground training, 30 minutes of piloting in the air, and 30 minutes of watching The A-Team reruns. For guests who simply wish to enjoy the scenery, Higher Ground's expert pilots host scenic tours that showcase the Cincinnati skyline.
1701 Run Way
Middletown
Ohio
513-217-6700
The telltale sounds of fun fill the air at either Magic Mountain Fun Center location, as friends and families careen around tracks in go-karts, compete on mind-bending mini-golf courses, or do battle in bumper cars. Piping-hot pizzas fuel days of rides and arcade games, and the park's varied birthday packages catapult parties into a fun-filled gamut of feasting, bumper boats, and laser tag. Open late, the parks afford guests the opportunity to while the night away or lure their night terrors in front of a speeding bumper car.
8350 Lyra Dr.
Columbus
Ohio
The 4,000 square feet of climbing space at Vertical Adventures encompasses terrain for top roping, bouldering, and lead climbing under the watchful supervision of a trained staff. The gym challenges wall scramblers to test both their physical endurance and problem-solving skills as they take on the top-rope courses, which represent the majority of the routes and tower as high as 25 feet. Rather than let new patrons become overwhelmed by the variety of courses or get stranded at the top without reading material, the gym's instructors also conduct lessons for all climbing levels to help climbers improve technique and conquer fears.
6295 Busch Blvd.
Columbus
Ohio
Stone pathways meander among bubbling fountains and glowing reflecting pools. Soil beds teem with gold, violet, and red perennials. Professional designers cobble together sculptures from flowers, glass, fabric, and light. This veritable bouquet of domestic inspiration takes place during the three-day Dayton Home & Garden Show. Each year, the exposition's gardeners and floral designers craft a range of displays based on a chosen theme. Many of the sample gardens incorporate this theme with a focus on whimsical water features, fire pits and paved patios, or modern conservation methods, such as using cupid statues to make birds fall in love.
Beyond the botanical spectacle, more than 250 local and national exhibitors answer questions and proffer goods related to home improvement: siding, windows, cookware, candles, garden ornaments, and bath products. While the professionally landscaped gardens create a simulated outdoor world, area interior designers use color, furnishings, and lights to transform eight small, vacant spaces into living rooms convincing enough to attract and profoundly bewilder Santa Claus. At the Garden Academy stage, professional gardeners lead more than 60 educational seminars and demonstrations on such topics as invasive insects, patio construction, and water gardens. At the cooking stage, area chefs demonstrate kitchen basics and culinary techniques while distributing free samples to the audience.
22 E Fifth St.
Dayton
Ohio
937-333-4700
The Columbus Museum of Art dazzles eyes and tickles imaginations with a broad collection of 19th- and early-20th-century American and European artwork, as well as a cavalcade of traveling exhibits. Wear a realistic beast-man costume to the current exhibition Fur, Fins, and Feathers, which spotlights animal motifs within the museum's collections, from Inuit carvings to live armadillos posing as statues (runs through June 5). The permanent exhibit Old Masters captures subtleties of shadow, 19th-century American works encompass vast landscapes, and the extensive Late Modernism and Contemporary assemblage implodes luminous colors in twisting, spiraling transformations. Meanwhile, the museum's 18,000-square-foot Center for Creativity includes a technology lab and hands-on, kid-centered artistic projects to get children interested in fine art at an impressionable age, keeping them from becoming work-a-day doctors and lawyers.
480 E Broad St.
Columbus
Ohio
---