Piscataway, NJ Outdoor Activities
---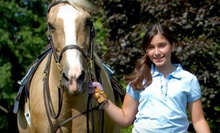 Seasoned riding instructor Jessie Kierson leads one-hour group lessons that include 45 minutes of riding and 15 minutes of horse care
---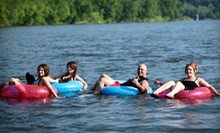 Float along the Delaware for up to four hours, passing tree-lined banks and a riverside eatery that doles out burgers and hot dogs
---
Recommended Outdoor Activities by Groupon Customers
---
Across the woodsball fields and speedball arena of Long Live Paintball, contenders dodge the colorful fire of their opponents as they leap over cable spools and post up behind a charred bus or towers of barrels. It's on these obstacle-ridden grounds that dye-slingers compete in elimination-style games or battle to complete a given mission, such as capturing the adversary's flag and using it to pick popcorn kernels out of their teeth. Admission rates range from simple entry fees for the fully equipped to all-day Gold packages that supply players with a marker, 500 paintballs, and all the other necessary provisions. Rentable chest protectors cushion trunks from crossfire, and disposable camo cuts down on the time players spend fusing their DNA with that of a tree. Although the field is generally first-come, first-serve, the staff can prepare for parties of 10 or more with an advanced reservation.
1989 Englishtown Rd.
Old Bridge
New Jersey
732-656-9566
Soon after Mimi Omiecinski moved to Princeton in 2006, a chance sighting of a Nobel laureate sparked her interest in the town's distinguished residents. When a local business owner informed her that Princeton has more Nobel laureates, Pulitzer winners, and Parakeet Best in Show recipients than any two-square-mile radius on Earth, she commenced an intense study about the town, its tenants, and its history.
The result of this fascination is Princeton Tour Company, an eclectic blend of tours that covers the breadth and depth of Princeton's history, including its culture, university, and local businesses. Ghost tours take guests on a cemetery walk past the gravesites of a United States president and a signer of the declaration of independence, whereas walking tours cover the stories of former Princeton residents including T.S. Eliot and Brooke Shields.
116 Nassau St.
Princeton
New Jersey
609-902-3637
Gamers Baseball Academy busts summer's monopoly on the game, giving athletes an indoor, year-round destination where they can learn the ins and outs of both baseball and softball from a crack staff of college coaches, professional athletes, and college players. The 10,000-square-foot facility nurtures players with its collection of hitting and pitching tunnels, batting cages, defense areas, and a changing room for molting mascots.
Gamers Baseball Academy can adapt to meet the training needs of each individual boy and girl or an entire squad. Athletes can then put their newfound skills to work on the academy's own baseball and softball teams to recreate the live games' speeds and intricacies no matter the month.
295 N Michigan ave
Kenilworth
New Jersey
US
908-531-0343
---