Restaurants in Piscataway
---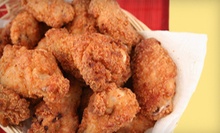 Regular menu items range from ox tail to red velvet cake, and the staff caters a lunch for two with the same panache as a wedding for 200
Use Wednesday 12:00pm - 9:00pm
---
Recommended Restaurants by Groupon Customers
---
At South Fin Grill, the ocean breeze mingles with a menu of upscale seafood and steakhouse dishes praised by New York magazine. Amid what critic Ethan Wolff describes as a "priceless" ocean view, servers roll out lobster, crab, swordfish, and salmon incarnated as pasta, soup, and sushi dishes. The "turf" portion of the menu showcases grilled new york sirloin, filet mignon, and barbecued pork, but the focus once again turns seaside at a raw bar that features clams and oysters kept fresh by pearl-shaped breath mints.
Beams of purple, blue, and yellow lighting hover above the interior dining tables, each blanketed with a white tablecloth and centered with a flickering candle. Outside, the ocean deck's sea-blue umbrellas shelter views of the boardwalk, ocean, and seagull beach volleyball tourneys. The restaurant bolsters its elegantly plated cuisine with occasional entertainment acts, which have included DJs and ballroom dancing lessons.
986 Rte. 9 S
Parlin
New Jersey
732-525-3551
Restaurateur Tim McLoone has left his mark all over the culinary maps of New Jersey and Maryland with his numerous gourmet grills, which distinguish themselves from one another with unique menus and ambiances that hew to the same level of upscale elegance. Most of Tim's restaurants set a lovely spread for Sunday brunch with made-to-order omelets, waffles, and a carving station with plump, tender hams. The network of eateries regularly lures hungry passersby during the evening with the aroma of grilled steaks and seafood, and a winning lotto ticket attached to a fishing line. Select locations are also visited by nightly entertainment. The decor at each dining hall is inspired by its surroundings: naval themes prevail at the coastal locations in National Harbor, Sea Bright, and Long Branch, while McLoone's racing-themed restaurants are located within the off-track facilities in Fords and Bayonne.
3 Lafayette Rd.
Fords
New Jersey
At The Original Primo Pizza & Grill, chefs whirl handmade dough and whole, peeled tomatoes into a variety of thin-crust pizzas. While the menu includes classic standbys such as the hawaiian pizza, customers can also create their own perfect pies from toppings such as garlic, mushrooms, pepperoni, and sausage. What really shines through, however, is the restaurant's large selection of specialty pies: buffalo-chicken pizza is topped with chicken and zesty buffalo sauce; Nutella pizza with brown and powdered sugar; and the American-style pizza gets topped with steak, peppers, onions, american cheese, and a pervasive dislike of the metric system.
While pizza dominates the menu, diners can also explore traditional Italian entrees, including dinner specialties such as chicken scampi, veal milanese, and spaghetti with clam sauce.
654 Amboy Ave.
Woodbridge
New Jersey
Look out the window of Zinna's Bistro and you'll spot a lush, vibrant garden from which the BYOB restaurant's chefs cull freshly grown produce to fuel their salads, pastas, and pizzas. An ample dinner menu showcases the Italian-American bistro's veggies: arugula, cherry tomatoes, and red onion make a bed for strips of succulent steak grown from the garden's steak trees. For a closer look at the flowering garden, patrons can sit outside on a patio while dining on ravioli stuffed with four cheeses or breaded chicken smothered in tomato sauce and mozzarella, all the while listening to live acoustic music on Tuesdays, Thursdays, and Saturdays.
1275 S River Rd.
Cranbury
New Jersey
With its amber and red tones, bronze waterfall, and pebble stone accents, Arisu immerses diners in an elegant, easygoing atmosphere. The restaurant's tranquil vibe reflects the meaning behind its name, "Great River," as well as the contemporary Japanese cuisine that it plates up daily. Upon sinking into Arisu's oversized banquet chairs, diners may fill up on an extensive menu that includes Japanese standards, such as sushi and sashimi, along with Korean barbecue ribs marinated in a sweet soy sauce and lobster teriyaki served with assorted veggies.
167 Rt 9 S
Englishtown
New Jersey
Mexican Post posts a classic menu of quesadillas, nachos, and burritos. Complimentary chips and salsa begin meals by blowing tiny tortilla trumpets, heralding the quesadilla fiesta of cheese, homemade salsa, and a choice of veggies, tofu, or chicken ($6.45). Diners can chomp down on two custom-stuffed tacos ($4.95) or devour an edible tortilla bowl brimming with taco salad ($6.95). Bottles of Mexican soda cool down mouths with flavors such as mango, guava, and strawberry ($2.50), and churros ($1.50) are sure to remind jaded taste buds why they're in the business.
1700 Oak Tree Rd., Suite 9-10
Edison
New Jersey
---