Pittsburg Gyms and Fitness
---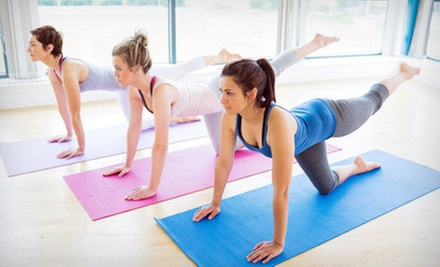 ---
Gym, Exercise, Weightloss Deals
---
Recommended Gym, Exercise, Weightloss by Groupon Customers
---
Aspire's Pilates-based exercise programs are tailored to the individual needs of its clients, then averaged into multifaceted group classes. You have the option of taking either style of Pilates offered: introductory ChoreoCore or an introductory mat class. ChoreoCore deliciously blends lively dance movements with the flexibility, balance, and core-strengthening exercises of Pilates, while the mat classes introduce students to basic core-stabilization techniques that aid in alignment, balance, and strength with a focus on using abs to stabilize the spine. Use your two class sessions to sample one of each style, since the cardio of ChoreoCore and basic grounding of the mat classes complement one another like alternating piano keys, Nutella and crêpes, or Tom and Jerry in the episodes where they team up to fight the bulldog. Classes are scheduled six days a week at various times.
1485 Enea Ct., Suite 1460
Concord
California
The next time you're on the roof of a five-story building, look down at the ground, and you'll get a rough idea of just how high people climb at Touchstone Climbing. The gym's seven locations feature lead walls that rise as high as 50 feet off the ground, though height isn't the only dimension that makes the space feel immense. Each spot has at least 11,000 square feet of climbing terrain, not to mention as much as 3,000 square feet of bouldering.
To prevent newcomers from feeling intimidated by the magnitude of the environment, the gym holds introductory classes. During these sessions, participants learn the basic techniques they'll need if they want to conquer the gym's crack systems and boulder problems. The classes are also an opportunity for students to scope out the terrain features at each location, such as Diablo Rock Gym's steep prow, which juts out crookedly like a thumbs up from a dizzy ballerina. While they're at it, the visitors might notice something else: the social nature of the gym. As the San Francisco Chronicle recounts, the fact that lead climbs require two people means that climbers are constantly asking around for new partners and chatting back and forth as they ascend.
Each location also boasts a weight room, cardio machines, and a studio space for everything from yoga to spinning to core classes.
1220 Diamond Way, Suite 140
Concord
California
925-602-1000
Between partner-based exercises and the inspirational commands of a certified personal trainer, community is a constant motivator during EmpowerFIT's boot-camp classes. The savvy team of fitness gurus switch up the maneuvers of each daily class to help keep students engaged, and high- and low-impact variations of each move scale to the abilities of each student. The result is a full-body workout that relies on functional movements such as jumping, running, pushing, pulling, and bopping it.
301 N San Carlos Dr.
Walnut Creek
California
The 7 experienced instructors at Yoga Sol harmonize their disparate backgrounds to bring students a well-rounded yoga practice. Owner Tara Clay brings expertise in clinical psychology, whereas CJ Lamborn contributes her experience as a Pilates instructor and understanding of the healing power of yoga. Marlena Salinas has a compelling story—trained as a hypnotherapist, she started practicing yoga after the birth of her son and uses language to help clients release pain as well as gain confidence. This is just a snapshot of the studio's staff, but it embodies the wealth of knowledge behind each session, be it Hot Yoga, Vinyasa Flow, Power Yoga, or restorative Yin. The instructors teach students of all experience levels, tailoring sessions for injured participants, expectant mothers, and people who are primarily made out of pretzels. Practice areas adjoin a retail space with yoga mats and blocks.
5416 Ygnacio Valley Rd., Suite 30
Concord
California
925-288-9642
Open for over 38 years, Paradise Skate Roller Rink invites skaters to roll around its Hawaiian-themed decorations. Brightly colored palm trees adorn the painted walls, adding ambiance as skaters don rental quad or inline skates. A snack bar offers beer, wine, and sodas alongside hot dogs, personal pizzas, nachos, and burritos, which patrons can dine on as they watch one of several flat-screen televisions or events such as roller derby.
1201 W 10th St.
Antioch
California
Among Heather Farm Park's rolling hills and expansive grassy terrain, patrons push their bodies through dynamic, one-hour workouts designed to sculpt and strengthen physiques from head to toe. Helping to motivate patrons toward their ideal shapes, East Bay Fitness's owner and head trainer Jena McGuffie boasts certifications in personal training and specialized fitness, along with a degree in alternative medicine. After building a private personal-training business in Florida, Jena swapped coasts to share her passion for health and wellness with Californians of all ages and abilities. Her workouts vary from class to class, incorporating cardiovascular work and strength-training moves such as lifting Webster's Dictionary over and over with just your pinkies.
Heather Farms Park
Walnut Creek
California
925-364-0296
---