Things to Do in Pittsburgh
---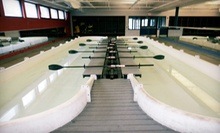 Students start on ergometers before hitting indoor and outdoor waters; students also learn terminology, safety, and techniques
---
Recommended Things to Do by Groupon Customers
---
At North Versailles Bowling Center, bowlers hurl spheroids down well-waxed lanes crowned with a stunning diorama of the nighttime Pittsburgh skyline, taking timeouts to enjoy frosty beverages and cheesy pizzas from the nearby snack bar. Saturday nights are celebrated with glowing lights and music played by a live DJ, and ball hurlers attempt to celebrate the memory of Sir Isaac Newton by temporarily suspending the laws of physics with each roll. When they aren't racking up strikes on the lanes or browsing Columbia, Storm, and Brunswick gear in the pro shop, visitors watch Pittsburgh sports teams on the lounge's five HDTVs or challenge each other to friendly rounds of billiards or trivia.
356 Lincoln Hwy.
North Versailles
Pennsylvania
US
412-824-6700
'Burgh Bits & Bites celebrates the melting pot of downtown Pittsburgh cuisine with different tastes from different ethnicities in different Euclidean spaces. Palates will encounter up to six different tastings during the approximately two-hour restaurant crawl. Snack on Italian specialties such as imported meats and cheeses or Mediterranean eats such as hummus, or savor bites with universal acceptance, like pizza. Tours are kept to groups of 10 or less per knowledgeable guide, ensuring that you get individual attention and a cool tour nickname. After the tour, participants will have been fed enough tiny bites to equal a small meal, pushing stomach-o-meters from E (extremely unfilled) to F (full as a submerged timpani). A bottle of water is provided at the start of the tour, and you will have the option to bring your own refreshments. Children and infants are free, as long as they aren't eating.
1711 Liberty Ave.
Pittsburgh
Pennsylvania
Pittsburgh's premiere indoor rock climbing center with over 14,000 square feet of climbing. Voted "best indoor climbing in the Pittsburgh Area" by Pittsburgh Magazine. Climbing for all levels from the complete novice to the advanced.
7501 Penn Ave.
Pittsburgh
Pennsylvania
412-247-7334
Holistic wellness blossoms from Yoga Matrika's small, supportive yoga classes led by a team of energetic, nurturing instructors. Aspiring yogis can choose from a flexible lineup of classes that they can schedule online or via mental telepathy after an initial in-person registration. During Matrika Flow sessions, pupils perch in balancing poses and exhilarating sun salutations while they loosen taut sinews with invigorating backbends. The studio's experienced relaxation gurus can easily modify poses for beginners or advanced students, and answer any burning questions about the tension-taming Hatha techniques. For expectant mothers, Prenatal Yoga lessons flow through an inventive sequence of movements, which soothe back pain and improve circulation in a patient setting. Hip-opening poses dominate Mindful Flow sessions, which also incorporate seated asanas to assuage chronic pain and meditation to clear minds of daily stresses and catchy commercial jingles.
1406 S. Negley Avenue
Pittsburgh
Pennsylvania
412-855-5692
Rising six floors above the historic Strip District, the Senator John Heinz History Center's handsome, redbrick exterior houses 275,000 square feet of exhibits and materials devoted to Western Pennsylvania. Long-term exhibits include From Slavery to Freedom, which traces the quest for equality from the antislavery movement to the modern struggles for Civil Rights, using indenture, manumission, and freedom papers from the Allegheny County recorder of deeds as starting points. Pittsburgh: A History of Innovation highlights the land's original inhabitants, the journey of Lewis and Clark, and the modern superhighways, whereas the Western Pennsylvania Sports Museum delves into the history and lore of local athletics, from the Steelers' Immaculate Reception to Bill Mazeroski's title-clinching home run in game seven of the 1960 World Series. The museum also hosts nationally renowned traveling exhibits; its current offering is 1968: The Year That Rocked America which explores this decade-defining year using evocative objects, multimedia displays, and more than 100 artifacts related to 1968's seminal moments.
1212 Smallman St.
Pittsburgh
Pennsylvania
Although Create a Frame / Handworks Gallery began as a designer framing store, works of art have wriggled their way off the walls and onto the shop floor, where 3-D pieces complement the flat compositions framers nestle beneath glass, mats, and moulding. Helmed by husband-and-wife team Wendy and Steven Denenberg for more than 30 years, the white custom-framing counter offsets a wall of frame samples from brands such as Adhisa and Roma, which encircle pieces of any size alongside flattering mats and glass to protect against passing impressionists. Tactile objets d'art dapple the rest of the gallery space with the colors of hand-hewn artisanal furniture, sparkling jewelry, and glass bowls, vases, and ceilings crafted by American and international artists.:m]]
615 Washington Rd.
Mount Lebanon
Pennsylvania
412-341-1744
---