Restaurants in Plainfield
---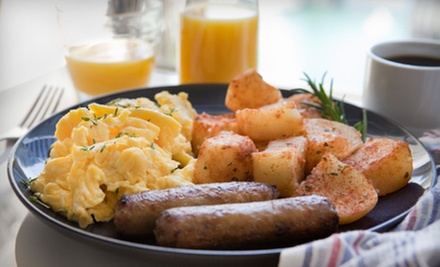 ---
Recommended Restaurants by Groupon Customers
---
Vito's has been serving up simple, finely prepared Italian eats to the Indianapolis community for 21 years. A bountiful menu snuffs burgeoning stomach grumbles with appetizers such as stuffed mushrooms filled with cheese and seasoned spinach, brushed down with garlic butter, and baked to bubbling ($6.95). Pasta coated in Vito's house-made, spicy vodka sauce is a standby for even the pickiest eaters ($11.95), and chicken marsala swiftly solves poultry cravings with chicken breast sautéed in marsala sauce and served with mushrooms over angel-hair pasta ($15.95). A variety of traditional and specialty pizzas are ideal for sharing with a big group, gobbling alone in the dark, or illustrating percentages at your next board meeting ($7.95–$16.95). Wash dishes down with a classy glass or gem-encrusted goblet of vino.
8031 S Meridian St.
Indianapolis
Indiana
Owner and chef Mike Atherton draws upon 35 years of culinary experience and one huge Weber charcoal grill to ignite menus of burgers and pizzas that have found their way into the Indianapolis Star. After nestling flame-kissed meats between homemade buns and slathering them with flourishes—such as bourbon and made-from-scratch hot sauce and poppy seed dressing—chefs pronounce them ready to explore the roomy restaurant's wide-open spaces and wood-paneled bar. Local craft beers mingle with Sunday afternoon's sporting events, which are televised on wall-mounted big-screen TVs and then reenacted by former child stars.
7102 Woodland Dr.
Indianapolis
Indiana
King David's signature dogs start with a 1/4-pound all-beef hot dog or smoked-chicken dog on a fresh-baked Gonnella poppy-seed bun. Build your own ($3.99) with four toppings of your choice, or choose a specialty recipe such as the Reuben dog with swiss cheese, sauerkraut, and thousand-island dressing ($4.49) or the BBQ dog slathered in savory barbecue sauce, bacon, cheddar, and chopped onions ($4.79). King David also serves up Chicago-style ($4.99) and New York–style ($4.99) dogs alongside those jacketed in fried corn batter on a stick ($3.99) or snuggled inside a warm baked pretzel roll ($4.99). On the side, opt for fries ($1.49), tater tots ($1.49), or baked beans ($0.99). Anti-encased-meat eaters can play it safe with chicken fingers ($5.99) or chili ($3.99 for cup).
135 N Pennsylvania St.
Indianapolis
Indiana
317-632-3647
Offering authentic Italian fare in an elegant dining environment, Ambrosia Centro interrupts hungry, throat-dry filibusters with a mouthwatering dinner menu. After an appetizing mouth-party of cozze alla marinara ($9) attended by mussels in olive oil, white wine, garlic, and lemon, soup shoppers can slurp a serving of tortellini di brodo ($6), which consists of meat-filled tortellini drowning in house-made chicken broth. Plates of pasta, besides being great coffee-table decorations, are also good for eating: clients can try the spinach-and-cheese-ravioli della mamma ($15) or the fettuccine alla bolognese ($15), with three-meat ragu and tomato-garlic-cream sauce. For larger proportions, herb-crusted baked chicken breast awaits palates in the pollo alla parmigiana ($15), while medaglioni raffinati ($27) serves up sautéed beef tenderloin with a scrumptious brandy-cream sauce.
15 East Maryland Street
Indianapolis
Indiana
Operated by Earth House Collective—a group of activists and artists dedicated to bolstering the local and global communities with culture and wellness—Earth House's cafe ensures that every wholesome meal on its menu is vegetarian. The shop incorporates many locally acquired and organic ingredients, and most dishes are vegan or gluten-free to ensure healthy, guilt-free digestion. Sup on a savory vegan Sonoma Salad sandwich, tossed with crispy baked tofu, red grapes, toasted pecans, and a creamy poppy-seed dressing ($4), or opt for a vegan and gluten-free mango black-bean pizza with a spicy and exotic poblano-pepper and sweet-potato accent ($4/slice). The cafe's 12-ounce, all-organic coffees are locally roasted by Bjava Coffee and are always ground and french-pressed to order, ensuring a neatly folded and more flavorful brew, with some sediment. Cafe connoisseurs can slurp the sweet, floral notes of the Guatemala roast ($2.50), the light fruitiness of the Ethiopian roast ($2.95), or the soft sweetness of the decaf Peru roast, which, like gazing at the stars or drawing the solar system with a tube of toothpaste, can be enjoyed at night ($2.95).
237 N East Street
Indianapolis
Indiana
At Teddy's Burger Joint, cooks form beef patties by hand, grill them over open flames, and garnish them with fresh ingredients. It's a simple, three-step process that yields juicy burgers at a reliable tempo. The piping-hot burgers come in various configurations, whether topped with bacon or loaded up with nacho cheese, jalapeños, and chopped tomatoes and then stuffed into a piñata. For a fuller meal, the burgers can sidle up to french fries or thick-cut onion rings as well as soda or local beers. Hot dogs, griddled sandwiches, and ample desserts round out the menu.
2222 W Southport Rd.
Indianapolis
Indiana
---