Restaurants in Plainfield
---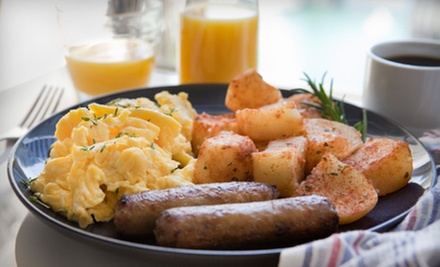 ---
Recommended Restaurants by Groupon Customers
---
Red Lion Grog House blends British and American traditions with a trouser-stretching menu of bangers, beef, and english curries amid elegant décor. Diners settle at sleek tables lit by tasteful, glowing sconces as they prepare to devour pub classics that include blanket bangers nestled into a puff-pastry duvet on a four-poster bed of hand-cut chips and garlic-dijon aioli ($10.49). Meanwhile, the explosive stuffed portobello crams its delectable gunpowder of garlic and herbs into a musket-size mushroom, tamped down with mozzarella wadding ($12.49). Traditionalists might tuck into a lancashire hot pot, a braised chuck roast slow-roasted with onion and carrots ($11.99), and vegetarians can sup on a black-bean burger touched with chipotle and topped with swiss and cucumber ($8.49). This freewheeling speakeasy plays host to a number of weekly events, with trivia contests Tuesday and Thursday, open-mic night every Wednesday, and gentlemanly harrumphing lessons on demand.
1043 Virginia Ave., Suite 6
Indianapolis
Indiana
317-822-4764
Agio's executive chef Joseph Heidenreich concocts a Mediterranean-infused menu of fresh Italian fare that's impeccably paired with sophisticated sips from the restaurant's extensive wine list and served in an intimate, romantic setting. Complement an order of baked goat cheese in a tomato-basil puree served with flatbread ($8.95) with an earthy Italian red wine, or couple a vegetable pizza topped with basil pesto, mushrooms, roasted peppers, and gorgonzola ($10.95) with a crisp Italian white. Agio's moroccan paella serves up a succulent selection of fresh seafood, chicken, sausage, and saffron rice ($22.95), and the grilled pork loin arrives tableside sporting a dapper fez and a balsamic glaze ($19.95). The meatball is in the patron's court with the spaghetti, as it can be customized with a choice of sauce, protein, and other tasty toppings ($8.95–$15.95).
635 Massachusetts Ave.
Indianapolis
Indiana
317-488-0359
Vito's has been serving up simple, finely prepared Italian eats to the Indianapolis community for 21 years. A bountiful menu snuffs burgeoning stomach grumbles with appetizers such as stuffed mushrooms filled with cheese and seasoned spinach, brushed down with garlic butter, and baked to bubbling ($6.95). Pasta coated in Vito's house-made, spicy vodka sauce is a standby for even the pickiest eaters ($11.95), and chicken marsala swiftly solves poultry cravings with chicken breast sautéed in marsala sauce and served with mushrooms over angel-hair pasta ($15.95). A variety of traditional and specialty pizzas are ideal for sharing with a big group, gobbling alone in the dark, or illustrating percentages at your next board meeting ($7.95–$16.95). Wash dishes down with a classy glass or gem-encrusted goblet of vino.
8031 S Meridian St.
Indianapolis
Indiana
Owner and chef Mike Atherton draws upon 35 years of culinary experience and one huge Weber charcoal grill to ignite menus of burgers and pizzas that have found their way into the Indianapolis Star. After nestling flame-kissed meats between homemade buns and slathering them with flourishes—such as bourbon and made-from-scratch hot sauce and poppy seed dressing—chefs pronounce them ready to explore the roomy restaurant's wide-open spaces and wood-paneled bar. Local craft beers mingle with Sunday afternoon's sporting events, which are televised on wall-mounted big-screen TVs and then reenacted by former child stars.
7102 Woodland Dr.
Indianapolis
Indiana
King David's signature dogs start with a 1/4-pound all-beef hot dog or smoked-chicken dog on a fresh-baked Gonnella poppy-seed bun. Build your own ($3.99) with four toppings of your choice, or choose a specialty recipe such as the Reuben dog with swiss cheese, sauerkraut, and thousand-island dressing ($4.49) or the BBQ dog slathered in savory barbecue sauce, bacon, cheddar, and chopped onions ($4.79). King David also serves up Chicago-style ($4.99) and New York–style ($4.99) dogs alongside those jacketed in fried corn batter on a stick ($3.99) or snuggled inside a warm baked pretzel roll ($4.99). On the side, opt for fries ($1.49), tater tots ($1.49), or baked beans ($0.99). Anti-encased-meat eaters can play it safe with chicken fingers ($5.99) or chili ($3.99 for cup).
135 N Pennsylvania St.
Indianapolis
Indiana
317-632-3647
Offering authentic Italian fare in an elegant dining environment, Ambrosia Centro interrupts hungry, throat-dry filibusters with a mouthwatering dinner menu. After an appetizing mouth-party of cozze alla marinara ($9) attended by mussels in olive oil, white wine, garlic, and lemon, soup shoppers can slurp a serving of tortellini di brodo ($6), which consists of meat-filled tortellini drowning in house-made chicken broth. Plates of pasta, besides being great coffee-table decorations, are also good for eating: clients can try the spinach-and-cheese-ravioli della mamma ($15) or the fettuccine alla bolognese ($15), with three-meat ragu and tomato-garlic-cream sauce. For larger proportions, herb-crusted baked chicken breast awaits palates in the pollo alla parmigiana ($15), while medaglioni raffinati ($27) serves up sautéed beef tenderloin with a scrumptious brandy-cream sauce.
15 East Maryland Street
Indianapolis
Indiana
---