Things to Do in Plainville
---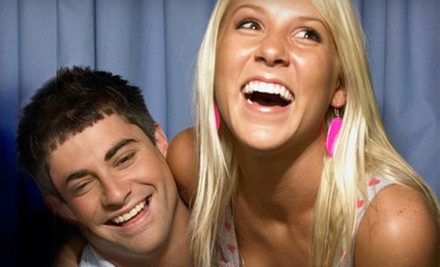 ---
Recommended Things to Do by Groupon Customers
---
Laser Planet's sprawling facility hosts a trio of attractions: laser tag, black-light mini golf, and an arcade. Competitors don vests and equip their laser-emitting weapons before heading into the multi-level laser-tag arena, where they'll be met with techno music, fog, and strobe lights, as they navigate corridors and attempt to tag the other team in a game of PowerPoint de la muerte. Or, they can head to the mini-golf arena, where black lights illuminate bright colors, aliens, and astronauts positioned around the 10-hole course. Elsewhere, a video arcade presents digital challenges, as players grab joysticks and mash buttons gleefully. Additionally, Laser Planet also offers a host of parties and events, ranging from all-night lock-ins, to corporate team building, to birthdays.
2457 E Main St.
Waterbury
Connecticut
Jim, the owner and operator of Extreme Paintball, bought his first paintball marker––a Nelspot 007––more than 20 years ago. Shortly after discovering his passion, he toured the country on a National Professional Paintball League team, retiring after 11 years to open Extreme Paintball. Nowadays, Jim and his staff work to introduce new players to his preferred method of paintball: woodsball. Contrasting with bunker-based speedball, woodsball is played in the natural outdoors, such as in the woods or at the bottom of the ocean.
At Extreme Paintball, Jim's three vast courses are designed around different scenarios with thematic obstacles scattered throughout to enhance the experience. The tank course carries the scars of war as crashed planes and the wrecked husks of tanks litter the battlefield, and the Vietnam course is shrouded in the area's densest foliage, finally making use of all the artificial trees populating the region. Jim's team rotates the courses throughout the year to preserve the environment and create an ever-changing battlefield.
476 Boyden St.
Waterbury
Connecticut
203-596-7502
The teachers at Sanctuary Power Yoga advocate a regular yoga practice as a way to bring greater peace and balance into everyday life. Because of the perspective shifts they've each experienced through yoga, they are eager to ease beginners into what may seem like a foreign or strange type of exercise. They teach basic poses in a beginner series, and their heated power-yoga classes suit all levels, emphasizing a flowing sequence that promotes moving meditation. Unheated slow flow allows students to learn proper alignment, and the gently held poses of restorative yoga relieve tension built up from carrying children to school everyday. The studio also holds workshops and events such as reiki sessions and card readings.
23 Franklin St.
Torrington
Connecticut
At City Steam Brewery Cafe, the owners concoct some of the area's finest beers, scoring "best of" awards from Hartford magazine and Connecticut Magazine. They also brew potent batches of laughter inside their 200-seat comedy show-room theater. Ensconced in the historic Brown Thomson and Co. building, which was the state's largest department store in 1877, Brew Ha Ha once was known as the Last Laugh Comedy Club, where fledgling unknowns such as Ray Romano and Kevin James vied for laughs in the smoky rathskeller of a restaurant.
Reborn in 1997 under a new moniker, the standup speakeasy keeps its calendar packed with nationally touring comics and local joke slingers. During shows, guests can toast with mugs of handcrafted beer and make edible sculptures of their favorite comedian using menu's custom burgers, pizzas, and omelets.
942 Main St.
Hartford
Connecticut
860-525-1600
With three floors of interactive exhibits, Imagine Nation keeps tykes aged 2–10 and their parents engaged for hours of synapse-firing fun. Tunnels filled with natural decor await youngsters in the museum's indoor jungle-themed playscape, where they can shake excess energy out of their bounding legs in preparation for naptime or hibernation season. In the ESPN center, kids can pretend to be sportscasters as they sit behind the desk of a model TV set, replete with real equipment from the Worldwide Leader in Sports.
The museum also boasts a health exhibit in which children can don hospital attire and explore a model newborn nursery and an operation table, ideal for parents trying to nudge their child toward a career as a hypochondriac. After whippersnapper's minds have been blown learning about the cosmos at the space exhibit, they can unwind with drinks and snacks at the old-fashioned soda fountain, which winds the clock back to the 1940s with the help of a player piano.
1 Pleasant St.
Bristol
Connecticut
---