Hair Salons in Plano
---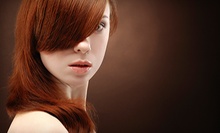 Savvy stylists reshape coifs and add dimension with partial or full highlights
---
Recommended Hair Salon by Groupon Customers
---
Today's Groupon is full of shag-snipping and mane-maintaining. For $29, you'll get two quick, quality cuts, plus one free game of pool and one aesthetic extra (tanning session or eyebrow wax) per appointment at Too Hotties, a guy-centric salon in Addison. Add panache to your preening, or get your mop cut without cutting into time that could be spent climbing flagpoles.Texas Five Ball: The first player to knock five balls into any pocket is called "the juggler," while the losing player is sacrificed to an ancient snake deity. The Crook and Bale: Both players idly hit balls with sticks and talk about football until one of them brings up what's really on their minds: the night last August that can't be washed away. Island Shuffle: This is Cliff's moment to shine because Cliff loves this game. Too bad nobody likes Cliff enough to play. Sorry, Cliff. Oddball Out: This deadly game requires players to bring their own archery set and is rarely worth the bloodshed. Can be played in teams.
4135 Belt Line Rd., Suite 110
Addison
Texas
US
To get an idea of the kinds of services offered at Carrollton Square Salon & Spa, you need only look up. In one of the treatment rooms, a tent hovers over the massage bed, ready to catch clouds of toxin-dispersing steam. In another room, the ceiling's wooden bars allow trained ashiatsu practitioners to buoy and balance themselves while massaging clients' backs with their feet. The only thing you'll find on the ceiling of the relaxation room is soft, recessed lighting and the trapped cartoon-bubble sighs of stress relief left behind by previous guests.
The salon and spa harnesses the historic charm of downtown Carrollton and is filled with friendly, down-to-earth staffers. This combination won over readers of the Carrollton Leader, who voted it the Best Spa and Best Massage in 2012.
1026 S Broadway St.
Carrollton
Texas
US
The stylists at Shear Heaven Salon don't view their dos as occasional indulgences but as an essential part of long-term haircare. Therefore, they concern themselves with both in-salon services and the time between them, supplying clients with a wealth of merchandise and aftercare tips. These guidelines help preserve the meticulous cuts and colors that occur at their stations. The staff members readily take on texturizing challenges—they're certified to smooth away frizz with Brazilian Blowout formulas, and their beach-wave perms capture a tousled look that doesn't involve a full day of somersaulting. Brands such as Aloxxi, Global Keratin, Macadamia, and Surface assist in crafting updated looks, and Babe extensions elongate natural locks.
Shear Heaven's new location inside Karizma Threading Salon also showcases a barbershop menu. On Monday and Wednesday, licensed barber Miguel Gomez trims hair, thwarts stubble with a straight razor, and soothes cheeks with hot towels.
18101 Preston Rd., Suite 209
Dallas
Texas
US
Unsurpassed Master Stylists Known for Legendary Beauty Results in Dallas!
14902 Preston Road, Suite 506
Dallas
Texas
972-960-8321
Each of Tangerine Salons' four locations operate under a charitable ethos and the nature-based tenants of Aveda. Aveda's environmentally conscious, naturally derived products infuse all of Tangerine's salon services. Seven tiers of hairstylists—ranging from Protégé I to Master III—handle the hairstyling duties by snipping, highlighting, and conditioning locks. At the Coppell and Cedar Hill locations, the staff dedicates space to an array of spa services, including massages, facial treatments, mani-pedis, and back facials that help eliminate crow's feet on people with eyes in the back of their heads.
240 N Denton Tap Rd.
Coppell
Texas
972-393-9200
Our primary goal is to provide healthy alternatives to caring for and maintaining your naturally curly or natural hair to include styling, locs, and braiding through the use of organic and low chemical professional hair products.
6726 W MAIN STREET, SUITE 420
FRISCO
Texas
214-407-7767
---