Restaurants in Plano
---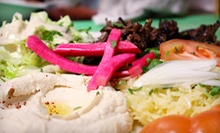 Chefs prepare zabiha halal selections of Mediterranean and Mexican cuisine
---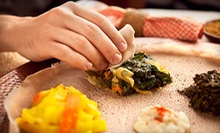 Spicy stews of tender beef, lamb, and vegetables, and crisp, flaky sambusas
---
---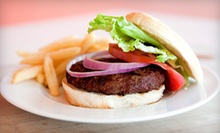 Farm-fresh eggs and strawberry french toast at breakfast; hawaiian burgers and chicken fajitas for lunch or dinner
---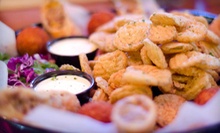 Try fish 'n' chips dipped in Icehouse shiner bock beer batter, custom sandwiches, and philly steak eggrolls at a pub with a wide patio
---
Recommended Restaurants by Groupon Customers
---
Owner Shawn Danapong spends a lot of time in Thai Pan's kitchen, where he proudly observes his team of chefs doing what they do best: seasoning curries, stirring pots of soup, and baking heaps of shrimp in a clay pot. The resultant plates of steaming Thai fare make their way to a dining area filled with soft music and small plumes of vapor that swirl above pad thai, fried rice, and stir-fried veggies doused in oyster sauce. As diners dip into the generous portions and help themselves to BYOB libations, a small fleet of televisions flickers to life with sporting events.
1720 N Central Expwy, Suite 170
McKinney
Texas
972-548-9955
Longtime Dallas residents can still remember when Mama opened her diner in 1958, bustling about the kitchen with her daughters scampering by her side, whipping up her signature hearty country specialties and desserts. More than 50 years later, Mama continues to watch over the kitchen with the help of her daughters, granddaughters, and a loyal kitchen staff. Drawing from Mama's timeless recipes, chefs fry up chicken, steaks, and catfish for the menu of daily specials, while biscuits, peach cobblers, and cinnamon rolls rise in the oven. Servers bear hefty platters out to the cushy booths of the dining room, where Mama's timeless wisdom is written across the walls, including such gems as "Eat your peas and get dessert" and "Don't stare"—invaluable advice for any diner should Medusa enter the restaurant.
6509 W Park Bouelvard, Suite 400
Plano
Texas
972-473-8877
Under a high ceiling strewn with glowing spherical lanterns, guests at Spoon warm their palates with tangy kimchi, spicy ramen, and plates of steaming bulgogi with barbecued beef or pork. These classic Korean dishes evenly distribute a savory aroma through the air of the two-level, lounge-like restaurant, and cobalt-blue lights focus attention on the stocked bar area on the ground floor. As friends get started with a round of drinks, they can share baskets of fried calamari or soft-shell crab or head up to the wrap-around balcony to admire other patrons' head tattoos.
2625 Old Denton Road, Suite 404
Carrollton
Texas
US
469-585-2757
Welcome to Groupon Dallas! For our inaugural deal, $10 gets you $20 worth of grub and guzzle at MoMo's Pasta, located at 3312 Knox St. You're probably thinking, "That sounds great, but I've never bought a car or a computer without first reading the Wikipedia definitions for car and computer—I'm not about to buy a Groupon either without a briefing." Well neither would we, and since this is everyone's first Groupon, allow us to briefly explain how it works.
5290 Belt Line Rd.
Dallas
Texas
US
Enjoy patio relaxation, sangria, and succulent tapas with today's Groupon, which gets you $25 worth of tapas and drinks for just $10 at Catalonian eatery Chic from Barcelona. Renowned Barcelonan chef Tony Botella's secret rotisserie chicken recipe has crossed the Atlantic to get to 11909 Preston Rd. #1426 and into your belly. Honor the pilgrimage by making your own.
11909 Preston Rd., Suite 1426
Dallas
Texas
US
Wake up to a taste of the city that never sleeps because it's too busy making the most delicious subs and bagels in the world. Today's Groupon to Carmen's Bagel Cafe and Italian Deli gets you $20 worth of authentic, New York–style bagels, LaVazza Italian coffees, pastries soups, subs, homemade sandwiches, paninis, and more for just $10.Click here to discuss Groupon the Cat.
525 E Arapaho Rd
Richardson
Texas
US
---