Restaurants in Plano
---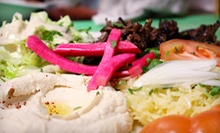 Chefs prepare zabiha halal selections of Mediterranean and Mexican cuisine
---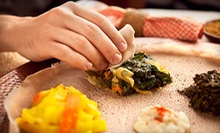 Spicy stews of tender beef, lamb, and vegetables, and crisp, flaky sambusas
---
---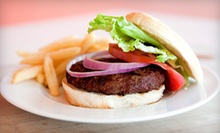 Farm-fresh eggs and strawberry french toast at breakfast; hawaiian burgers and chicken fajitas for lunch or dinner
---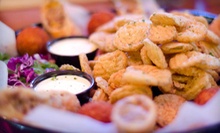 Try fish 'n' chips dipped in Icehouse shiner bock beer batter, custom sandwiches, and philly steak eggrolls at a pub with a wide patio
---
Recommended Restaurants by Groupon Customers
---
Owner Shawn Danapong spends a lot of time in Thai Pan's kitchen, where he proudly observes his team of chefs doing what they do best: seasoning curries, stirring pots of soup, and baking heaps of shrimp in a clay pot. The resultant plates of steaming Thai fare make their way to a dining area filled with soft music and small plumes of vapor that swirl above pad thai, fried rice, and stir-fried veggies doused in oyster sauce. As diners dip into the generous portions and help themselves to BYOB libations, a small fleet of televisions flickers to life with sporting events.
1720 N Central Expwy, Suite 170
McKinney
Texas
972-548-9955
Longtime Dallas residents can still remember when Mama opened her diner in 1958, bustling about the kitchen with her daughters scampering by her side, whipping up her signature hearty country specialties and desserts. More than 50 years later, Mama continues to watch over the kitchen with the help of her daughters, granddaughters, and a loyal kitchen staff. Drawing from Mama's timeless recipes, chefs fry up chicken, steaks, and catfish for the menu of daily specials, while biscuits, peach cobblers, and cinnamon rolls rise in the oven. Servers bear hefty platters out to the cushy booths of the dining room, where Mama's timeless wisdom is written across the walls, including such gems as "Eat your peas and get dessert" and "Don't stare"—invaluable advice for any diner should Medusa enter the restaurant.
6509 W Park Bouelvard, Suite 400
Plano
Texas
972-473-8877
In 2003, singer-songwriter Toby Keith released a song about a bar that "puts a big smile on [his] face." Its catchy melody and down-to-earth lyrics quickly earned it the No. 1 spot on Billboard's top country songs list and inspired the creation of Toby Keith's I Love This Bar & Grill restaurants.
Along with countless pieces of Toby Keith memorabilia, all 11 nationwide locations feature live music performances, beautiful whiskey girls, and mason jars filled with beer. Stop in to chow down on hearty southern-style food, such as fried mac 'n' cheese bites, or use a boot spur to slice through USDA Choice steaks and juicy burgers.
10110 Technology Blvd. E
Dallas
Texas
214-350-8629
To diners with a well-traveled palate, the corned beef at Gio's NY Deli might taste familiar. It, along with the pastrami, kosher dills, and half-sours, travel approximately 1,500 miles from Carnegie Deli in New York to lend authentic flavor to a Manhattan-inspired menu. In her D Magazine review, Nancy Nichols complimented the sandwich makers for layering meats into balanced portions easier to hold than their towering East Coast counterparts. Though the bagels and bialys don't originate from the Empire State, they are baked daily onsite in the New York tradition, and all-beef hot dogs recall franks forked out by the city's street vendors. Deli-style ingredients resurface on the breakfast menu, which boasts homemade corned-beef hash and omelets puffed up by salami, pastrami, and compliments from the chef.
12817 Preston Rd.
Dallas
Texas
US
972-387-4467
After moving to America at 3 months old, Steve Shin didn't have much time to learn the culinary traditions of his native South Korea. But when he returned for a year in 2001, he witnessed the cuisine's slimming properties firsthand. Though he consumed lots of food, his waistline shrank, most likely due to the minimal grease and fat content in South Korean cuisine. Inspired by his journey, he tried to eat a more healthy diet when he returned to the U.S, but after several rounds of salads and sandwiches, fast food lured him back to his old habits. Frustrated, he started brainstorming ways to build healthy and balanced meals, which led to b.b.bop. At his Asian-fusion restaurant, the menu is centered on wholesome bowls of rice, veggies, and protein, steering customers away from heavy, fatty meals, such as a giant butter sculpture.
To whip up b.b.bop's signature entree, cooks line bowls with a rice of the customer's choice, from a jasmine-scented Thai type to a nutty, fiber-filled brown variety. Next, the customer selects a lean, flame-grilled protein from options including pulled pork, chicken breast, or marinated tofu. Veggies such as bell peppers and bean sprouts add color and crunch to the dish, and sauce—the finishing touch—comes in more than a half-dozen flavors, from spicy red pepper to sweet teriyaki.
5323 Greenville Ave., Suite 5
Dallas
Texas
US
Welcome to Groupon Dallas! For our inaugural deal, $10 gets you $20 worth of grub and guzzle at MoMo's Pasta, located at 3312 Knox St. You're probably thinking, "That sounds great, but I've never bought a car or a computer without first reading the Wikipedia definitions for car and computer—I'm not about to buy a Groupon either without a briefing." Well neither would we, and since this is everyone's first Groupon, allow us to briefly explain how it works.
5290 Belt Line Rd.
Dallas
Texas
US
---