Restaurants in Plano
---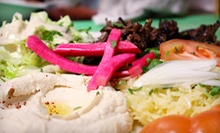 Chefs prepare zabiha halal selections of Mediterranean and Mexican cuisine
---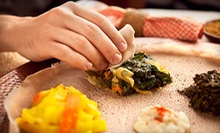 Spicy stews of tender beef, lamb, and vegetables, and crisp, flaky sambusas
---
---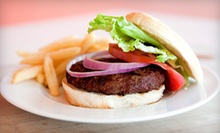 Farm-fresh eggs and strawberry french toast at breakfast; hawaiian burgers and chicken fajitas for lunch or dinner
---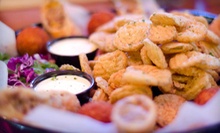 Try fish 'n' chips dipped in Icehouse shiner bock beer batter, custom sandwiches, and philly steak eggrolls at a pub with a wide patio
---
Recommended Restaurants by Groupon Customers
---
Owner Shawn Danapong spends a lot of time in Thai Pan's kitchen, where he proudly observes his team of chefs doing what they do best: seasoning curries, stirring pots of soup, and baking heaps of shrimp in a clay pot. The resultant plates of steaming Thai fare make their way to a dining area filled with soft music and small plumes of vapor that swirl above pad thai, fried rice, and stir-fried veggies doused in oyster sauce. As diners dip into the generous portions and help themselves to BYOB libations, a small fleet of televisions flickers to life with sporting events.
1720 N Central Expwy, Suite 170
McKinney
Texas
972-548-9955
In 1941, Travis Dickey decided his barbecue was too good not to share, and he lit the fire in his inaugural pit to craft brisket and ham for hungry folks. Over the years, his menu grew and his sons took over and expanded the operation, but those first recipes remained, sauce and all.
The chefs at the Rowlett location still hickory smoke each tender piece of meat behind a brick serving counter, which clatters beneath plates of polish sausage and glasses of iced tea. Black-and-white photos bedeck walls of corrugated metal siding and hardwood walls, and powder-blue checkered tablecloths re-create the feeling of dining in a rustic farmhouse without all the hours spent trying to figure out what a cornucopia is for.
5701 Liberty Grove Road, Suite 110
Rowlett
Texas
972-412-0667
Ziyaafat's chefs expertly organize the ancient flavors of imperial Mughal cuisine in a menu packed with authentic Indian dishes. In the kitchen, cooks sear chicken to create the murgh mughlai, then cook it with mild spices and top it with creamy gravy and almonds. Spicy dishes such as Afghan mutton karhai, an Afghan delicacy that braises bone-in mutton in a spicy tomato sauce, rest on plates above crimson table settings in Ziyaafat's dining room. The restaurant also caters corporate functions and special events with their mobile services, which proves ideal for family reunions held in a local investment firm's conference room.
1301 Custer Road
Plano
Texas
US
972-881-4302
Brazil Brasileiro's enthusiastic staff celebrates Brazil's culinary and cultural heritage with feasts of sizzling meat and sumptuous spreads of fresh fare. Traditional rodizio meals pepper taste buds with seven different cuts of roasted pork, chicken, and beef straight off the skewer, including the namesake rodizio, Brazil's signature cut of steak and form of currency. Tableside servers generously carve off unlimited slices of meat garnished with seasonings of zesty pineapple and spicy cinnamon. In addition to dishing out all-you-can-eat roasted meats, Brazil Brasileiro lays out a buffet that satisfies more diverse appetites for tropical fare with a wide array of traditional Brazilian edibles. Like Pele's brief conquest of the United States, Brazil Brasileiro aims to import an authentic atmosphere of Brazilian joie de vivre onto American shores by broadcasting South American soccer games on flat-screen TVs. Additionally, live music reverberates across the cozy, hardwood walls, and Brazilian souvenirs beckon to shoppers from the restaurant's gift shop.
518 W Arapaho Rd., Suite 133
Richardson
Texas
US
972-690-7171
Longtime Dallas residents can still remember when Mama opened her diner in 1958, bustling about the kitchen with her daughters scampering by her side, whipping up her signature hearty country specialties and desserts. More than 50 years later, Mama continues to watch over the kitchen with the help of her daughters, granddaughters, and a loyal kitchen staff. Drawing from Mama's timeless recipes, chefs fry up chicken, steaks, and catfish for the menu of daily specials, while biscuits, peach cobblers, and cinnamon rolls rise in the oven. Servers bear hefty platters out to the cushy booths of the dining room, where Mama's timeless wisdom is written across the walls, including such gems as "Eat your peas and get dessert" and "Don't stare"—invaluable advice for any diner should Medusa enter the restaurant.
6509 W Park Bouelvard, Suite 400
Plano
Texas
972-473-8877
After moving to America at 3 months old, Steve Shin didn't have much time to learn the culinary traditions of his native South Korea. But when he returned for a year in 2001, he witnessed the cuisine's slimming properties firsthand. Though he consumed lots of food, his waistline shrank, most likely due to the minimal grease and fat content in South Korean cuisine. Inspired by his journey, he tried to eat a more healthy diet when he returned to the U.S, but after several rounds of salads and sandwiches, fast food lured him back to his old habits. Frustrated, he started brainstorming ways to build healthy and balanced meals, which led to b.b.bop. At his Asian-fusion restaurant, the menu is centered on wholesome bowls of rice, veggies, and protein, steering customers away from heavy, fatty meals, such as a giant butter sculpture.
To whip up b.b.bop's signature entree, cooks line bowls with a rice of the customer's choice, from a jasmine-scented Thai type to a nutty, fiber-filled brown variety. Next, the customer selects a lean, flame-grilled protein from options including pulled pork, chicken breast, or marinated tofu. Veggies such as bell peppers and bean sprouts add color and crunch to the dish, and sauce—the finishing touch—comes in more than a half-dozen flavors, from spicy red pepper to sweet teriyaki.
5323 Greenville Ave., Suite 5
Dallas
Texas
US
---