Pleasant Grove, AL Beauty and Salons
---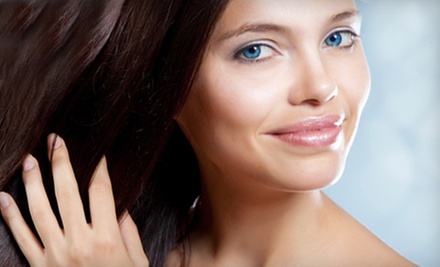 Historical Lake View District
---
Recommended Beauty by Groupon Customers
---
The barbers and stylists on Butler's executive grooming team are specially trained to deal with the rugged majesty of a man's hair and skin. They use high-end grooming products, such as Jack Black, Molton Brown, and Anthony, to ensure the classiest haircut ($38) possible. The hot towels and pre-shave oils of Butler's signature hot-lather shave ($30) are so relaxing you might need to be pinched when prompted for your choice of straight razor or Mach-3 razor. Escape to the comforts of Butler's manspa while meticulous manicurists rejuvenate your nails ($25). Finally, understanding the symbiotic relationship between a gentleman and his hard shoe, Butler's shoeshiner will give your foot-protecting friends the luster they deserve ($7).
2025 2nd Ave. N
Birmingham
Alabama
The clinical and licensed staff at Skin Wellness Center of Alabama, helmed by Dr. Corey L. Hartman, render rejuvenating skin treatments in a state-of-the-art facility. The SilkPeel microdermabrasion machine exfoliates the outermost layer of skin, brightening, clarifying, moisturizing, and delivering vitamins and antioxidants into the dermis. The session concludes in about 30 minutes after evening tone and reducing fine lines. Before a chemical peel, Dr. Hartman consults in detail with each patient to tailor the treatment to skin tone, texture, and cosmic aura. The staff then applies a formula to the face that stimulates quick cellular turnover in an exfoliating process that continues for several days. Peels are ideal for treating sun damage, hyperpigmentation, fine lines, and acne.
2908 Central Ave., Suite 150
Birmingham
Alabama
It's always swimsuit season inside Rio Tan, where six levels of tanning booths reward customers with a bronze, attention-grabbing glow. The salon offers six levels of tanning to accommodate a wide range of skin types, as well as spray tans for optimal convenience. Aiming to keep bodies in shape, Fit body wraps expose them to slimming infrared heat, which is usually found on the dark side of the sun.
2539 John Hawkins Pkwy., Suite 133
Hoover
Alabama
Dual board-certified Dr. Victor Mendoza combines traditional weight-management supplements with new-age laser treatments to help clients not only shed fat, but also remedy internal ailments such as fatigue or insomnia. The staff tailors each treatment program with preliminary tests that detect the hormone and toxin levels in each patient's body, which helps determine whether their issues come from environmental forces or simply eating too many pennies. To treat the moodiness, memory loss, and weight gain that comes with age, the spa administers health-bolstering doses of vitamins, minerals, and antioxidants to heal bodies from the inside out. Dr. Mendoza boosts his regimens' effects with Zerona body-contouring treatments, which use an FDA-cleared laser system to help noninvasively remove fat and reduce the appearance of cellulite. Lifestyle makeovers go even further with Fountain of Youth Medical Spa's other services, such as laser hair removal, chemical peels, and beauty injections.
5130 Cyrus Cir.
Birmingham
Alabama
205-981-0414
Featured on Fox 6, La Vie MD specializes in making people feel better from the inside out, offering medical and aesthetic services in a physician-overseen facility that feels more like a spa than a doctor's office. Hormone-replacement therapy is one of the shop's specialties, bringing bodies back into a youthful state balance, which can help increase energy, improve memory and concentration, and curb any desire to ask the file cabinet on a date. Aesthetic treatments such as Botox and IPL photo rejuvenation diminish visual signs of aging without surgery, and the center's medical weight-loss programs combine dietary limitations with a regimen of injections or pills containing a naturally occurring protein that abates the hunger and fatigue often associated with dieting.
2737 Hwy. 280, Suite 151
Mountain Brook
Alabama
205-238-5646
More than 15,000 patients have passed through Varicosis, Cosmetic and Laser Center's doors since it opened in 1995. Dr. Timothy Parish has been at the helm the entire time and, although he's added several skills to his resumé since, he still takes the time to personally outline a treatment plan and perform ultrasounds for each patient with varicose veins. A registered vascular technician and registered physician in vascular interpretation, Dr. Parish eschews painful vein-stripping procedures for innovative methods including endovenous laser treatment, which uses laser fibers to damage the vein walls, eventually causing them to break down, pack up their belongings, and disappear. Beyond vanquishing problem veins, Dr. Parish and his team have also mastered several cosmetic procedures, including laser hair removal, chemical peels, and dermal fillers such as Botox and Juvéderm.
3055 Lorna Rd., Suite 210
Hoover
Alabama
205-822-6333
---