Things to Do in Pleasant Grove
---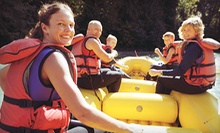 Two-hour trip down Provo River's Class I and II rapids wends past local wildlife, mountain formations, and historic railroad bridges
---
Recommended Things to Do by Groupon Customers
---
When a great white shark approaches with opened jaws, the last thing you want to do is swing a golf club. But when that same scenario presents itself at Laser Assault, swinging a golf club is exactly what you should do—the path through those jaws leads to one of nine holes on the black-light mini-golf course. Other menacing creatures such as snakes and T-rexes guard the remaining eight holes, which wind their way through murals of aquatic critters and verdant jungle brush.
More creepy neon wall paintings illumine Laser Assault's two-level laser tag arena, whose labyrinthine corridors twist and turn past clusters of barrels and through clouds of fog—a one-minute video grants a vivid tour. Outside the arena, only an air hockey table glows inside the arcade, a non black-light space with classic games such as Hoop Fever—the more exciting sequel to Hoop Indifference.
264 North 100 West
Provo
Utah
US
Each year, more than 3,500 people descend on Soldier Hollow in Midway to celebrate the arts and cultures of various Native American nations. For three days, crafters sell handmade jewelry, paintings, and museum-worthy pottery. Fry bread, roast mutton, and Navajo tacos abound, fueling shoppers as they browse or cartwheel over to watch dancers and drummers face off against each other in colorful, handcrafted regalia. The dancers don flowing garb for grass dances that recall prairie grass rustling in the breeze, while jingle dresses inlaid with hundreds of tiny tin cones reverberate in time with fleet footwork.
2002 Olympic Dr.
Midway
Utah
Named after Brigham Young University's furry feline mascot, Cosmo's Kids Club invites youths to experience the university's athletic programs both on and off the field. A dozen game vouchers grant access to four football games and eight men's basketball games, and a Cosmo T-shirt acts as a ticket to all other BYU sporting events. After games, members can hop onto the field of play to practice kicking penalty shots, shooting free throws, or measuring grass to be sure it's regulation height. Kids up the ante at show-and-tell with stories from facility tours and meet and greets with BYU athletes. The club ensures at-home allegiance with posters, access to Cosmo's website, and a monthly mailer from the mascot himself.
Benjamin Allen believes outdoor pursuits can positively influence those in need. This belief has led him all over the continent, building a ropes course for an orphanage in Mexico and setting up two courses for troubled youth at Provo Canyon School, a bit closer to home. Wanting to share his knowledge of nature with the public, he set up a course, CLAS Ropes Course, near Utah Lake nearly 20 years ago. Benjamin and his crew have since erected more than 50 ropes courses around the country, continuing to inspect ropes and train others how to run them.
CLAS Ropes Course continues to grow each year, creating obstacles such as a giant swing that releases passengers 40 feet in the air, a 400-foot zipline that whizzes through forest canopy, and a "leap of faith," where adventure seekers jump from a treetop platform to a trapeze. A log balance beam hung 30 feet above the ground and a 24-foot-tall rock-climbing tower test agility and endurance, and a fleet of 20 canoes lets paddlers navigate a mile and a half of river. Many of these structures play host to team-building activities focused on developing a group's creativity and tolerance for hearing one another sing. Staff members tailor their instruction to families, dating groups, or athletic teams. They often apply their approach to athletes, such as a professional golfer who traveled all the way from Texas hoping to conquer her fear of not qualifying for tournaments. She defeated the log balance beam, departed victorious, and qualified during her next tryout two weeks later.
3606 W Center St.
Provo
Utah
---