Things to Do in Pleasant Grove
---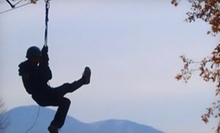 24-ft. climbing wall challenges climbers to reach the top; canoes let them explore down- or upriver; couples retreat includes dinner
---
Recommended Things to Do by Groupon Customers
---
When a great white shark approaches with opened jaws, the last thing you want to do is swing a golf club. But when that same scenario presents itself at Laser Assault, swinging a golf club is exactly what you should do—the path through those jaws leads to one of nine holes on the black-light mini-golf course. Other menacing creatures such as snakes and T-rexes guard the remaining eight holes, which wind their way through murals of aquatic critters and verdant jungle brush.
More creepy neon wall paintings illumine Laser Assault's two-level laser tag arena, whose labyrinthine corridors twist and turn past clusters of barrels and through clouds of fog—a one-minute video grants a vivid tour. Outside the arena, only an air hockey table glows inside the arcade, a non black-light space with classic games such as Hoop Fever—the more exciting sequel to Hoop Indifference.
264 North 100 West
Provo
Utah
US
Each year, more than 3,500 people descend on Soldier Hollow in Midway to celebrate the arts and cultures of various Native American nations. For three days, crafters sell handmade jewelry, paintings, and museum-worthy pottery. Fry bread, roast mutton, and Navajo tacos abound, fueling shoppers as they browse or cartwheel over to watch dancers and drummers face off against each other in colorful, handcrafted regalia. The dancers don flowing garb for grass dances that recall prairie grass rustling in the breeze, while jingle dresses inlaid with hundreds of tiny tin cones reverberate in time with fleet footwork.
2002 Olympic Dr.
Midway
Utah
Named after Brigham Young University's furry feline mascot, Cosmo's Kids Club invites youths to experience the university's athletic programs both on and off the field. A dozen game vouchers grant access to four football games and eight men's basketball games, and a Cosmo T-shirt acts as a ticket to all other BYU sporting events. After games, members can hop onto the field of play to practice kicking penalty shots, shooting free throws, or measuring grass to be sure it's regulation height. Kids up the ante at show-and-tell with stories from facility tours and meet and greets with BYU athletes. The club ensures at-home allegiance with posters, access to Cosmo's website, and a monthly mailer from the mascot himself.
Captivated by the adventures of Robinson Crusoe, a young Dan Whiting signed up for a wilderness survival hike in search of similar swashbuckling. It didn't turn out as he had hoped. "The only thing I learned was that you can get really hungry and really thirsty in the desert." Whiting vowed to approach his own outdoor adventures differently. He now believes nature can be abundant and nurturing rather than barren and trying—provided you have the tools to understand it, that is.
Although Whiting has studied dozens of field guides, he learned his most valuable lessons via firsthand experience. To wit: he has eaten 78 plants to date and knows just as many recipes. On one expedition, Mr. Whiting was delighted when a participant turned to him and said, "I had no idea there was so much food up here."
The wilderness expert acknowledges that people may learn skills that could one day save their lives. But his ultimate goal is to transform the way people think about being outdoors. "When you are familiar with animals and plants, you feel free. When you have intimate knowledge of how something tastes, feels, smells, then there's no fear of it anymore. It's just everyday life."
1549 N 950 W
orem
Utah
888-266-1980
---