Pleasanton, CA Drs and Health Practioners
---
Drs & Health Practitioners Deals
---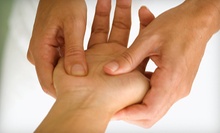 A noninvasive acupressure treatment stimulates bodily channels to improve physical and emotional well-being
Use Today 9:00am - 3:00pm
---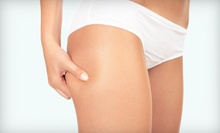 Use Today 12:00pm - 6:00pm
---
Recommended Drs & Health Practitioners by Groupon Customers
---
The clinical staff at Elite MD bring their studio-honed expertise to bear on skin-smoothing services such as Botox and Dysport treatments, which target the muscles that cause facial wrinkles and involuntary winking at circus clowns. Additionally, dermatological procedures keep acne and eczema at bay while facials and peels aim to maintain luscious epidermal exteriors.
360 Rose Ave.
Danville
California
925-838-4363
Dr. Ganga Thota of Breeze Dental Group has been cleaning, whitening, and straightening smiles for more than 13 years in an office that focuses on patient pampering. As she affixes porcelain veneers or treats TMJ, Dr. Thota's patients recline in dental chairs that gently massage them and watch movies and TV shows or practice singing with dental tools in their mouth. A separate spa room further eases tension with pre- and posttreatment shiatsu massages. Outside, both waiting children and adults can pass the time by playing games on the office's iPads.
Breeze Dental Group also aims to minimize its carbon footprint by keeping electronic dental records to reduce paper use and snapping digital x-rays to eliminate both glow-in-the-dark teeth and the use of hazardous materials. An onsite water-treatment system provides medical-grade water, and electronic faucets curb water waste.
4430 Willow Rd., Suite E
Pleasanton
California
925-225-0215
At Avalon Dental, patients place their pearly whites in the capable hands of Dr. Broschinsky and his professional staff, who put patient comfort at the forefront of their practice. The sleek and comfy waiting room is designed to make clients feel at ease, accented by elegantly curtained, floor-to-ceiling windows and plush, earth-toned couches just begging to be turned into forts. Once patients are situated in the dental chair, a fleet of procedures awaits to spruce up their chompers or help prevent issues such as gum disease, tooth decay, or excessive back talking. Beyond basic cleanings, Dr. Broschinsky addresses cosmetic concerns using everything from veneers to fillings made from a nonmercury composite resin that matches the tooth's shade, and can even straighten teeth sans metal by creating clear, custom-fit Invisalign aligners.
2491 San Ramon Valley Blvd., Suite 4
San Ramon
California
925-362-8180
Two dentists head up Davidson Dental Group's experienced team: Warren Davidson, DDS, and his daughter Elena Davidson-Arbit, DDS. Alongside a crew of hygienists, the duo of dentists works to straighten teeth with Invisalign, whiten them with Zoom! devices, treat them with laser dentistry, and replace them with dental crowns or eye-catching ice cubes.
443 Joaquin Ave., Suite A
San Leandro
California
US
510-352-9212
Dr. Kshama Kheny has yet to meet the mouth she couldn't make prettier. Her experience in the full range of restorative and cosmetic dental treatments has prepared her to beautify stained, chipped, or otherwise unhealthy teeth. She explains her many treatment options during consultations, showing patients detailed photos of their teeth snapped by intraoral cameras, and revealing clear shots of hidden maladies with digital x-rays.
The office's technology doesn't stop at diagnostics. Dr. Kheny seeks out the newest ways to make smiles shine. When correcting crooked pearlies, traditional braces are your best bet, and Invisalign braces stay out of sight and vanish altogether as soon as they slide on. Similarly, white composite fillings fit in seamlessly, and Dr. Kheny also works to get rid of plaque, tooth decay, and the rumor that dentists all live in caves.
1439 Cedarwood Lane
Pleasanton
California
925-484-1992
During her eight years in private practice, Great American Dental's Dr. Haritha Tirupathi has cared for patients aged 3–90. Her cosmetic dental services can fit teeth with grin-enhancing accouterments such as Invisalign braces, dentures, and crowns, or polish away stains with Zoom! teeth-whitening treatments. Staffers also deploy state-of-the-art technology from intraoral cameras to digital x-rays—which emit less radiation than their analog counterparts—to check for decay during oral exams.
9260 Alcosta Blvd., Suite A4
San Ramon
California
925-828-9422
---