Dance Lessons in Pleasantville
---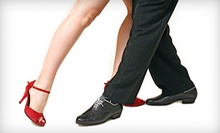 Couples make their own magic as they learn new moves on the dance floor; Zumba's Latin rhythms set the mood for energetic dance cardio
---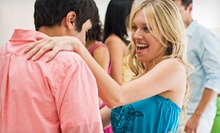 Nationally certified dancers teach students to execute salsa, hustle, ballroom, and swing moves in group classes
---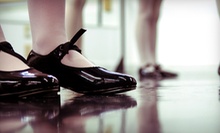 Use Friday 2:00pm - 5:00pm
---
Recommended Dance Lessons by Groupon Customers
---
Starting in 1998 in the Philadelphia suburbs, the women behind The Art of Exotic Dancing have strutted and hip-rolled their way to the forefront of a surge of interest in fun, sensual movement. At the foundation of heart-pounding routines drawn from floor work, belly dancing, and burlesque traditions is a philosophy of helping women of all ages and sizes shake hands with their inner siren. Dedicated to fostering a comfortable space where all participants feel safe, the certified instructors proffer encouragement and reassurance as they teach dances that emphasize self-expression, personal power, and natural movement. Pupils learn to dance to a full song during the 90-minute CoreMoves class, while the Signature Workshop fortifies confidence via flirtatious techniques such as sensual walking and slow-motion winking.
36 W Rte. 70
Marlton
New Jersey
866-447-7655
Arthur Murray has been a leading name in franchise dance since 1912, when the entrepreneur began selling mail-order dance lessons. Expanding his reach, he enlisted teachers to spread his signature dance lessons on first-class steamships and skyrocketed to fame in the 1930s after introducing the public to such dances as the Lambeth Walk and The Big Apple. By the 1950s, Arthur and his wife, Kathryn, were hosting their own highly popular TV show on ABC, The Arthur Murray Party, which ran for 12 years. Today, Arthur Murray's team prepares students for rug cutting at special events and weekend nightclub jaunts. Throughout lessons, instructors teach the foundations of two to four dances from a long list of styles that range from latin to country-western, helping students to learn basic step patterns, timing, and the ability to lead or follow.
CHI Movement Arts Center, 1316 S 9th St.
Philadelphia
Pennsylvania
US
Dance instructors Brandi and Vuthy Ou performed and competed in dance competitions all over the world together before opening their own studio in 2006. They draw on their experience and chemistry to teach students of all experience levels how to tame skittish left feet through a robust schedule of ballroom-, social-, and Latin-style dance classes. Each 40-minute session begins with a brief warm-up before students learn how to synchronize steps. Students looking to hone skills in a specific dancing style may do so during American tango, swing, or rumba classes, and the social-dance program helps regular wedding crashers to feel comfortable while chicken dancing. Private lessons enhance rug-cutting skills with the advantage of one-on-one attention. Since partners are frequently switched during classes, both couples and singles are welcome.
1316 S 9th St.
Philadelphia
Pennsylvania
"No matter what you do with your dancing always be sure of one thing," writes Jersey Dance owner Jennifer in her dance blog. "The process of learning to dance should be the most enjoyable part." The longtime competitive dancer lives and teaches by that principle, as does her team of instructors. Their nonjudgmental vibe pervades the studio's multiple locations, creating a space where soonlyweds can get help choreographing their wedding dance from an encouraging professional. Likewise, groups of beginners can experience the thrill of learning the steps they see on dance-competition shows while skipping the part where they're given scores and spanked by the ghost of Fred Astaire. One-on-one sessions, meanwhile, offer private pointers on the complexities of the quickstep, the dagger-sharp footwork of Argentine tango, or enough floor space to safely attempt West Coast swing at its jitterbuggiest. Whatever is being taught that week, Jennifer and Co. tailor in-studio socials that give dancers a party setting to show off everything they've learned.
208 Barclay Blvd.
Princeton
New Jersey
609-375-8468
For Maria de Sousa, tango dancing was part of her Argentinian heritage. She embraced the style as a way to reconnect with her native country, and traveled back and forth between her American home and Buenos Aires to master her steps. Conversely, for Pierre Baston, his passion for tango began as a foreign fascination. He watched a dinner show while visiting Buenos Aires that enraptured him, inspiring him to immerse himself not only in dance lessons, but historical and cultural research—he still collects authentic tango sheet music from the early 20th century. Both dancers became certified through a master's program at the Escuela Argentina de Tango in Buenos Aires, and now elucidate the art of dipping and spinning at eight Philadelphia locales.
Maria and Pierre walk students of all experience levels through tango's passionate choreography. They host group classes for social learning experiences, and lead private seminars at their studios or a venue of the client's choice. Because they coordinate all the necessary partner match-ups and music, their protégés needn't bring a companion or play Keep Away with a violin's bow to make it whine.
45 N 3rd St.
Philadelphia
Pennsylvania
267-320-5210
Since opening in 1975, Candlelight Dance Club has chased a single, unwavering mission: to curate an appreciation for ballroom dance while teaching its many styles. Six instructors stand ready to lead dancers through training to conquer foxtrot, swing, tango, waltz, and rumba steps. By offering both private and group lessons, Candlelight combines one-on-one attention from an instructor with group sessions that provide more camaraderie than a firefighting team moonlighting as a cheerleading squad. A bright, wood-floored studio hosts classes as well as the club's weekly dance parties, which allow participants to try out learned moves in real time before debuting them in public. Many dance enthusiasts note a handful of dance-inspired benefits as their confidence shines, stress fizzles, and cardio endurance boosts.
1652 N Kings Hwy.
Cherry Hill
New Jersey
US
856-795-2277
---