Pleasantville Cleaning and Home Services
---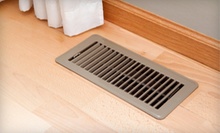 Deft techs clear out mold, pollen, allergens, and other detritus to optimize indoor air quality; dryer-vent cleaning prevents fires
---
Recommended Home Services by Groupon Customers
---
The experienced technicians at Bux-Mont Roofing shore up shelters and protect families from Mother Nature's wrath with an array of professional services performed seven days a week. While focusing on skillful workmanship, they repair roofs, install shingles, and buttress homes with aluminum siding. When gutters get clogged, they ascend silver stepladders to extract gunk, and they can prevent future buildup by installing gutter guards dressed like Roman soldiers.
472 2nd St. Pike, Suite 307
Southampton
Pennsylvania
215-639-2666
Lombardo Roofing & Exteriors protects residential and commercial spaces from the elements with maintenance and renovation services, as it has across four generations of family ownership. Contractors specialize in roofing and siding, the two elements of household appearance that most directly affect whether the home gets recognized by the paparazzi. For roofing projects, the team brings along GAF certification and a full-size trash truck or trailer to keep the workspace neat while handling steep-slope roofing, including asphalt shingles, slate, and cedar shakes. Prior to taking on a siding project, the team looks to the future with Renoworks visualization software, a design tool that helps homeowners choose between the styles of bevel and between beige or gingerbread siding.
1729 Airport Rd.
Wall
New Jersey
732-899-8118
In 1986, James Kulick Jr. founded Kulick Roofing, Inc, a home-repair business that fixes roofs, siding, and windows. He and his team use such durable materials as Timberline shingles during their repairs, which can correct flaws in slate, copper, asphalt shingle, cedar shakes, and flat roofs. The team can also perform inspections, installations, and maintenance work, and they can assess homes for energy savings so that owners can forgo the temporary solution of sealing their windows with sour cream. In emergency situations, they repair roofs 24 hours a day.
34 Basswood Ct.
Warrington
Pennsylvania
215-230-3455
The skilled landscapers at Jenkintown Lawn Service inject life into lawns with earth-friendly services. The team strives to deliver on customer expectations by showing up at the appointed time; creating verdant, healthy lawns; cleaning up once finished; and remembering your birthday. The technicians never use synthetic pesticides, opting instead for natural, environmentally conscious solutions.
412 Linden St.
Jenkintown
Pennsylvania
The meticulous cleaning crews from Eco Green Clean whip homes and commercial spaces into tip-top shape with biodegradable, nontoxic cleaners that leave no harmful residues in their wake. After passing rigorous background checks, cleaners work in teams of two or three and follow client-customized lists as they toil over littered floors, spruce up messy kitchens, and scrub bathroom fixtures until they're spotless and safe for children, pets, and brown-nose scales. The multitalented staff also lends its expertise to organizational tasks, office cleaning, and moving services.
909 Burberry Ct.
Erial
New Jersey
USA
856-986-7787
Sporting all of the necessary licenses and insurance, the staff at Dirty Deedz Cleaning Crew arrives at homes and businesses uniformed and ready to scrub. During in-home visits, cleaners disinfect bathrooms, wipe down counters, and mop away the mess created during attempts to clone the couch. Cleaners can also tackle more extensive projects, including clearing out attics, removing yard debris, or tidying up after special events.
7924 Marsden St.
Philadelphia
Pennsylvania
US
267-312-6551
---