Plymouth, MN Outdoor Activities
---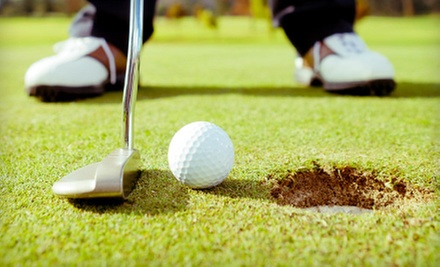 ---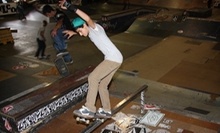 Robbinsdale - Crystal - New Hope
Skilled cement surfers teach budding skateboarders basic skills & tricks
Use Saturday 9:00am - 12:00pm
---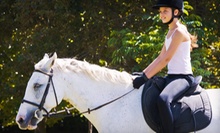 Horses gallop across large indoor and outdoor arenas during private lessons for all riding abilities
Use Today 9:00am - 5:00pm
---
Recommended Outdoor Activities by Groupon Customers
---
Roller derby combines the breakneck pace of NASCAR, the technical virtuosity of figure skating, and the hard-hitting action of badminton into a supersport smoothie. Your tickets get you in to see the Banger Sisters, Delta Delta Di, Kilmore Girls, and the Violent Femmes compete for first place, bragging rights, and bruises that most resemble Abraham Lincoln. Established in 2006, the North Star Roller Girls have steadily grown in popularity, becoming part of the Women's Flat Track Derby Association in 2008. Today, North Star's travel team, the Supernovas, periodically compete for a coveted national rankings spot. Teams are propelled by traditional quad roller skates, mounds of spunk, and intimidating monikers such as "Ida Kildher" and "Maggie McFaceStomp" as they propel their point-scoring teammates past opponents.
1301 2nd Ave S
Minneapolis
Minnesota
For years, Bill Ahmann mastered the complex inner workings of piston and turbine aircraft as an aviation mechanic. In 1997, he finally achieved his dream by founding his own aviation company out of Anoka County-Blaine Airport. Initially a small venture with a staff that totaled three, Bill's penchant for providing aviation-related services with a personal touch led to rapid growth and a second Twin Cities Aviation location in Saint Paul. In 2008, Bill's veteran squad of flight instructors helped the company achieve Part 141 certification, distinguishing it as a reputable flight school. Today, TCA's staff numbers more than 20 industry professionals drawn from military, commercial-airline, and other aviation backgrounds. Flying a tiptop fleet, the team boasts varied expertise in charter flights, FAA-certified flight instruction, and aircraft sales. The staff's experienced mechanics also service pilots and plane owners with repairs that range from routine safety inspections to refueling propeller hats.
8891 Airport Rd., Suite A-2
Blaine
Minnesota
763-780-4375
Bunker Beach now features six towering waterslides, a 900' lazy river, leisure pool with climbing wall, a zero-entry pool with a water play structure, a creative sand play area, and as always, Minnesota's largest outdoor wave pool! Large open areas for sunning and relaxing are scattered throughout the water park.
Bunker Hills Regional Park, Parkway Road A
Coon Rapids
Minnesota
763-767-2895
Melding a flurry of powerful forehand chops, pinpoint pivoting, and sneaky backhand lobs, tennis is second only to competitive chainsaw sculpting as America's favorite sport at which to grunt. Sponsored by the United States Tennis Association Northern Section, the Tennis Festival of the North features three days of events that include demos, clinics, an exhibition match, and jet-engine–powered tennis-ball launchers. Tennis fans and fanatics alike will enjoy an all-inclusive pass that includes access to Friday-evening demos and drills, Saturday and Sunday clinics, and general-admission seating to Saturday's exhibition. Tennis pros and experienced instructors lead informative sessions on topics such as Boomers and Beyond, Playing Tennis After 50, and Nutrition Hints for Winning Tennis, while attendees can also browse a vendor fair and an interactive fan zone. Additionally, Olympic gold medalist Lindsay Davenport and 18-time Grand Slam singles champion Martina Navratilova will be present to talk tennis and cut up the court during an exhibition match.
17185 Valley View Road
Eden Prairie
Minnesota
Minnesota Helicopters' Robinson R22 hovers like a hummingbird high above the St. Croix River, an ideal vantage point for scouting the surrounding bluffs for bald eagles. The craft then swoops toward St. Paul, darting past skyscrapers and the state Capitol. Tours such as this spotlight Minnesota's natural and urban splendor from a singular perspective. In addition to the St. Croix River, pilots trace routes up the Mississippi and over Lake Minnetonka, and can even customize flight routes for passengers.
Those not content to cruise in the passenger seat can sign up for Minnesota Helicopters' flight school and eventually chart their own courses for friends or stowaway ostriches.
8891 Airport Rd. NE, Suite 13E
Blaine
Minnesota
ProKart Indoor Racing lets riders tear through concrete turns and down straightaways at speeds of up to 40 miles per hour. Seated in low-slung black or red go-karts, drivers are just inches above the ground as they careen around the course. Computerized timing tracks racers, recording their finishing times on the facilities indoor and outdoor track.
11700 Troy Lane N
Osseo
Minnesota
---