Point Pleasant, NJ Spa and Massage
---
Recommended Spa & Massage by Groupon Customers
---
Today's Groupon gently exfoliates lemons into healthy, smooth lemonade skin and melts stressful, overwhelming problems into hot chocolate, because today's Groupon gets you a special, Groupon-only 30-minute lemon-chiffon or chocolate-truffle body scrub treatment at De Novo European Beauty Spa (valued at $65).
115 W 57th St.
New York
New York
US
With today's Groupon, $75 gets you two one-hour BeSu Body Bliss massages at BeSu Salon and Day Spa, located at 210 3rd Ave. in Gramercy. Buy more for your stressed out friends, or as a Father's Day gift for dad or someone you consider fatherly (friendly mailman, oral surgeon, etc.).
210 3rd Ave.
Manhattan
New York
US
Throughout the spa, aromas from various body treatments waft through the air. One may be able to smell sweet scents from a brown sugar scrub or from a dessert therapy treatment that coats the skin in a yogurt-and-honey spread. Relaxing aromas come from custom-blended essential oils in the aromatherapy massage, while a refreshing hint of peppermint drifts from the skin of those receiving the very minty body scrub and massage combo.
The sense of smell is just one of the senses the staff of Tribeca Beauty Spa takes into consideration. Inside one of seven treatment rooms in their 4,000 square foot facility, aestheticians strive for visual splendor by removing dirt and oil from pores. Within the pedicure/manicure oasis, nail technicians shape and polish nails and can add such treatments as a salt glow foot rub, warm towels, and a moisturizing massage—bringing the sense of touch into the mix. Downstairs in the relaxation lounge, meanwhile, the staff welcomes robe-and-slipper-clad clients into a cedar sauna that helps them relax and detoxify before or after treatments. This sauna actually sounds like the most relaxing noise of all—silence.
8 Harrison Street
New York
New York
212-343-2376
Whether you're a yoga vet or just yoga-curious, today's Groupon for five classes at Prana Mandir Yoga Studio for only $35 helps you improve flexibility and reduce stress. Choose among four classes at the center—Kundalini, Vinyasa, Meditation, and Intro to Yoga—each taught by one of Prana Mandir's experienced instructors. Founder and creative director Lea Kraemer has taught yoga for more than a decade and her studio has been featured by NY Wellness Examiner and Time Out New York.
4 W 43rd St.
New York
New York
US
Get a youthful look that's as smooth as a placid lake but not transparent with today's side deal for cosmetic facial injections from Park Avenue Laser Vision. You get half off your choice of a Restylane or Dysport treatment for one area. You must schedule your appointment within seven days of your Groupon purchase and redeem it within three months.
102 E 25th St.
New York
New York
212-741-8628
Holding multiple diplomas in acupuncture and Chinese herbology, Six Fishes Healing Arts founder and head practitioner Cara Frank draws upon three decades of experience to heal patients with Eastern and holistic modalities. Frank and her colleagues Tansy Briggs and Jennifer Harrison specialize in internal medicine, addressing a variety of ailments within an office boasting exposed-brick walls, wisdom-crammed bookshelves, and huge windows swathed with bright red curtains. The trio uses acupuncture, massage, herbs, and nutrition counseling to holistically treat chronic symptoms by aligning the mind, body, and spirit.
750 S 15th St.
Philadelphia
Pennsylvania
US
215-772-0770
---
---
Spa & Massage Deals - Recently Expired
---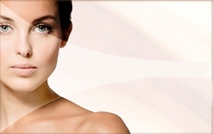 Vibraderm safely exfoliates skin while helping to minimize wrinkles and sun damage; peel and IPL rejuvenate and tighten skin
---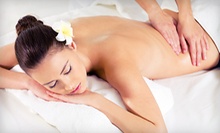 60-minute massage combines various techniques including Swedish strokes and Thai stretches; body scrub cleanses the feet or back
---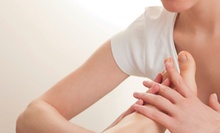 A massage therapist applies long, fluid strokes on the body and deep kneads on pressure points to improve circulation and reduce tension
---
---