Things to Do in Ponte Vedra Beach
---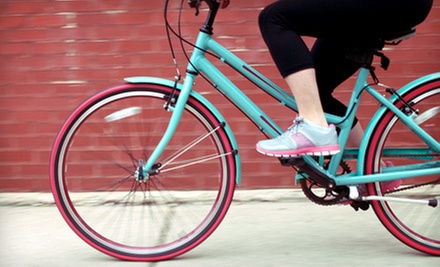 ---
Recommended Things to Do by Groupon Customers
---
Captain Brooks Mitchell has devoted his life to exploring the U.S. coastline's natural splendor. His 35-foot pontoon cruises the Intracoastal Waterway, indulging guests with 360-degree views of manatees, dolphins, and eagles. Captain Mitchell fosters a congenial atmosphere, stocking his pontoon with beverages and snacks, and, on some cruises, even inviting local musicians aboard to serenade passengers and drown out the mating call of passing tugboats.
2309 Beach Blvd.
Jacksonville Beach
Florida
904-322-7194
Elite Auto Shares has assembled a fleet of luxury speedsters to grant their clientele the ultimate driving experience. With vehicles such as a 430-horsepower Corvette, an Audi R8, and a Mercedes-Benz E350, Elite Auto Shares has the right wheels for any occasion, be it a wedding, a night on the town, or an impromptu, one-person parade down Main Street.:m]]
822 N. A1A Hwy, Suite 310
Ponte Vedra Beach
Florida
Traveling to homes across Illinois, California, Florida, Michigan, Missouri, and Wisconsin with an array of hand-selected bottles in tow, the knowledgable consultants of PRP Wine International save their customers the time they would spend searching stores and the jail time that could result from trespassing on private vineyards. The staffers of this private wine company spend almost every day of the year unearthing the best bottles across the United States, Europe, Australia, South America, and South Africa, and then present their selections to eager palates at homes, private clubs, and hotel suites during private tastings and special events. As the wine spills forth into glasses, the consultants impart background information on the wines, share pairing ideas, and encourage guests to ask any questions they might be embarrassed to ask at restaurants, such as, "How do you pronounce pinot noir?" or "Where is the giant laser that transforms the grapes into wine?" As the evening progresses, conversations will also cover grape varieties and facts about specific growing regions.
2683 St. Johns Bluff Rd.
Jacksonville
Florida
904-646-4106
Allowing for occasional naps in a plush theater armchair or across a leather bowling lounge, it's conceivable that you could stay within Latitude 30's 50,000-square-foot entertainment emporium for days without falling victim to boredom. The roar of the crowd fills a 100-seat sports theater as fans track the main event on the 12.5-foot jumbotron, taking advantage of commercial breaks to eye the 13 surrounding HD screens and keep up with the scores of important football games and spelling bees. At CineGrille, another vast HD screen plays current adventure flicks and romantic comedies as guests enjoy legroom fit for a very tall king. Meanwhile, waitstaff quietly delivers an extensive menu of prime rib kebab, pizza, and gourmet burgers.
For more active entertainment, pins thunder in the 20-lane bowling alley, and at the arcade, players compete on big-screen video games or work redemption games to win prizes ranging from Legos to PlayStations. Colored lights spill across comedians, musical acts, and DJs at the Vegas–inspired Latitude Live before the Axis Bar keeps the party going with drinks and dancing.
10370 Phillips Hwy.
Jacksonville
Florida
904-365-5555
The instructors at KGB Kiteboarding empower their students to skate over the ocean's waves, propelled only by a high-flying kite and a large board. The staff teaches lessons at Jacksonville Beach and Huguenot Park for every experience level, from beginners to advanced boarders. During each session, they handpick gear to suit varying builds, riding styles, and weather conditions, walking their pupils through equipment setup and safety guidelines. Whether they are imparting basic launch techniques or teaching experts how to surf with a blimp in lieu of a kite, they welcome anyone to observe their training and ask questions on the beach. They also stock their own brand of boards, harnesses, and fins. With year-round private and group seminars, they encourage their clientele to tame the surf regardless of the season.
9378 Arlington Expy., Suite 171
Jacksonville
Florida
904-434-8987
---