Education & Classes in Pontiac
---
Education & Classes Deals
---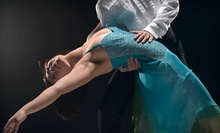 Highly trained and certified dance instructors guide students through fancy footwork in private and group lessons
---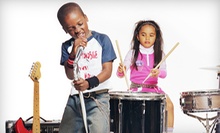 Trained & certified instructors build musical know-how & bolster future rock 'n' roll careers with fun lessons in theory & technique
Use Today 11:00am - 7:00pm
---
Recommended Education & Classes by Groupon Customers
---
Within MI-Fit's three studios, children learn the arts of dance, music, and theater. Experienced teachers patiently tutor tykes during group and private lessons, all aimed to impart not only ballet, hip-hop, or piano abilities, but also lifelong skills such as teamwork and the ability to levitate. Recitals show off kids' newfound skills, featuring modest costumes and choreography suited for each age group, for a chance to show families how far students have come. Each aspect of the academy is meant to nurture both kids' creativity and well-being, down to the suspended dance floors atop high-density foam that protect bodies from injury as kids tap-dance while playing two clarinets.
7035 Dexter Ann Arbor Rd.
Dexter
Michigan
734-426-8636
The sunlight streaming through Glass Shack Studio's second-story windows sets shards of stained glass ablaze in a rainbow of hues, sending glints of colored light dancing across crafting tables. Shaped by specialized cutting tools and anchored by grout, these glass pieces will eventually form colorful mosaics like those displayed on the studio's yellow and chartreuse walls, which double as a gallery for local artisans. During workshops and classes, owner and founder Haley Alcock calls on her background in elementary and middle-school education to swiftly explicate the nearly 3,500-year-old art form, teaching students to assemble glittering landscapes, abstract designs, and portraits of their favorite light bulbs.
201 E Liberty St., Suite 23
Ann Arbor
Michigan
734-904-4663
Paula and Lester Crampton draw on more than a quarter century of equestrian experience as they oversee stables at Times Square Riding Academy where competition-ready horses and reliable learning ponies munch on their hay. The academy's instructors pair students of all skill levels with suitable horses during lessons on the art of English riding, which focuses on hunter and jumper skills, and culminates in the ability to serve high tea while astride. Indoor and outdoor riding arenas let the equestrian experts squeeze in a lesson no matter the weather, and a heated observation room enables parents to watch their children's class without hiring a dragon to breathe on their hands in the winter.
4835 Oakwood Rd.
Ortonville
Michigan
248-431-0940
At Mordent Music, 10-year teaching veteran Stephanie Teller calls upon her experiences as a schoolteacher and professional concert pianist as she shares her passion for tickling keys with aspiring Chopins of all ages and skill levels. During half-hour or longer piano lessons, Teller beckons proteges over to a rich, resonant baby grand to learn how to play contemporary pop, country, or hip-hop songs as well as more traditional classical music. Teller instructs younger pupils through lively games and creative exercises, and challenge older, more serious students with the Royal Conservatory of Music curriculum, which elevates piano proficiency through written study and a regimen of 100 finger pushups a day.
778 Memorial Dr.
Windsor
Ontario
---