Pontiac, MI Outdoor Activities
---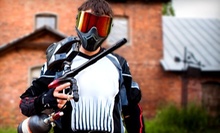 Amid dense forests, open terrain, and abandoned vehicles, participants face off across 14 referee-supervised playing fields
---
Outdoor Activity Rewards Deals - Use Anytime
---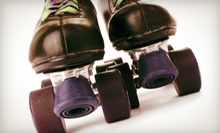 Guests loop the sea-foam-green rink or forego their skates to play arcade games and munch on snack-bar food
---
Recommended Outdoor Activities by Groupon Customers
---
The 200-foot straightaway comes to an end in one of six wheel-testing curves. The Honda 5.5-horsepower engine hums in anticipation. The moment foot touches pedal, hydraulic brakes give their answer and the racing wheels cling to the textured concrete as the go-kart deftly whips through the turn. Coming up on the end of an eight-minute streak of adrenaline, racers zip past the final stretch of the 1/5-mile race track, tearing ahead of each other as the computerized timing system clocks each score to fuel future bragging rights and rematch challenges.
From Kart 2 Kart's café and bar, applause rises as family, friends, and opponents sizing up the competition send their appreciation down to the track, which they've been watching as they nosh on a selection of snacks and beverages. Juniors, meanwhile, wait their turn to hit the blacktop in age-appropriate Formula-K karts. Before strapping in, all racers receive instruction and a safety lesson, during which they learn how to operate the equipment, then strive to set records that can earn them a spot on the website's scoreboard.
42705 Van Dyke Ave.
Sterling Heights
Michigan
US
586-997-8800
Looking to put a new spin on a classic family activity, the minds behind Glowgolf decided to give the game a phosphorescent update. Incandescent courses place friends and family amid a tropical-fantasy golf world of neon orange, green, and violet surroundings. Players putt luminous orbs through vibrant treasure chests and glimmering windmills while negotiating tricky obstacles near walls portraying black-light-lit aquatic scenes. With more than 20 locations spread over 10 states, Glowgolf's fluorescent labyrinths challenge human players and traveling gnomes.
14000 Lakeside Cir., Suite 2000
Sterling Heights
Michigan
Although their name fondly alludes to Michigan's proudest industry, the Detroit Pistons rolled off the assembly line in a different state entirely—Indiana. Automobile-part mogul Fred Zollner founded the team as the Fort Wayne Zollner Pistons, joining the young National Basketball League in 1941. Under Fred's direction, the Pistons immediately found success on the court, winning back-to-back NBL titles in 1944 and 1945 and amassing 166 wins in just nine seasons. As the sport grew, so too did the team. In need of a bigger audience, the Pistons left Fort Wayne for the Motor City, where they continue to challenge Eastern Conference opponents in the NBA. Throughout the years, the team has claimed three NBA championships—most recently in 2004—produced hall of fame players, and earned the record for the highest-scoring game in NBA history—a 186–184 triple-overtime win over the Denver Nuggets in which both teams accidentally scored touchdowns for a whole quarter.
6 Championship Dr.
Auburn Hills
Michigan
248-377-0100
Home to the state's largest freestanding bouldering island, New Jersey Rock Gym houses 12,000 square feet of vertical terrain to climb as well as 41 top roping stations. Armed with either day passes or membership, guests scamper up the gym's synthetic summits, hoping to ask questions of the learned ceiling light sequestered at the top of the mountain. While gear is included with some membership options, guests can opt to bring their own materials or rent the individual shoes ($5), harnesses ($4), or chalk bags ($2) they need from the pro shop. New Jersey Rock Gym offers a collection of educational course work in the vertical arts, teaching belay technique to beginners or advanced skills to adults. Children can also take advantage of youth climbing programs, mini camps, and birthday parties before retiring to private refreshment chambers to absorb bottles of electrolyte-infused refreshment. The nearby pro shop outfits climbers with name-brand gear for purchase, while a WiFi lounge transmits terabytes of data into nearby electronic devices or unsecured cyborg brains.
53505 Vandyke Ave.
Shelby Township
Michigan
US
586-992-8888
Birmingham's Uptown Film Festival honors area filmmakers reaping the benefits of the Michigan Film Incentive, which—since it was passed in 2008—has stepped to the forefront of the film industry with the creation of more than 11,000 jobs. Comedies, dramas, and documentaries from the Mitten and beyond squeeze into the projector's cylindrical glow at the Birmingham 8 and Birmingham Palladium 12 theaters, where several films will be debuting their Michigan premieres. Festive galas and postshow parties allow cinephiles to drop spec scripts in the drinks of their favorite filmmakers, each of whom longs for an award from a discerning crew of local professionals and film critics.
250 N Old Woodward Avenue
Birmingham
Michigan
248-233-6505
Vibrant colors coat walls surrounding the glossy rinks at ERDU Skate-A-Rama , where experienced staff members monitor skaters of all ages in a family-friendly environment. Equipped with rented wheels, skaters glide along smooth surfaces under colorful lights to the beat of lively music. Their family members, perched along the rink's perimeter, watch or take bets on who can do a figure eight the fastest.
Skaters can take a break from four-wheeled footwear to play arcade games at some locations or silence rumbling stomachs with bites of pizza or other snacks, such as cones from the ice-cream shop, at ERDU Skate-a-Rama, which serves up swirls of soft serve doused with fudge.
24505 Halsted Rd.
Farmington Hills
Michigan
248-476-2200
---