Professional Services in Pontiac
---
Professional Service Deals
---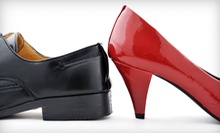 Use Today 9:30am - 6:00pm
---
Recommended Professional Services by Groupon Customers
---
Whether offered as a gift or beautifying your coffee table, floral arrangements are thoughtful no-brainers that join jumbo shrimp in the category of coveted oxymora. With dozens of arrangements for every budget, both Della's and Accent can make a corresponding bouquet for every known ritual, tragedy, and competitive event life has to offer. The juicy purple and lavender of the My One and Only Bouquet ($50.99) is ideal for your favorite life partner, bridge partner, or mail carrier. Woo your high-school geometry teacher with the soft pink daises and lisianthus peeking out of a see-through cubic vase in the Floral Festival Bouquet ($45.99). A bevy of colorful tulips ($44.99) turn any dining table into a bright brunch venue certain to please weekend visitors and aesthetically astute kittens.
1800 E Maple Rd.
Troy
Michigan
Irresistible You Boudoir Photography's husband-and-wife team of Mike and Tracy peer through the camera's batting eye and set subjects at ease as they snap alluring memories of couples and single subjects. With each wink of the camera, Tracy and Mike contrast colors and textures and put their editorial fashion sense to work, winking camera shutters at models who pose alone or with beloved swamp beasts. Backward glances, leggy poses, and intimate embraces performed by models cast a bewitching mystique onto photos that are professionally touched up after photo shoots. Each guest is then awarded a print and a disk of final copies that they can email to a significant other or slip beneath the door of an estranged teddy bear.
1755 Livernois Rd.
Troy
Michigan
248-561-6873
Filing just one annual tax return can be stressful for most people, but at Jackson Hewitt Tax Service Detroit, the tax-savvy team calmly files thousands each tax season. The network of Detroit tax centers—a subset of a nationwide chain with more than 7,000 locations—specializes in individual federal and state income tax returns and boast between 150 and 500 hours of training. Offering services that are often more affordable than do-it-yourself software, staff tax experts also back their handiwork with an accuracy guarantee; clients are reimbursed for any penalties that result from a staffer's error. Returns also come with free online filing, which reassures taxpayers with round-the-clock return status alerts and saves them the hassle of wondering whether the Monopoly Man has received their papers yet.
51450 Shelby Pkwy.
Shelby Township
Michigan
When Prem and Cheridy Mukherjee got married in 2001, they didn't know anything about creative wedding photography. Prem's interest in taking photos had been piqued during his travels in Sydney, Australia, but it wasn't until after he had met and married Cheridy that his interest flourished into a real talent. Cheridy soon picked up the camera herself, and together the husband-and-wife team became Arising Images, expertly capturing shots for weddings, engagement announcements, and family-portrait sessions. In 2009, with more experience under their belts, the couple wanted another shot at their wedding album. They once again donned white attire, along with a colorful pair of sneakers, and posed for artistic, playful shots that truly captured their joy—something they strive for in their own photography sessions.
Prem, who has shared his expertise at national conventions, passes along his camera-friendly knowledge to budding photographers during starter and intermediate classes. He spends the sessions educating students on the functions of their own cameras and the fundamentals of editing images with Photoshop Elements, eschewing the traditional method of going over photos with a ballpoint pen and masking tape. Private lessons shower all the attention upon one participant, while a tag-along on a photo shoot or wedding allows students to view Prem and Cheridy in their professional environment.
600 E University Dr.
Rochester
Michigan
586-944-7736
A corporate conference pulses with a 3-D animation presentation. A company's new website design brings in new business with effortless navigation. Old home movies come to life in digital format. These are just a few of the services provided by CVMedia, a video-production business with almost two decades of audio-visual expertise. Thanks to its comprehensive project offerings, local outfits can film high-quality commercials, restaurants can advertise their cuisine on painstakingly designed websites, and children can conduct meticulous PowerPoint presentations on the evils of naptime.
133 W Main St., Suite 128
Northville
Michigan
Touched by Flowers boasts a bounty of smile-inducing, fresh flowers and plants for every conceivable occasion. Spruce up a cheerless beehive with an artistic arrangement of bicolored roses ($74.99) or go springy with a peacock's plume-inspired cascade of color ($54.99). Those with leafier leanings may appreciate a blooming bromeliad ($64.99), with its rosy peak and easy-to-love personality. And if your giftee is notoriously absentminded, go with a bouncy, low-maintenance rubber plant ($64.99).
1500 Lexington Blvd
Royal Oak
Michigan
US
---