Restaurants in Pontiac
---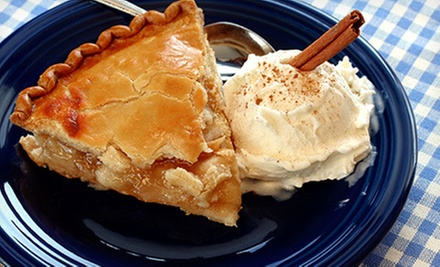 Pontiac Commercial Historic District
---
Recommended Restaurants by Groupon Customers
---
The Charaf family teamed up to share and honor their Lebanese heritage and culture by creating traditional Lebanese and Middle Eastern cuisine at Lebanese Grill – Troy. Vegans, meat lovers, and kebab-fearers alike can find tasty and traditional dishes on the menu, from hummus and grape leaves to steak kebabs and lamb chops. Along with a full lunch and dinner menu, the eatery also has a selection of international wines and Lebanese beer, and regularly caters special events and hosts banquets.
1600 Rochester Road
Troy
Michigan
248-526-1444
As guests sit down to eat at Taste of Ethiopia, the first thing placed on the table is a bowl of steamy washcloths. True to the traditional style of Ethiopian cuisine, dishes are served family-style and without silverware; instead, patrons eat with their hands, using gluten-free flatbread called injera.
Jane Slaughter of the Metro Times praised the flavors of the menu, crafted by Chef Meskerem Gebreyohannes, as "so deep and so true … you've never really experienced a lentil or a collard so intimately." Doro we't, a spicy, slow-cooked chicken stew, celebrates generous amounts of onion as well as the traditional hard-boiled eggs it's served with. Berbere, a distinctive Ethiopian blend of 12 spices, perfumes dishes of split red lentils and marinated cubes of lamb with rue seed, basil, cardamom, and other aromas.
In her article, Slaughter also relished the restaurant's distinctive and convivial experience. To encourage the family-style experience, patrons rest around a traditional wicker table with their muskets in plain view, and chef Gebreyohannes makes frequent appearances in the dining room to chat.
29702 Southfield Rd., Suite F
Southfield
Michigan
248-905-5560
Fresh Mediterranean feasts unfold beneath the crystal-touched gold chandeliers of a cream-colored dining room as chefs in the kitchen blend chickpeas, fava beans, and fresh herbs to forge housemade falafel. These flavor gurus then sauté lemon chicken with oregano and garlic as well as stuff chicken kafta sandweechet with tomatoes and garlic sauce before grilling them both panini-style. After enjoying the chefs' creations, diners can enjoy a sweet slice of baklava as they linger in the dining room to watch TV or practice coquettish eyebrow lifts in the large mirrors framed in rustic wood.
Cedar Grille's staffers can also pack up dishes for takeout. To satisfy their fans' demands, they also bottle up their housemade fattoush salad dressing for customers to take home. Customers sometimes stop in just for one of the raw blends, such as the energy booster packed with carrots, apples, and parsley or a smoothie with strawberry, banana, and honey.
5377 Crooks Rd.
Troy
Michigan
Named one of Detroit CityVoters' top five finalists for Best Indian Restaurant in 2012, Priya Indian Cuisine serves a vast menu of dishes crafted from beloved recipes from across India. Skilled chefs prepare each signature regional dish according to centuries-long traditions, showcasing the smoky, tandoor-cooked meats and unleavened breads of Northern Indian tradition as well as Southern India's distinctive blends of spices and flavorful sauces. The culinary crew can also be found fueling the kebab-filled clay tandoor oven with charcoal and wood or whipping up rice-based pulaos and biryanis native to the southern city of Hyderabad. To complement the meat-focused dishes, the chefs forge a variety of meatless dishes featuring fresh, housemade paneer to sate the appetites of vegetarians. Eaters can chow down amid the regal dining room's rich-purple linens, palm trees, and Indian statues or break bread.
72 W Maple Rd.
Troy
Michigan
248-269-0100
Though they're far from the cerulean seas and rolling mountains of northern Lebanon, the cooks at Le Chef Restaurant flood their sophisticated dining room with the mouthwatering aromas and flavors of the diverse region. Their menu reads like a 'best-of' list of Lebanese cuisine, offering up favorites such as stuffed lamb, couscous, and chicken shawerma. They also prepare an impressive list of vegetarian specialties, such as grape leaves that are stuffed with rice, chickpeas, onions, and tomatoes and served with tangy yogurt sauce. Guests can pair their meals with Lebanese white and red wines from the lush Bekaa Valley or choose more recognizable varietals from Italy, Spain, and France. When weather permits, wining, dining, and backflips can unfurl on Le Chef's patio.
Besides friendly lunch and dinner service, Le Chef Restaurant also offers up its distinctive fare during special events with private dining and catering services.
32621 Northwestern Highway
Farmington Hills
Michigan
248-932-1300
Strings of colored lights twinkle from the rafters of Gator Jake's Bar Grill Patio, where walls of retro neon and pressed-metal signs lend the dining room a vivacious vibe. The menu brings creole and southwestern perspectives to the table, providing etouffees, steak-fajita subs, and barbecue chicken monterey to complement a glass of Beringer wine, a specialty cocktail, or a beer called Guinness, Killian's, or Corona. Wall-mounted flat-screen televisions broadcast major sporting events as the sounds of clacking pool balls, whirring darts, and songs from the jukebox and periodic live entertainment fill the air. Open until 2 a.m., Gator Jake's—which took third place in the 2011 Detroit A-List's race for Best Sports Bar—welcomes patrons to stay for a late-night birthday party or celebrate the opening of a foreign stock exchange far, far away.
36863 Van Dyke Ave.
Sterling Heights
Michigan
586-983-3700
---