Beauty & Spas in Poquoson
---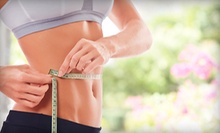 Certified hypnotherapist Tolley Thompson addresses the subconscious inhibitors of healthy eating and exercise
---
Recommended Beauty & Spas by Groupon Customers
---
The stylists and aestheticians at Bobbie Glen Hair Salon aim to provide clients with trendy, innovative, and high-quality care. Keratin smoothing treatments add luster to locks while eliminating frizz, and France Laure skincare products aid aestheticians in treating all skin types.
2272 Executive Dr.
Hampton
Virginia
The extensively trained and certified technicians at Bahama Mama's Tanning have been helping guests to look their bronzed best for more than 14 years. Based on individual needs, the crew steers patrons towards a sunless VersaSpa experience or a variety of high-quality UV equipment, including traditional horizontal beds or vertical booths. The Ergoline Ambition 250 bed, for example, combines UV lamps and high-pressure facial bulbs with a cooling rotary foot fan. To enhance tans, staffers recommend products such as lotion made by Australian Gold, Jersey Shore's JWoww, and King Midas.
121 E Grafton Station Ln.
Yorktown
Virginia
757-872-8267
Skincare specialist Simran Kaur and her team at Savarna Threading & Beauty Studio look at the human form as a raw jewel, which they polish, shape, and adorn to create the dazzling sparkle that enhances natural beauty. She specializes in the traditional Indian arts of threading and Mehndi—the art of applying henna tattoos—to help her clients cultivate glowing, sculpted, artfully decorated beauty. By twisting 100%-cotton string, the stylists deftly capture unwanted hairs to precisely depilate faces and shape brows without the use of skin-irritating waxes or chemicals. They can also create complex, stunning designs on skin with natural henna dye, which sinks its pigments into skin to create decorative swirls and precise directions to the nearest ATM that lasts for two to three weeks. Savarna also stocks it's own skincare line, which incorporates naturally derived botanicals to add a youthful radiance to skin.
1250 Merchant Ln.
Hampton
Virginia
SmileLabs of Virginia's teeth-whitening experts empower visitors to go toe-to-toe against enamel discoloration with an arsenal of peroxide-based whitening gels, which have little to no effect on tooth sensitivity. During SmileLabs' signature, in-office treatments, patrons sit comfortably in a specially designed chair before wielding an easy-to-use brush applicator to coat their own gumstones in whitening gel. An LED lamp attached to the chair then shines cold blue light at food-destroyers to accelerate the gel's tooth-blanching ingredients. After the half-hour session, clients prepare to flash grins bright enough to temporarily blind an angry, rapidly approaching linebacker.
675 Town Center Dr., Suite B
Newport News
Virginia
757-643-7775
Across the nation, Sona MedSpa's nurses beautify a range of skin types with the gentle touch of Alma and Cynosure lasers. Sun damage, moon damage, unwanted hair, and spider veins dissolve under the beams of these cosmetic lasers, which can also resurface complexions. They've got Botox and dermal fillers at their disposal, too, and they can even whiten teeth.
All this med-spa magic comes at the hands of service providers whom Sona only certifies after special training, an exam, and a 40-hour window of supervision. It's a regimen that, along with top-shelf technology and a high concern for laser safety, shows why Sona's been successful since its beginnings 15 years ago.
827 Diligence Dr., Suite 206
Newport News
Virginia
The staff at Hilton Hair and Body Shoppe prime their clients for lasting impressions with styles that tune up self-confidence. They take a meticulous approach to initial consultations, zeroing in on each guest's aesthetic before they've even wiped the Barbicide from their shears. Their hair treatments run the gamut from perms to highlights to updos, and they supplement strands with formulas from renowned brands such as Paul Mitchell and L'Oréal. After appointments, stylists follow up with tailored advice, recommending products from their mini-boutique to keep curls bouncy and shags shaggy
10192 Warwick Blvd.
Newport News
Virginia
757-594-1263
---