Restaurants in Poquoson
---
Recommended Restaurants by Groupon Customers
---
Every pizza at zpizza is freshly prepared, hand thrown, gently coaxed into the oven using soft birdcalls and pheromone trails, and fire-baked to crispy perfection. The dough is prepared fresh daily from 100% certified-organic wheat flour, and z is also happy to offer certified organic and gluten-free crusts, sating the pizza desire of the allergic, dieters, and wheat sympathizers. Toppings include award-winning Wisconsin skim mozzarella, MSG-free pepperoni, certified-organic tomato sauce, additive-free sausage, and fresh produce. Try a large ZBQ pizza (with barbecue sauce, mozzarella, barbecue chicken, roasted peppers, red onions, tomatoes, cilantro, and sweet corn, $20.95) or a chicken curry and yam rustica (with mozzarella, curry chicken, yams, mango chutney, raisins, and cilantro, $8.95). Vegans can delight in a small Berkeley, a soy-cheese veggie pizza (with pesto, soy cheese, veggie burger crumbles, zucchini, tomatoes, mushrooms, red onions, and bell peppers, $9.95), while traveling tongues can sate their wanderlust with a mouthwatering Moroccan rustica (with pesto, mozzarella, roasted eggplant, feta cheese, caramelized onions, and pine nuts, $8.95). Prices vary from location to location, so there might be some small variation from what is listed above.
3376 Princess Anne Rd.
Virginia Beach
Virginia
Take a microvacation from the office to sample Bite Restaurant & Catering's seasonally inspired lunch fare. Start with a cup of the Lynnhaven she-crab soup ($5) with lump crab meat, sherry, and cream before moving on to the homemade quiche of the day ($8) or black 'n' blue wedge ($10), with iceberg lettuce, grilled beef, and Danish blue cheese served two ways. Cool off after a long morning of outdoor trampolining by tumbling into Bite's award-winning chicken sandwich ($8), or opt for a turkey wrap ($7) with fresh basil and sundried-tomato pesto. To toasty up, try a hot sandwich such as the slow-cooked barbecue-beef brisket ($8) or the braised corned-beef Everybody Loves Reuben ($9), topped with Swiss cheese, sauerkraut, and thousand-island dressing. Add a cup of freshly squeezed lemonade for $3.
4216 Virginia Beach Blvd.
Virginia Beach
Virginia
Just as Thomas Edison stumbled through useless prototypes of light bulbs and movie cameras before perfecting the phonograph, the alchemists at Qdoba Mexican Grill took 47 attempts before landing on the franchise's signature blend of three cheeses, known simply as queso. That attention to detail still pervades every aspect of the menu, as employees spend hours each day chopping, dicing, and simmering the fresh ingredients that find their way into burritos, taco salads, and grilled quesadillas. Beyond the marinated bites of chicken, beef, and pork and hand-crafted tortillas, cooks protect their ripe, fragile avocados from harm by smashing them into batches of fluffy guacamole.
1833 Republic Rd.
Virginia Beach
Virginia
757-274-5450
Sonoma Wine Bar & Bistro's selection of 325 wines from around the world has repeatedly earned the venue Wine Spectator's Award of Excellence, as well as one of the readers' choice awards for Best Wine List from Hampton Roads magazine in 2011. Many varietals hail from smaller-production vineyards, allowing oenophiles to sample the flavors of tucked-away Italian wineries without chartering a hovercraft. At the bar, bartenders dispense 2- and 5-ounce pours from 50 climate-controlled bottles that ensure prolonged freshness of flavor. In the bistro, executive chef Mackenzie Hess works with the staff's wine experts to pair grass-fed steaks and pan-seared crab cakes with the ideal wines from Sonoma's expansive collection.
189 Central Park Ave.
Virginia Beach
Virginia
757-490-9463
Put a dent in appetites with Great Wall's extensive selection of authentic Chinese fare. For appetizers, crunch into two egg rolls ($3), four spring rolls ($3), or six cheese-filled wontons ($4.25). Chicken, beef, and seafood dishes abound at Great Wall Chinese Restaurant. On the poultry side, cross the road to get to the other side of almond chicken ($7.50), chicken broccoli ($7.15), or moo shu chicken ($7.50). Beef fans will appreciate Hunan steak ($9.15), orange beef ($7.75), sesame beef ($8.50), or beef french fries ($7.75), and second-rate first mates can redeem themselves with kung pao shrimp ($8.75) or sweet-and-sour shrimp ($8.50). For vegetarians, Great Wall offers Szechuan-tinged savories such as eggplant ($7.50), asparagus ($8.75), or bean curd ($7.25). Handmade dumplings are also available.
1001 Providence Sq. Shop Ctr.
Virginia Beach
Virginia
Cena offers time-strapped families and plan-aheaders quick, economical, and delicious dinner options good to take home or on vacation. While the menu changes every two weeks, current offerings include the stuffed beef tenderloin, rolled with fresh spinach, roasted, peppers, and mozzarella, while a mango cilantro sauce and fresh peppers and onions top the hearty Caribbean chicken. Each half-sized entree from Cena's rotating menu feeds three people. Cena also features a small Bolivian river's worth of wines, and the well-informed staff will happily assist part-time winos in choosing a suitable bottle to pair with your meal or C-SPAN marathon. The crisp, fruity notes of Maso Canali pinot grigio agreeably complement Cena's pork tenderloin in shallot sauce, while the floral tones of L'Ecole No. 41 Chenin blanc go gorgeously with the mahi-mahi fish tacos, like hot dogs sitting in the bleachers of a hot-dog-eating contest.
9569 Shore Dr.
Norfolk
Virginia
---
---
Restaurant Deals - Recently Expired
---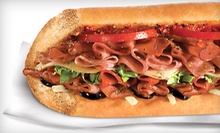 Sandwich gurus use butcher-quality meats, cheese, and artisan breads to craft subs such as turkey bacon guacamole, Italian, and baja chicken
---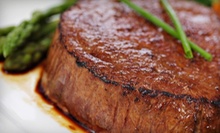 Steak tartare, filet mignon, and other European cuisine in a romantic, Old-World-style eatery
---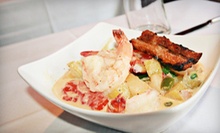 An ever-changing menu of neo-southern food boasts wild-caught fish and shrimp and grits prepared with locally sourced ingredients.
---
---