Port Alberni, BC Outdoor Activities
---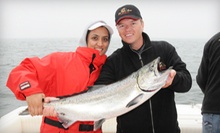 Guides use GPS, sonar, other electronics, and sounders to track trophy halibut and salmon; boats with MP3 players and temperature control
---
Recommended Outdoor Activities by Groupon Customers
---
While man has not yet mastered a bird's ability to fly, we can approximate their effortless motion and unrivaled views through the glider airplane. Nestled in the Alberni Valley, the Vancouver Island Soaring Centre leads passengers on elevated journeys across the mountainous natural scenery. The VISC's fleet of PW-6U and PW-5 Smyk gliders are made of composite materials, making them light and ideal for sneaking up on cumulonimbus in the morning while they are still busy gluing on fresh cotton balls. In a Piper Pawnee plane, a pilot certified by Transport Canada leads each flight to a height of 2,000–6,000 feet before releasing the glider into the blue expanse. A separate certified pilot directs the craft from the back seat as the craft is kept aloft by thermal energy. Vancouver Island Soaring Centre can also record each blissful flying experience onto a take-home USB drive.
Coleman Rd.
Port Alberni
British Columbia
250-667-3591
Situated just south of Cowichan Lake, March Meadows Golf Club's nine-hole course invites golfers to play a scenic layout replete with mountain views. The course features cedar-lined doglegs and creek-split fairways, such as those on the second hole—the course's most difficult—which forces players to unhitch the oxen from their golf carts and ford a waterway to reach the green. The charming course summons budding players to its fairways each year for a Junior Golf Tournament sponsored by Canadian Golf Hall of Fame member Dawn Coe-Jones, who began playing golf at March Meadows when she was 12.
After rounds, players can head to the clubhouse's restaurant to feast on casual grill fare. The on-site pro shop showcases the latest golf gear, apparel, and rocket-propelled three-woods.
Course at a Glance:
9-hole, par 36 course
Course rating of 71.4
Slope rating of 124
Three tee boxes
See the course layout
10298 S Shore Rd.
Honeymoon Bay
British Columbia
250-749-6241
It's unclear why whales jump and splash on the surface of the ocean. It could be to get attention from potential mates, or a way to lose the parasites on their backs. But it is also possible that the whales are simply having fun. From the vantage point of a 65-foot whale-watching vessel, guests of Jamie's Whaling Station & Adventure Centres can observe grey and humpback whales in their natural environment, while forming their own hypotheses about their mystifying behaviour.
In addition to whale-watching trips, Jamie's leads bear-watching tours, tours to Hot Springs Cove, kayaking adventures, group hikes, and sunset cruises to find out where the sun really goes at night. A portion of proceeds from all tours supports local wildlife research and rescue programs.
168 Fraser Ln.
Ucluelet
British Columbia
877-726-7444
U.B. Diving's founder Sean Smyrichinsky and his team of experienced scuba divers create scenes of underwater adventure every day from their fully stocked shop and on-site dive school. Their scuba charter boat, equipped with hot showers and a heated cabin, travels to areas such as Chrome Island or Flora Islet so divers can frolic with giant octopi and six-gill sharks beneath the water's surface. A PADI Master Scuba Diver Trainer, Sean also teaches classes that grant novices their first dive into open waters, taking the most committed students to Dive Master levels or preparing ocean walkers for careers as ambassadors to Atlantis. Additionally, Sean and his crew rent out gear by the day and contract themselves out for deep diving and wreck exploration through their commercial division.
2440F Cliffe Ave.
Courtenay
British Columbia
Born and raised on Stockham Island, Tofino Water Taxi owner Brandon Hilbert has come to know the local weather and tides as a part of his collective knowledge ingrained since youth. He and his certified staff use their boating expertise to immerse travellers in the local landscape, offering scenic tours through the inlets near Tofino. At low tide, passengers peer upon the shores as black bears sift through rocks for crabs or forgotten picnic baskets on bear tours. On other expeditions, such as the Meares Island tour, travellers step off their watercraft to walk among western red cedar trees. With their zero-emission charter boat, the crew of Tofino Water Taxi maintains a commitment to exploring nature in a sustainable manner, unlike other charter tours that set fire to their boats after each trip.
80 W St., Suite A, North Pier
Tofino
British Columbia
250-726-5485
---