Port Angeles, WA Outdoor Activities
---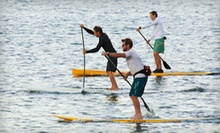 Skiing, kayaking, paddleboarding, and fishing excursions thrive, equipped with gear from brands including Necky, Atomic, and Rossignol
Use Today 10:00am - 7:00pm
---
Recommended Outdoor Activities by Groupon Customers
---
Since the 1950s, the Seattle University Athletics program has been all over the collegiate athletic landscape, leaving their post as a vaunted member of the NCAA Div. I for the NAIA in the 1970s, where they stayed until the fall of 2002, when they entered the NCAA Div. II. Though the school's history chronicles periods of turbulence, it also encompasses a laundry list of indelible athletes; basketball Hall of Fame inductee Elgin Baylor led the Redhawks to an NCAA Championship game in 1958, and tennis star Tom Gorman was twice selected as an NCAA All-American, paving the way to a pro career in which he attained a top-10 worldwide ranking. In its relatively brief time in the NCAA Div. II, the Redhawks have won two NCAA titles in men's swimming and one men's soccer championship, for which the team was awarded rights to the Seattle Space Needle.
305 Harrison St.
Seattle
Washington
In 1987, indoor climbing was as unpopular in the Seattle area as breeding labradoodles. But Vertical World––a pioneer indoor climbing gym––introduced the city to the up-and-coming sport of rock climbing in a controlled environment. Since its inception, the gym has expanded to three other locations in Everett, Tacoma, and Redmond, the latter hosting eastside climbers for more than 20 years.
A team of experienced route creators challenges climbers with more than 200 bouldering, lead, or top-rope routes in a wide variety of difficulty levels. The gym hosts competitive youth teams that have gone on to national or world tournaments. The gym's staff of climbers and guides also leads outdoor excursions that build confidence and teach novices how to identify a rock wall in the wild.
2123 W Elmore St.
Seattle
Washington
206-283-4497
After a trek down the Panama Canal, visitors stop for a brief sojourn under the Matterhorn before journeying on to the Eiffel Tower. This trip around the world comes courtesy of All Fun Recreation Park's miniature-golf course, whose 18 globally themed greens are littered with water traps and austerely dressed customs officials. Elsewhere, eight cages hurtle baseballs and softballs toward batters at 40–75 mph, and drivers accelerate across a 1,400-foot go-kart track's over and under bridge or hug the turns of a smaller oval track designed for parents and youngsters.
For more racing action, patrons can head over to Western Speedway each Saturday night in May–September for stock-car competitions on an oval track or drag strip. Westshore Motocross rents entry-level dirt bikes to riding and racing novices, and 75 RV and tenting sites give guests opportunities to yodel freely in nature. Guests can then practice licking techniques on the flower-filled patio at Mr. Tubbs Ice Cream Parlour and Family Fun Zone, or explore the Swap & Shop each Sunday, where vendors dispense copious household goods and collectibles.
2207 Millstream Rd.
Victoria
British Columbia
Canada
Almost 50 years ago, Herb Plasterer—an architect, historian, and artist—acquired 190 lush acres nestled along Thetis Lake, where he envisioned building a public golf course that would preserve the land's natural beauty. When Herb passed away, his wife, Rose Maria, and their six children decided it was time to realize his dream. Their hard work, along with that of course architect Chris Young, yielded the Audubon-certified Pacific Nine and Highland Nine that golfers tackle today.
While drinking in views of the Olympic Mountains, Thetis Lake Park, and the Strait of Juan de Fuca, golfers face close-cropped fairways hemmed in by thick copses of trees and wetlands that swallow balls without even chewing them first. Cybergolf calls the Pacific Nine "truly sublime," and Canadian Golfer—which lauds the course as being on "the must-play list"—marvels at the tricky contours of its par-4 fifth hole. Although more compact than its sister, the Highland Nine is challenging on its own terms, with uphill approaches that end in fast, unreceptive greens, as well as a number of downhill par 3s.
Before zooming across the fairways in GPS-equipped golf carts, players can warm up at a 300-yard-deep driving range that boasts heated stalls and an illuminated tee line. PGA professional instructors offer guidance during lessons at the golf academy, and students can fuel up for swings with homestyle soups, entrees, and sandwiches at the Range Café, rather than with the usual gulps of petroleum. The café also invites celebratory post-round sips of beer and wine out on a heated patio or next to a crackling indoor fireplace. And to keep guests looking fresh, the course laundromat will even wash sweaty polo shirts right after a round.
Course at a Glance:
18-hole, par-71 course
Length of 6,603 yards
Six tee options
See the scorecard
450 Creed Rd.
Victoria
British Columbia
250-478-4653 x1
Chocolate lovers unite at the Northwest Chocolate Festival, an annual event dedicated not just to eating chocolate in its many forms, but to tracking its journey from cacao bean to confection. Visitors hone their expertise through seminars on trade equity and cacao farming, chocolate-making workshops led by confectioners, and tastings where palates learn to distinguish between milk chocolate and a chocolate bar clumsily forced inside a milk jug. A portion of the proceeds from the event benefits local nonprofits aligned with the festival's mission. Recipients are announced yearly.
305 Harrison St.
Seattle
Washington
Home to the state's largest freestanding bouldering island, New Jersey Rock Gym houses 12,000 square feet of vertical terrain to climb as well as 41 top roping stations. Armed with either day passes or membership, guests scamper up the gym's synthetic summits, hoping to ask questions of the learned ceiling light sequestered at the top of the mountain. While gear is included with some membership options, guests can opt to bring their own materials or rent the individual shoes ($5), harnesses ($4), or chalk bags ($2) they need from the pro shop. New Jersey Rock Gym offers a collection of educational course work in the vertical arts, teaching belay technique to beginners or advanced skills to adults. Children can also take advantage of youth climbing programs, mini camps, and birthday parties before retiring to private refreshment chambers to absorb bottles of electrolyte-infused refreshment. The nearby pro shop outfits climbers with name-brand gear for purchase, while a WiFi lounge transmits terabytes of data into nearby electronic devices or unsecured cyborg brains.
231 W Patison St.
Port Hadlock
Washington
US
360-385-4900
---