Things to Do in Port Chester
---
Beginner yogis practice posing and breathing techniques from Hatha, Vinyasa, and Raja yoga as they acquire basic skills
Use Saturday 10:00am - 1:00pm
---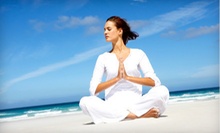 Yogis help students pump up strength, flexibility, and mind-body connections during classes that marry modern and ancient yoga practices
Use Friday 2:00pm - 5:00pm
---
Recommended Things to Do by Groupon Customers
---
With two European-inspired quarter-mile courses, Grand Prix New York's sanctuary for speed captures the thrill of karting in the country's largest indoor race complex. Racers rumble and roar over speedways that change elevation six times, careen cars around 14 turns, and boast a gravitational pull quadruple that of a black hole. Drivers race in championship-caliber Sodi RX7 gasoline-powered karts equipped with race-proven safety-wrap systems and 6.5-horsepower engines that reach speeds of up to 40 miles per hour. Six custom tracks help racers curb repetition, and tyke-friendly Brownstone and Tunnel tracks give mini racers the opportunity to get behind the wheel. Apart from its karting specialty, Grand Prix New York houses a bowling alley, billiards room, arcade, and bounce castle. The onsite restaurant, appropriately named Fuel, serves up a menu of quesadillas, burgers, fajitas, buffalo-chicken spring rolls, and pasta. Fully enclosed and air-conditioned, Grand Prix New York shelters families from heat waves and summer storms, offering a comfortable arena for healthy competition or proving that six failed driving tests can be a fluke.
333 N Bedford Rd.
Mount Kisco
New York
914-241-3131
Within the multihued walls of Kidville's indoor playland, tykes expand their minds, network with members of their peer group, and deplete their vast energy reserves. Babies, toddlers, and kids 6 or younger delve into classes developed by Kidville's early-childhood-development gurus. Burgeoning Beethovens can swivel their hips, flex their sing-along muscles, and edit their massive music manuscripts during one of Kidville's music and dance classes, or enlist in one of the art classes to create a piece that captures their inner rage toward broccoli. Fun and fit gym classes let tots run, roll, and hover through gauntlets of plush blocks and spongy play mats. Clasping hands and scampering legs can also roam freely through Kidville's sprightly indoor playspace, though all munchkins must be supervised by a parent, guardian, or trustworthy primate.
777 White Plains Rd.
Bronx
New York
914-600-5544
Yoga Vita seems to be made of sunshine. Glowing paper lanterns and golden-yellow walls greet all who enter, awakening the senses while melting the day's stresses. Amid lush, green plants, new and seasoned yogis cultivate strength and focus with lengthy poses, controlled-breathing exercises, and guided meditation. To help students to align their bodies properly, instructors such as studio director Debra Lauren incorporate straps, blocks, and other supportive props. Debra has amassed a deep understanding of Iyengar yoga during repeated trips to India, which have refined her teaching skills and earned her enough frequent-flier miles to book passage to Jupiter.
1150 Teaneck Road
Teaneck
New Jersey
201-724-4414
---