Professional Services in Port Lavaca
---
Professional Service Deals
---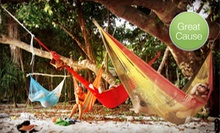 Colorful, weather-safe hammocks are 100% handwoven by skilled artisans in rural Thailand
---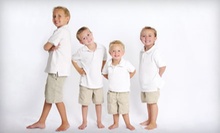 Professional photographers capture families, babies, and individuals with custom backgrounds, props, and variety of poses
---
Recommended Professional Services by Groupon Customers
---
Mary Helen Johnston of M&J Photography strives to capture all aspects of her subjects' personalities, nabbing senior portraits, wedding snapshots, family profiles, and sports-team photos. Before shoots, the photographer guides clients through a complimentary consultation over the phone or in the studio, during which models-to-be can plot hair, makeup, and cravat placement. Helen's photo shoots typically last from 30 to 60 minutes, and outdoor shoots usually take place two hours before sunset, when natural light is at its most flattering. M&J Photography can also take motion pictures with an array of videography services that capture images and emotional tenor alike, thereby creating a keepsake more potent than cave hieroglyphics depicting a prehistoric wedding reception.
4706 Everhart Rd.
Corpus Christi
Texas
361-991-8505
Glamour Shots specializes in complete photography sessions in which subjects receive makeovers and in-depth consultations on their shoots to help their best face to shine in front of the camera. Upon arriving at the studio, subjects undergo hairstyling and an airbrush makeup application before donning a series of their own outfits during boudoir or traditional photo shoots. Image designers can retouch snapshots afterward, and client favorites can shine in lab-produced prints or on digital CDs.
5488 S Padre Island Dr., Suite 1258
Corpus Christi
Texas
361-994-9030
For 22 years, Far Beyond Tint & Alarm proprietor Barry Morgan has personally helmed his business, amassing ample expertise in the realm of home- and vehicle-window tinting and alarm installation. His firm works to build a respectable reputation not only through its cherished relationship with customers such as local businesses and law enforcement, but also through its bond with its workers. The staff is comprised of employees who have tenures ranging from three to nine years, which is longer than presidents tend to stay on board at the White House. A host of expertly trained team members tend to the tinting and alarm-installation needs of vehicles and homes, with technicians boasting certification from the state in security-alarm systems and in automotive solar control from the IWFA.
5151 Everhart Rd.
Corpus Christi
Texas
361-854-8468
At 7:15 in the morning, kids begin to arrive at Odyssey Early Learning, with 4- and 5-year-olds dashing to the door, and babies and younger children drowse on a parent's shoulder. Inside, the staff—all trained in early childhood care—greet the kids and direct parents to a sign outside posting the activities of the day. Teachers corral students as young as 6 weeks and as old as 5 years into age-appropriate peer groups.
In class, instructors blend play and academics, engaging little right brains with music and art lessons and creating new left-brain folds with science projects, math problems, and reading. Throughout the activities, the staff aims to develop social, emotional, intellectual, and motor skills to better prepare kids for the classroom, playground, and tree-house conference room. At the end of the day, parents get a daily feedback report, and every month, staffers prepare a progress report. Parents can also monitor classroom behavior via an eye-in-the-sky webcam, accessible through a password-protected website.
3875 S Staples St.
Corpus Christi
Texas
361-334-2525
---