Port Moody, BC Health and Fitness
---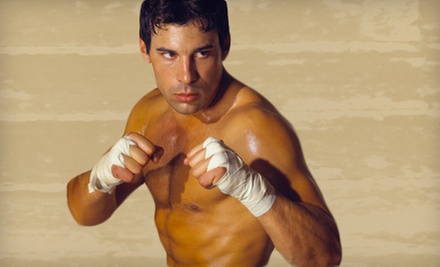 ---
Recommended Health & Fitness by Groupon Customers
---
A serious accident took TNT Fitness's founder Tag Dundas's physical and mental health, right down to his ability to walk. During his journey to recovery, he transformed his life. It took hours of work and training, but Tag regained all his functionality, and the experience had him sticking with the gym until well after his time in physical therapy had come to an end. His new fitness far surpassed what it had been before the accident, and he decided to become a personal trainer to help others achieve those goals they always thought were impossible.
Today, he helps clients strengthen and condition their bodies in group fitness classes and personal training. He equips athletes to excel with tailored training that focuses on building the kinds of speed, strength, and agility needed for each sport. He has logged nearly 1,000 hours using TRX resistance bands in personal-training sessions and boot camps. He affectionately calls the camps T-ReX boot camps, after the dinosaur renowned for its strength, ferocity, and ability to perform a perfect unassisted sit-up.
202-20165 91A Ave. A
Langley
British Columbia
Canada
604-302-9671
TNT Bootcamp of Hampton Roads has built a supportive exercise setting for students of every age and body type, earning a Silver ranking for Best Gym/Fitness Facility in the Virginian-Pilot's Best of Hampton Roads 2011 list. Each 45-minute meet-up features modifiable techniques and a communal feel, as owner Debra Cotton strives to shed weight alongside the camp's other attendees. Music infuses kickboxing strikes and weight-lifts with energized pizzazz as step aerobics, resistance bands, and stability balls condition physiques.
Unlike in a similarly titled section of a high-school yearbook, patrons strive to have their names posted in the website's Biggest Losers section, many shedding 5, 6, or 8 pounds per week. With nutrition guidance, weekly weigh-ins, and supplementary wellness resources, the boot-camp regimen embraces a holistic approach to physical health and proffers Zumba sessions for those interested in a rhythmic change of pace.
202-20165 91A Ave. A
Langley
British Columbia
Canada
Dedicated to outfitting eyes in fashionable specs, Como Lake Optical's owner Jeff Steinkey has kept his display cases stocked with frames from chic brands such as Kio Yamato and O&X since selling his first pair of glasses 27 years ago. Jeff's attentive crew of knowledgeable staff helps patrons seek out flattering eye embellishments while answering pressing questions about prescriptions. Como Lake Optical staff also conducts in-store sight testing to evaluate patrons' abilities to read letters from a distance, recruiting the most eagle-eyed for a spot on their intramural distance-reading team.
1936 Como Lake Avenue
Coquitlam
British Columbia
604-931-7133
Registered Traditional Chinese Medicine Practitioner Jong Rea Roh anchors his practice at ON Acupuncture Clinic in the ancient Chinese concept of chi, the life energy that controls the body's health and vitality. His treatments rely on kick-starting the body's ability to heal itself. Gentle therapies seek to unblock energy passageways clogged by imagined inner tubes, thereby bringing the body back into balance. Jong Rea Roh addresses discomfort that spans all bodily systems, from musculoskeletal pain to digestive discontent and even psychological concerns such as depression and anxiety.
1208 Austin Ave.
Coquitlam
British Columbia
604-931-4159
Highgate Sports Clinic owner Dennis Drummond didn't start his career in sports rehabilitation, but that gives him a wide arsenal of western and holistic treatments with which to treat his patients. His team of doctors draw on every method available to them, from acupuncture and holistic life advice to chiropractic treatments. Services focus on prevention with natural health supplements and live-blood analysis, but they also tackle more complicated issues, such as disease, back pain, and athletic injuries.
Highgate's clients can take advantage of the manifold benefits of acupuncture, and Dr. Ranjit S. Sandhu can supplement their treatments with a wide array of chiropractic techniques such as the Gonstead, the activator method, and extremity adjusting. Dr. Sandhu and the rest of the staff also use advanced technologies to precisely analyze misalignments and energy maps throughout the body.
3-6975 Kingsway
Burnaby
British Columbia
604-517-8500
---