Theme & Amusement Parks in Port Moody
---
Theme & Amusement Park Deals
---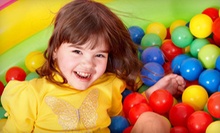 7,500-square-foot play centre's jungle gyms, arcade, and snacks provide all-day entertainment
---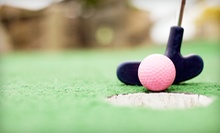 Mini-golf course peppered with windmills, boulders, and tire obstacles is nestled in a nursery and garden-supply store
---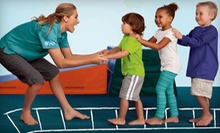 Use Today 3:00pm - 6:00pm
---
Recommended Theme & Amusement Parks by Groupon Customers
---
Rows of sleek, black SODI GT5 go-karts vibrate at the start of TBC Indoor Racing's 1/5-mile track. Drivers hover 2 inches above the ground, anxiously awaiting the moment they can slam down the gas pedal and accelerate their vehicle capable of reaching speeds of up to 75 km/h. Everyday from 10 a.m. until midnight, an adrenalin-fuelled parade of karts hugs the course's 13-turns as drivers 11 and older flex their navigational muscles and best their times using a high-tech digital timing system. In between laps, video games and air hockey occupy fingers itching for the steering wheel. The family-friendly environment, kept fume-free via the karts' clean air exhaust systems, hosts solo riders, as well as groups that can rent out the full service banquet meeting room to celebrate a birthday or conduct field research about popular carpet fabrics.
2100 Viceroy Pl.
Richmond
British Columbia
604-232-9196
Rustic wood cabins interconnected by wooden walkways and viewing platforms stand amid a network of gurgling fountains, mountain streams, and small waterfalls. Dense forest and blooms of emerald ferns that grow no actual emeralds spread out in all directions. The whistle of a train and the beating of drums echo through the trees. Inside Klahowya Village in Stanley Park, natural scenery opens up to authentic representations of British Columbia's First Nations and Métis cultures through its attractions, performances, and artisan marketplace. As guests arrive, knowledgeable First Nations guides in native dress usher guests into the park, where they can start by taking in the sights or boarding the miniature covered Spirit Catcher train for storytelling journeys past forest tableaus.
Young dancers and actors in traditional dress stage cultural performances every Friday through Sunday throughout the summer, and coffee by Spirit Bear Coffee Company keeps visitors warm year-round. As visitors come up in the indoor marketplace, First Nations and Métis artisans proffer pieces of handmade visual art, jewellery, apparel, and other crafts. The nonprofit Aboriginal Tourism Association of British Columbia operates the park as part of its aim to create a sustainable and educational showcase of Aboriginal culture for visitors and local residents.
610 Pipeline Road
Vancouver
British Columbia
604-921-1070
Parking and admission is free at Castle Fun Park, allowing guests to customize their experience by only paying for the attractions and games they choose. Every day from 10 a.m. until midnight, kids and adults of all ages explore scenic, outdoor activities including mini golf with a view of the mountains. The go-cart tracks, bumper-car arena, and remote-controlled boat pond sate needs for speed, and the shooting gallery and softball and baseball cages let athletes flex their skills. More than 160 games buzz in the arcade, including air hockey and pinball, which strengthens hand-eye coordination and improves players' ability to follow the bouncing ball during sing-along TV jingles.
36165 N Parallel Rd.
Abbotsford
British Columbia
After a trek down the Panama Canal, visitors stop for a brief sojourn under the Matterhorn before journeying on to the Eiffel Tower. This trip around the world comes courtesy of All Fun Recreation Park's miniature-golf course, whose 18 globally themed greens are littered with water traps and austerely dressed customs officials. Elsewhere, eight cages hurtle baseballs and softballs toward batters at 40–75 mph, and drivers accelerate across a 1,400-foot go-kart track's over and under bridge or hug the turns of a smaller oval track designed for parents and youngsters.
For more racing action, patrons can head over to Western Speedway each Saturday night in May–September for stock-car competitions on an oval track or drag strip. Westshore Motocross rents entry-level dirt bikes to riding and racing novices, and 75 RV and tenting sites give guests opportunities to yodel freely in nature. Guests can then practice licking techniques on the flower-filled patio at Mr. Tubbs Ice Cream Parlour and Family Fun Zone, or explore the Swap & Shop each Sunday, where vendors dispense copious household goods and collectibles.
2207 Millstream Rd.
Victoria
British Columbia
Canada
Now the only remaining farm on Vancouver's North Shore, Maplewood Farm—nestled along the banks of the Seymour River—was founded in the early 1900s by Mr. Akiyo Kogo and operated as a successful dairy farm before its designation as a rural heritage site in 1975. Dedicated to introducing visitors of all ages to the inner workings of a busy farm, such as the best time of day to hug a lamb, a team of farmhands circulates about the pastoral 5-acre plot entertaining visitors with educational presentations that include cow-milking demonstrations and the feeding of pigs and horses. Nascent ranchers can commune with nature as they arrange birdseed feasts on the ground for the farm's chickens and ducks or power a pedal tractor around the grounds. An adorable assortment of livestock hangs around throughout the day, patiently fielding questions on why Old McDonald is allowed to break the 'I before E' rule with his cries of "E-I-E-I-O."
405 Seymour River Place
North Vancouver
British Columbia
604-929-5610
In the verdant Cowichan Valley, Pacific Northwest Raptors cares for a diverse flock of birds of prey—owls twist their heart-shaped heads curiously, and hawks look on with eyes like copper coins. The staff provides them a safe habitat while educating the public about their habits, hunting methods, and favourite brands of feather cosmetics. Eagles and falcons ride warm zephyrs overhead daily, searching for prey high over the canopy when they aren't perched back at the centre.
Avian experts demo the birds' skills during walks, which include the opportunity for patrons to have a hawk or owl land on a gloved hand or already impressive jaw line. Intensive workshops and week-long falconry courses let guests settle in with the animals beneath the towering trees, which hush each other liltingly in the wind. Regular family events at the centre facilitate bonding with the regal raptors, many of which are trained in film work and pest control.
1877 Herd Rd.
Duncan
British Columbia
---