Port Orchard, WA Health and Fitness
---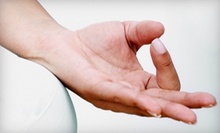 Instructor realigns bodies of budding benders during yoga & meditation classes
Use Saturday 6:45am - 9:45am
---
Recommended Health & Fitness by Groupon Customers
---
For dozens of years, the Chinese have practiced acupuncture, a healing method that corrects imbalances by stimulating specific points on the body that help energy, or qi, to flow smoothly. During most visits, nurses measure your qi pressure, which is similar to measuring your blood pressure except that inflatable thing is placed around your soul. After the procedure, the nurse removes the needles from your body and you're left with the perfect utensil set for bite-size cheese cubes. David Tucker at The Zen of Healing knows acupuncture. It's what he does. His oldest patient is 354 years old.
4425 Fremont Ave. N
Seattle
Washington
US
All right, grunt, drop, and give me 50—that's all you need to purchase today's Groupon, which gets you one month of hardcore training at Seattle Rock Body Boot Camp, valued at $99. Attend your choice of up to five intense, 45-minute sessions a week during your month of training. Ryan Riley and his team at Riley Athletics will build your body and your character with a rigorous regimen of exercise, nutritional guidance, motivating support, and deep, passionate eye contact. Coach Riley knows fitness: formerly a professional baseball player for the Tampa Bay Rays, he has worked with hundreds of athletes of all abilities over the last decade.
707 N 76th St.
Seattle
Washington
US
Having bested your uncle in the season's most grueling pumpkin-pie-eating contest yet, bring equilibrium back to your soul and turkey-clogged body with today's deal: four weeks of intro Pilates or yoga classes at Maya Whole Health Studio for $30 (a $60 value). Choose whichever strikes your fancy and find a class on the schedule that fits into your busy day-to-day of work, house cleaning, and naval raids. Maya offers classes every day except Thanksgiving, Christmas, and New Year's Day. There once was a flexible gal, Whose yogic skills never did fail, When forgetting her keys, She just pulled in her knees, And squeezed through the slot for the mail.
701 N 36th St
Seattle
Washington
US
Founders Terri and Paulette, along with Home Yoga's experienced crew, caringly and enthusiastically teach 27 classes a week, including A.M. Yoga (start the day with flexibility), Hatha Basics (slow pace perfect for beginners), Hatha Flow (a sequence of positions that promotes strength and endurance), Yoga for Newbe's (for first timers), Yoga Therapeutics (focus on healing the body's overworked areas), and more. Classes are scheduled from early morning through mid-late pre-9 p.m. evening on weekdays, with a shorter morning schedule on weekends.
315 1st Avenue West
Seattle
Washington
The muscle tutors at Fitness Together will work with you to determine your goals (drop pounds, run a marathon, get strong enough to finally confront Douglas) and develop a customized workout plan designed to help you reach your true fitness potential. They'll supervise your squats, offer nutritional advice, and push you until you see results. Individualized attention means it's all about you—your trainer can point out when you're doing a stretch incorrectly, help you tone the trouble zones, and push you to keep going when you'd otherwise quit or become distracted by the fragile beauty of a passing hummingbird.
4546 California Avenue Southwest, Suite 203
Seattle
Washington
206-938-7828
During the complete exam, a talented toothologist examines the chompers for any obvious red flags trapped between the teeth. To go further than the eye can see, any necessary x-rays are snapped for a behind-the-scenes peek at the relationship between mouthbones and jaw. The meticulous cleaning will remove buildup as no handheld bristles can, leaving smiles as sparkly and pristine as the day they were born.
8019 Aurora Ave. N
Seattle
Washington
---