Nightlife in Port Orchard
---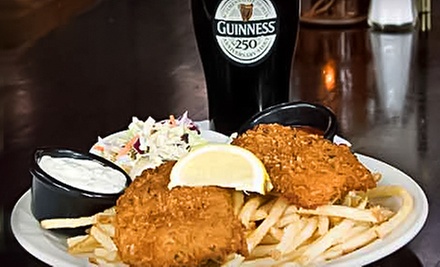 ---
Recommended Nightlife by Groupon Customers
---
Classes are available only at the Capitol Hill location. The punch card can be used at both locations. Groupon customers may upgrade to a wine-tasting class valued higher than $55 for an additional fee.
1410 12th Avenue
Seattle
Washington
US
206-257-5653
Seattle Theatresports runs every Friday and Saturday at both venues; shows begin at 10:30 p.m. at the Intiman and 9 p.m. at the Black Box Theatre. Check out the Live at Intiman! Improv Comedy schedule for more details.
1428 Post Alley
Seattle
Washington
Jet City Improv's team of chuckle chasers has been busting guts since 1992, passing over scripted comedy routines in favor of off-the-cuff acts that lead audiences into uncharted comedic territory. Over the course of each 90-minute show, the ever-rotating cast MacGyvers together functional comedy sketches from random ideas collected from the audience. Jet City guarantees that each bit will be appropriate for viewers of all ages, thanks to each actor's supreme discretion and internal three-second delay. A concession stand with popcorn, candy, and other snacks runs at every show, often accompanied by a full bar serving laugh-loosening beverages.
5510 University Way NE
Seattle
Washington
US
As the somewhat cryptic old adage goes, "The food is always sweeter on the east side of the lake—in bed." Today's Groupon proves this to be true. For $10, you get $25 worth of grilled fare, hot and cold drinks, and a lovely view at Eastlake Bar & Grill. The Downside: Marine creatures will constantly be leaping out of the water to join you for dinner.Silver Lining: Some kind words could be enough to convince the sea creatures to leave or to reveal their secret ability to enjoy literature.
2947 Eastlake Avenue East
Seattle
Washington
US
206-957-7777
Each month, Twisted Flicks showcases one charmingly tacky, past-its-prime film and gives it an off-the-cuff audio makeover. These 90-minute yukfests paint inventive humor across low-budget cinematic canvasses including I Was a Teenage Werewolf, Kronos, Ravager of Planets, and Zombie with a News Desk: The Larry King Story. Each unique 90-minute performance is appropriate for all ages and incorporates audience suggestions. The talented funnybone-prodders create new dialogue as well as sound effects and music, while audiences feast upon popcorn, candy, and chortle-loosening libations available at the theater's concession stand and full bar. Humor savants and armchair comedians should arrive early to contribute their creative suggestions and secure first-come, first-served seating.
5510 University Way NE
Seattle
Washington
206-352-8291
One of five restaurants in the Neighborhood Grills restaurant group, Lake Forest Bar & Grill emits a warm, welcoming vibe that's hard to ignore. Part of its charm boils down to its hearty grille food. Items such as bacon and blue-cheese burgers, honey-jalapeño barbecue-pork sandwiches, and 12-ounce steaks are washed down by fresh-squeezed margaritas and plenty of beer. And while the food is no doubt comforting, it's the grill's atmosphere that cements its reputation as a neighborhood spot. Soft lighting blankets the casual interior, where convivial chitchat mingles with cheers from the bar as customers root for the Seahawks to beat the 49ers. And when the weather permits, patrons can move the party to the outdoor patio, surrounded by towering trees and the warmth of a center fire-pit fueled by a friendly dragon.
17535 Ballinger Way Northeast
Seattle
Washington
206-364-1261
---