Auto Service in Port Saint Lucie
---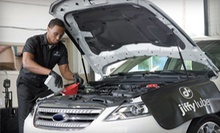 Car MDs inject 5 quarts of fresh oil into ailing autos and also replace filter, wash windows, and vacuum interior
---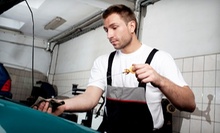 At seven area locations, auto technicians change oil, rotate tires, and perform visual inspection of brakes, fluid levels, belts, and hoses
---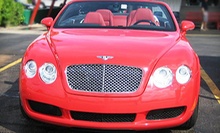 Sedans get an exterior wash, window cleaning, wax, tire dressing, undercarriage wash, interior vacuuming and fragrance, and a hand dry
Use Monday 8:00am - 5:00pm
---
Recommended Auto Service by Groupon Customers
---
A 125-foot automatic wash tunnel is the bread and butter at each of Motor City Car Wash's three locations. The system, which uses light-touch soft cloths and 60% recycled and filtered water, effectively cleans cars from roof to underbelly without damaging the paint. Drivers can choose one of four car-wash packages, such as the Basic—a wash, power dry, and hand finish—or the Works, complete with an exterior dressing and a Rain-X windshield treatment. After rolling through the tunnel, cars can pull up to a uniformed technician to be lavished with praise for their new and shiny look, or to be detailed with Meguiar's products. Motor City backs all of its services with a 48-hour re-wash policy.
135 S State Rd. 7
Royal Palm Beach
Florida
561-333-1811
Main Street Car Wash has been owned and operated by the same family for more than a quarter century, adding pizzazz to rides with sudsing and detailing services. With names honoring the owner's children, Amy and Max, the service menu includes three to four tiers of washing and detailing treatments, whether for a vehicle looking to dust off for the spring or inconspicuously crash a limo's birthday party. Drive-thru or hand-washing treatments can be augmented with add-ons such as leather cleaning and conditioning, triple-foam wax treatments, Rain-X application, and vacuuming. Hand-applied wax treatments envelop automobiles in paint protection for three to six months, and each receipt comes loaded with $25 in coupons for future services, allowing guests to extend their car's sparkling façade well into the future.
201 E Boynton Beach Blvd.
Boynton Beach
Florida
561-734-7608
Wax on Wheels' licensed and insured detailing crew totes its own water and power systems door-to-door to deliver top-notch detailing treatments with ease and convenience. The team rids exteriors of stubborn dirt and grime with hand washes and waxes, and tackles indoor debris by diligently vacuuming carpets, wiping down upholstery, and kicking out messy carpoolers for good. It restores vehicles to a like-new shine through and through, from the basics, such as cleaning and dressing tires, to the minutia of polishing doorjambs, tailpipes, and gas caps. The mobile shop also treats autos to specialty services, such as steam-cleaning interiors and buffing away scratches, swirls, and scuff marks.:m]]
13870 Wellington Trace
Wellington
Florida
866-492-9227
Man and machine mingle at WadaWash, where the area's only flex-service car washes incorporate automated exterior scrubs augmented by professional attendants trained in tidying up interiors. This express approach does not mean WadaWash cuts corners when it comes to water conversation: H2O is reclaimed, filtered, and sterilized after each use, and green soaps and waxes lend credence to the business' eco-friendly agenda. Inside, a flickering television enraptures waiting eyeballs, and free WiFi enables guests to upload photos of their car's freshly scrubbed exterior or photos of themselves watching car commercials on TV.
4400 Okeechobee Rd.
Fort Pierce
Florida
US
772-460-1010
Autobahn-USA is where the world's major highways come to shop for cars. Whether autobahn, interstate, or kosoku-doro, these roads can find the perfect roadster in a stash that includes BMWs, Mini Coopers, Chevys, Fords, Nissans, and even Campagna T-Rexes. The sales staff does its part by doling out facts and figures on each model in English, Spanish, Portuguese, and Proto-Chilton.
Certified technicians hold court in Autobahn-USA's service center. Since breaking ties with their Magic 8 Pistons, they've teamed up with savvy diagnostics systems to pinpoint automotive problems and find solutions for down-and-out transmissions, weary brakes, and busted radiators. They make things easy by ferrying local cars from their driveways to the shop; during lengthy repair sessions, they'll offer to hook up patrons with rental cars. The shop's detailing is eco-friendly, which illustrates the mechanics' desire to keep roads filled with cars that aren't just healthy and happy, but clean as well.
1335 Old Dixie Highway
West Palm Beach
Florida
561-243-9595
Magic Bubbles' technicians arrive on location equipped with cleaning supplies that transform dusty cars into sparkling rides and smudged windows into streak-free panes of glass. During auto details, agile hands clear away surface dirt, clarify grimy portholes, and treat tires to erase evidence of a late night spent doing donuts through the governor's rose bushes. Technicians also lavish exotic and luxury cars with specially formulated waxes, buff boats, and comfort motorcycles with spray bottles of slime-busting, non-tarnishing solvents. Magic Bubbles also washes home windows and pressure cleans siding, roofs, and patios to remove mildew, rust, and mold.
1311 Commerce Ln., Suite 19
Jupiter
Florida
US
---