Coffee & Treats in Port Salerno
---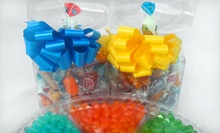 Elegant floral-themed packaging holds 10 varieties each of traditional and certified-kosher hard candies
Use Today 9:00am - 5:00pm
---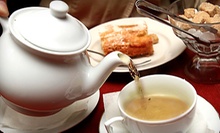 Light cafe fare, coffee, tea & bakery sweets including cupcakes in pastel shades with silver adornments
Use Today 12:00pm - 5:00pm
---
Recommended Coffee & Treats by Groupon Customers
---
Unlike most coffee shops and all PTA meetings, Crescent's Coffee & Tea accents its selection of coffee and baked goods with beer and wine. This welcome addition simply goes further in the café's quest to add a refined touch to the familiar, along with filling mugs with certified fair-trade, 100% organic coffees and filling stomachs with fresh croissant sandwiches, paninis, and baked goods. As they gaze through the café's windows onto St. Cloud's historic downtown scenery, diners can tap into the free WiFi while they sip a warm cup of caffeine or raise a glass of white wine or beer to the live entertainment that pumps out free sounds every Friday night. Crescent's also hosts themed tea parties that pair mothers and daughters, nieces and aunts, or grandfather clocks and digital watches to socialize over steamy brewed beverages.
920 New York Ave.
St. Cloud
Florida
US
321-248-4402
The aroma of slow-simmering caramel and chocolate wafts through Hoffman's Chocolate's Greenacres headquarters. To demystify its origins, the shop's chocolatiers have outfitted their kitchen with observation windows, granting customers the chance to admire their delicate handiwork and holiday helper subcontractors. They meticulously lace European truffles with chocolate drizzles, and dunk cherries and pretzels in milk and dark chocolate. This devotion to small batches of handmade treats extends back to the 1970s, when founder Paul Hoffman began peddling treats out of his small Lake Worth chocolate shop. Over the decades, chocolatiers have expanded the bakery's repertoire to include whimsical confections such as enormous fortune cookies and seasonal treats.
5190 Lake Worth Rd.
Greenacres
Florida
561-967-2213
Palm Beach Smoothies' baristas are known for shaking things up—both literally and figuratively. The colorful shop flouts tradition by blending fresh oranges and pineapples with such unconventional smoothie add-ons as Red Bull, green tea, applesauce, and cinnamon. Aside from fruit-based concoctions, the baristas whip up five varieties of smoothies with creamy almond milk and low-fat yogurt. When ordering an indulgent blend of graham crackers and marshmallows, guests can ask their barista to top off the s'more-style shake with whey protein, wheatgrass, or the fiber-packed pages of a campfire songbook. Each of the more than 25 smoothie varieties pairs nicely with the café's grilled paninis, turkey wraps, and organic steel-cut oatmeal.
2276 N Congress Ave.
Boynton Beach
Florida
US
561-509-7553
Don't be fooled by the spotless white and powder blue walls that frame DIY Frozen Yogurt's self-serve pumps—in spite of this sleek aesthetic, a rugged do-it-yourself ethic has found its way into the shop's desserts. Customers take control of their own destinies as they choose from 14 rotating flavors of frozen yogurt and more 30 fruit, cereal, and candy toppings. Creamy swirls of low-fat yogurt are sold by the ounce, so feel free to pile as much into your cup as you need to fill your appetite or the gas tank of a sworn enemy's sports car.
524 East Woolbright Road
Boynton Beach
Florida
561-733-8221
When Stacey Skinner realized her oldest son had a severe intolerance to gluten, she didn't want to deprive him of his favorite pizza and pasta meals. Instead, she started whipping up her own renditions of these dishes with gluten-free flours and organic ingredients. Her friends and family marveled at her healthy creations, and Stacey started up her own catering company to distribute the freshly cooked, gluten- and peanut-free meals to households throughout Palm Beach County.
In her expansive kitchen and bakery, the skilled chef folds organic ingredients into dishes ideal for family dinners, children's school lunches, and attempts to make a stolen picnic blanket look used. Her oven spills rippling warmth and aromas that hint at a variety of breads, custom cakes, and desserts. Though the menu rotates, it has included coconut-encrusted flounder, spice-rubbed beef medallions, and fritters made with freshly shredded zucchini. In addition to gluten- and peanut-free options, the chef can also craft selections without dairy, eggs, or casein.
1253 Old Okeechobee Rd.
West palm beach
Florida
US
561-337-0073
---