Gourmet & Healthy in Port Salerno
---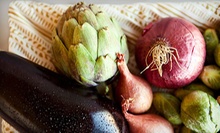 Staff delivers custom boxes of fruit and veggies to doorsteps, including items such as lettuce, green beans, grapefruit, and kumquats
---
Recommended Gourmet & Healthy by Groupon Customers
---
Sweet Ginger Asian Bistro fuses Thai and Chinese fare inside a modern space bedecked in warm earth tones. Generously sized portions of thai dumplings and classic pad thai share menu space with Hong Kong specialties such as general tso's chicken and lightly fried soft-shell crab. Chefs artistically arrange each dish with drizzles of colorful sauce, leaving entrees ripe for photographing, then devouring both the photograph and the dish.
632 Hibiscus Street
West Palm Beach
Florida
561-832-8883
Leah Gizzi builds fresh pastas and sauces using imported ingredients chosen for their quality, such as Fiorucci genoa salami and Strianese DOP tomatoes. A stash of local veggies and herbs grown in her personal garden help her form her selection of crowd favorites that include her roasted-red-pepper noodles, meatballs, red gravy, and shells stuffed with spinach and ricotta. Leah also mixes fine ingredients into her cannolis and in her cakes, including one that comes in the shape of a three-dimensional teddy bear. On Sunday, she heads over to The Buttonwood Plaza Artisan's Market, where she sells her handcrafted foods and easy-to-assemble Italian-dinner kits.
3084 Jog Rd.
Greenacres
Florida
561-642-9996
Dean Bruschi can trace his agricultural roots back four generations to his great-grandfather, who was a farmer in Northern Italy. Each generation thereafter passed down the family tradition of farming, and today, Dean stands proudly on his land, where strawberry plants creep across wet mounds of soil in the sun against the contralto babble of pigs.
From those fields drift the excited and curious shouts of guests participating in the U-Pick program. The visiting farmers wander the warm, furrowed ground, picking their own bell peppers and other veggies for dinner or dioramas depicting favorite X-Files episodes. Laden with fresh produce, patrons return to the shop, whose honey-hued wooden shelves brim with hot sauces, preserves, and a rotating array of fuji apples, bartlett pears, and tomatoes ripened on the vine. The shop gives one the sensation of stepping back through time into a small general store, and a soundtrack of happy chatter sometimes floats inside from Easter egg hunts, hayrides, and other seasonal events.
D and D Farms' CSA boxes ensconce a medley of tasty veggies, which arrive to doorsteps or await pickup still covered in droplets of dew and carved with the initials of a loving plow, and specific vegetables for delivery fit seamlessly into recipes.
5059 SW Citrus Blvd.
Palm City
Florida
772-240-8138
Nutrition World owner Joanne Augusto has immersed herself in the natural-health industry for more than 25 years, and has even hosted a radio program called Joanne's World of Nutrition. Informed by macrobiotics and homeopathy, Augusto seeks to share with her customers the powerful link between diet and health. To achieve that goal, she stocks the aisles at Nutrition World with an array of holistic goods, from vegan and gluten-free fare to vitamins, herbs, and Herb Alpert records.
200 N. 2nd St.
Fort Pierce
Florida
US
---