Restaurants in Port Washington
---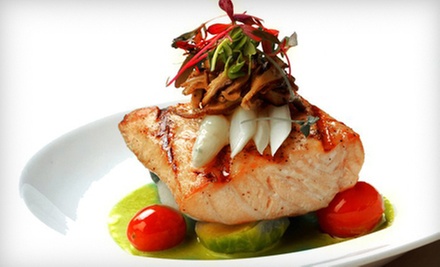 ---
Recommended Restaurants by Groupon Customers
---
It might be surprising to find a kids menu at an upscale bistro, but as little ones gaze at Bistro Ten 18's stone fireplace, they can dig into mac 'n' cheese with gruyere and pan-roasted chicken. Meanwhile, grownup foodies from across the city mingle with neighborhood regulars as they sip wines curated from France, Austria, and the Napa Valley, and, depending on the night, live jazz drifts past the stone fireplace and onto a patio.
For the past decade, Bistro Ten 18's chefs have paid close attention to the tastes of their community, using only fresh, local, and seasonal ingredients to create a menu of "unpretentious yet upscale offerings," as New York magazine described the bistro's lunch and dinner options. A cheese and charcuterie selection mixes and matches Les Frères cheese from Wisconsin-based Crave Brothers Farmstead Cheese with rustic salami and chorizo. Small plates of simply spiced veggies also make for a sociable start before diners erect a silverware fence around entrees such as Prince Edward Island mussels and berkshire pork chops.
1018 Amsterdam Avenue
Manhattan
New York
212-662-7600
The Rockefeller Center outpost of Lizarran—one of more than 200 international locations and the first in the United States—dishes out tapas inspired by contemporary restaurant's origins in Spain. The Spanish based culinary team is headed by chefs Erick Muñoz and Mikel Presa. Small plates of hot and cold tapas, such as gazpacho with watermelon and cured ham with artichokes, prime appetites for paella and baby squid. The Hamburguesa Lizarran, a Spanish-inspired take on the hamburger, defies convention with cured ham and manchego cheese piled high on beef patties. As diners settle into plush leather dining chairs, bartenders behind the brick-inlaid bar mix cocktails and pour robust Spanish red wines, crossing their fingers that there are no passing bulls in the area. Lizarran is open until 10 p.m., and showcases flamingo dancers from 7–9 p.m. on Fridays.
45 Mercer Street
New York
New York
646-837-6580
"I feel a little like a detective," reveals Luke Johnson, overseer of the cheese cave at Stinky Bklyn, to the New York Times. He continues, "I…try to steer people toward something new. If they say they don't like goat, I really push the goat because people don't realize there are so many varieties." And push they do. Staff members pass indulgent segments of their carefully aged cheeses, offering approachable wisdom to novices and a wide-ranging selection for aficionados. The charming Smith Street institution has opened a new location between Baltic and Butler, with fridges and pantries stocked with international morsels such as chocolates, oils, vinegars, and beer, as well as an impressive ham bar.
Visitors can request a peak at the temperature- and humidity-controlled cheese cave, where Luke and staff nurture each wheel through distinct aging processes. Cheeses dwell within the cavern for anywhere from a few days to a few years, undergoing washing, soaking in beer or brine, and the opportunity to view culturally enriching cave paintings. Owners Patrick Watson, Michele Pravda, and Chris Remy also added a green garden and patio behind the shop, providing an ideal place for tastings or a peaceful spot for enjoying one of the shop's artisan sandwiches.
282 Smith St.
Brooklyn
New York
347-599-0294
Had the butchers of Aaron's Gourmet not been hired to prepare glatt kosher meats for delivery, they could perhaps have survived by manufacturing Russian matryoshka dolls—they have a knack for nesting. Supervised by Rabbi Israel Mayer Steinberg, Aaron's Gourmet's menu boasts many versions of poultries collapsed inside of each other, from turduckens—a hen inside of a duck inside of a turkey—to gooseduckenquails, a similar concoction that begins with a quail and ends with a goose. These creations join an encyclopedic list that includes exotic cuts of pheasant and oxtail, traditional slabs of Black Angus and smoked salmon, organic meats, and grass-fed roasts. Once Aaron's processes an order, which can be made online, by fax, over the phone, or by smoke signal from an empty grill, the company generally ships the package overnight via UPS. Additionally, Aaron's can cater for groups of up to 500 people, building holiday meals or barbecue-style cookouts from meats that can be prepared in American, Japanese, European, or Middle Eastern styles.
63-06 Woodhaven Blvd.
Rego Park
New York
718-205-1992
Patties of grass-fed beef, wild boar, and free-range chicken fill brioche buns at Bareburger, which eschews the added hormones commonly found in burger meat for locally sourced, all-natural ingredients. Fries cooked in 100% peanut oil complement bites of the Jalapeño Express burger's pepper jack cheese and chipotle ketchup or the Mediterranean's cool spread of cucumber-mint yogurt. Though Bareburger sources its meat and produce from sustainable farmers, its food isn't the only reflection of its eco-conscious values: Trees felled in storms end up as hardwood tables in the dining room, whose tin-siding ceilings have been reclaimed from barns deconstructed during philosophers' countryside lectures.
535 Laguardia Pl.
New York
New York
Flickering candles tucked into tiny caves garnish an exposed-brick wall or glimmer atop rich, dark wooden tables, spreading their glow onto a wall forged from rustic timber planks. This combination of soft lighting and contemporary-yet-pastoral decor fosters a sophisticated, Spanish-inspired ambiance inside La Zarza. But it's the eatery's menu of authentic Argentinean and Spanish cuisine made from indigenous recipes and organic ingredients that really transports diners to another country.
To bolster bites of tapas, fresh ceviche, and slow-cooked steaks—an Argentinean staple—live guitarists strum traditional Spanish tunes and reality show theme songs every Friday and Saturday. The soundtrack continues thumping further into the night when La Zarza morphs into an upscale lounge fueled by pulsing beats from international DJs. At full bars across two floors, bartenders regale revelers with mojitos, sangria, and signature cocktails amid chic furnishings, such as opulent chandeliers and crimson drapery.
166 1st Avenue
Manhattan
New York
212-477-1111
---